10 Essential E-commerce Tools to Supercharge Your Online Business in 2023
Check out these fantastic e-commerce tools to boost your online business. From website building to marketing your store, these tools are among the best in the industry.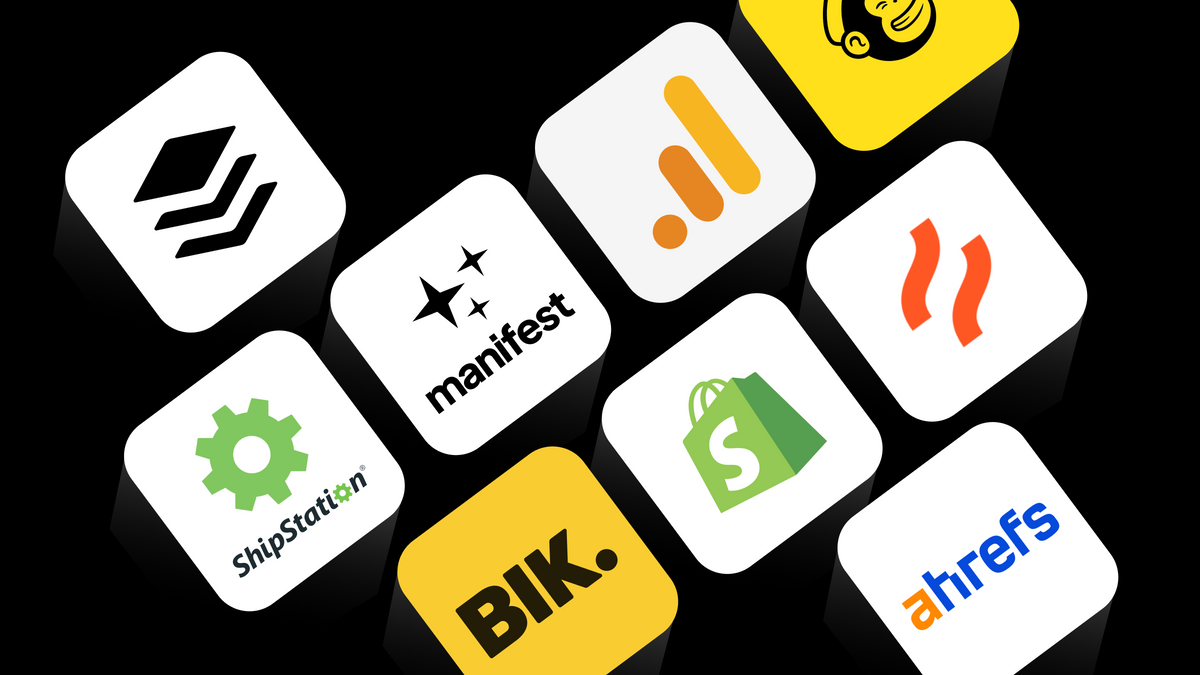 Enhancing the customer experience. Streamlining operations. And so much more… It's time to make it all easier than ever before!
In the world of e-commerce, there are essential tools that can revolutionize your business growth. From boosting marketing efforts to optimizing inventory management and beyond, these tools hold the key to unlocking your success.
Imagine having the power of AI at your fingertips. With remarkable capabilities like personalized recommendations and seamless purchase facilitation, these tools are the game-changers for your business needs.
In this blog post, we'll guide you on how to harness the power of these e-commerce tools in your e-commerce stores. Get ready to discover the best tools for your e-commerce business, specifically curated to boost your online success.
Before we dive into the must-have e-commerce tools, let's set the stage and explore why e-commerce tools are important for your business. Let's get started!
Why are e-commerce tools important?
E-commerce tools are essential for businesses looking to thrive in the digital landscape. These tools streamline operations, enhance customer experience, and drive revenue growth. With the right e-commerce tools, you can optimize your online store, manage inventory efficiently, analyze performance metrics, and implement effective marketing strategies. From attracting customers to providing seamless checkout experiences, e-commerce tools play a vital role in establishing a competitive edge and achieving long-term success in the dynamic world of online business. Embrace the power of e-commerce tools and unlock your business's full potential.
10 best e-commerce tools for your business growth
Explore the top 10 ecommerce tools that can help propel your business forward. From optimizing your online store to automating processes, these tools are a game-changer for boosting your growth potential.
Best e-commerce platform tool
Shopify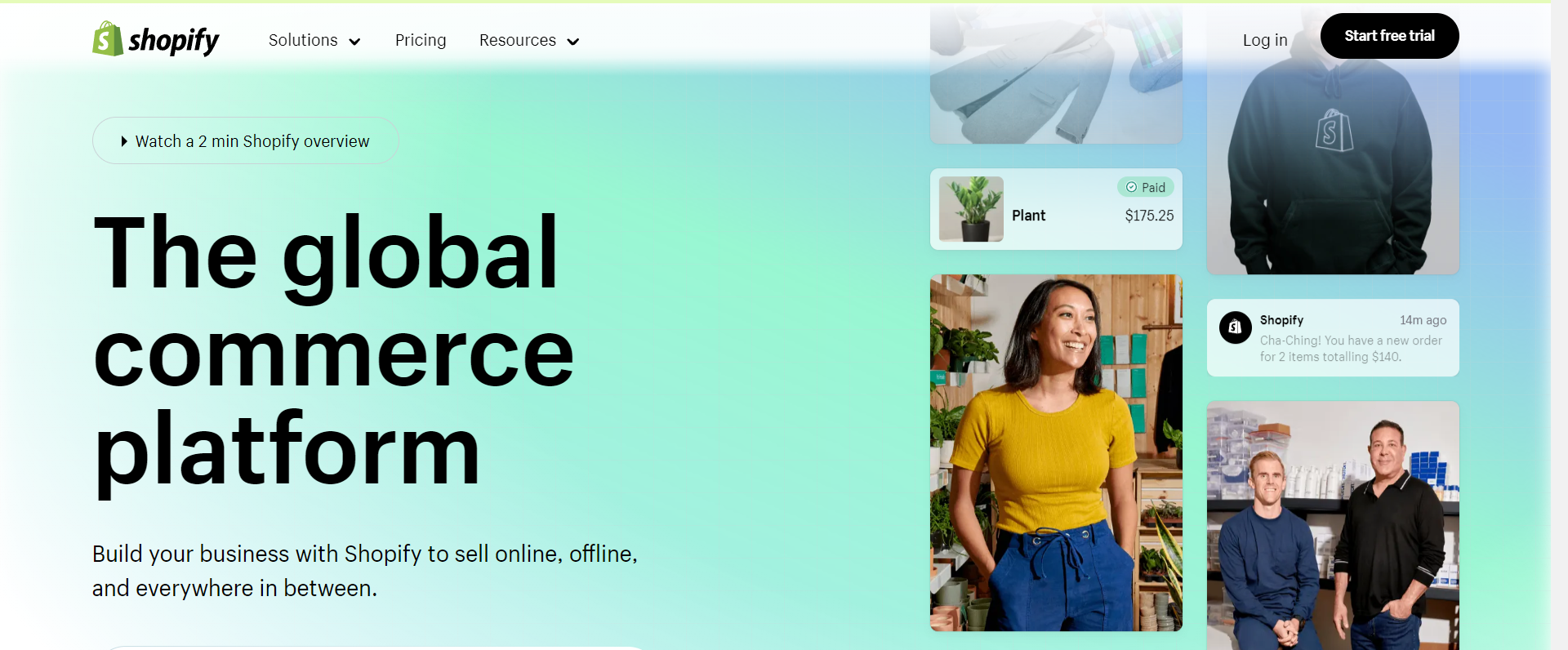 Looking for the best ecommerce platform to fuel your business growth?
Look no further than Shopify!
With its user-friendly interface, powerful features, and robust ecosystem, Shopify stands tall as the ultimate solution for online entrepreneurs. From seamless store setup to hassle-free inventory management and secure payment processing, Shopify is the best tool for your e-commerce store. With Shopify, you can unleash your creativity, showcase your products in style, and provide a seamless shopping experience to your customers.
Best e-commerce customer support tool
Manifest: AI Shopping Assistant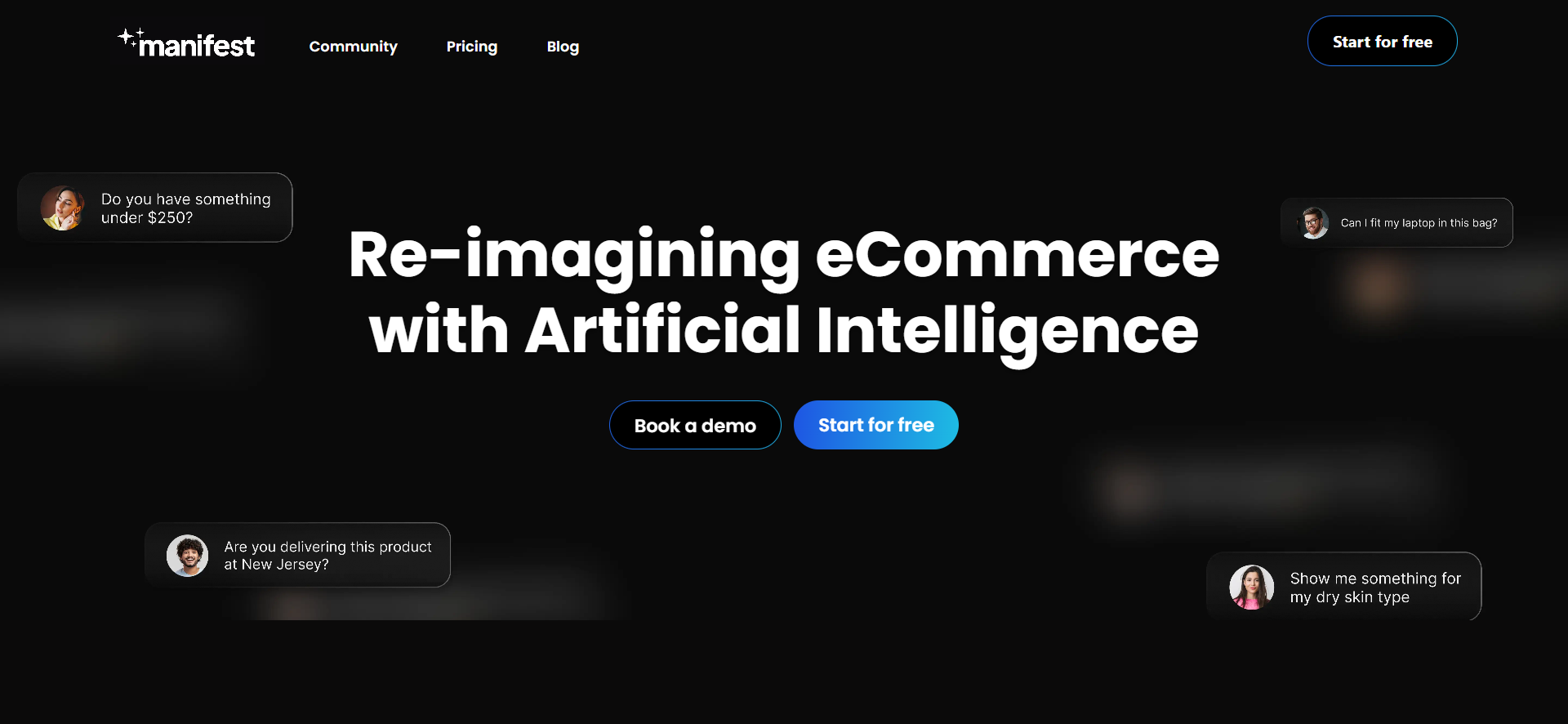 When it comes to customer support, it's not just about resolving inquiries – it's about creating an exceptional purchase journey. Get ready to witness the transformative capabilities of Manifest AI, powered by GPT-3.5 technology. Brace yourself for a customer experience like never before. It offers AI-powered features that can help you handle your customers effortlessly:
Seamless Product Discovery: The AI shopping assistant is also the best e-commerce product research tool that analyzes users' browsing behavior, search queries, and purchase patterns to understand their interests. It then presents them with relevant product recommendations, helping them discover new and interesting items they may have missed.
Enhanced User Experience: By providing personalized recommendations, the AI tool enhances the user experience by saving time and effort. Users can quickly find products that align with their budget, tastes, and preferences, eliminating the need to manually sift through numerous options.
Multilingual Customer Support: The tool offers customer support in multiple languages, ensuring efficient communication and assistance for users worldwide.
Personalized Purchase Assistance: The AI tool guides users through the purchasing process, providing tailored recommendations and assisting with decision-making.
The best part is, you can publish this tool on your website in just 3 simple steps:
Best e-commerce marketing tool
BIK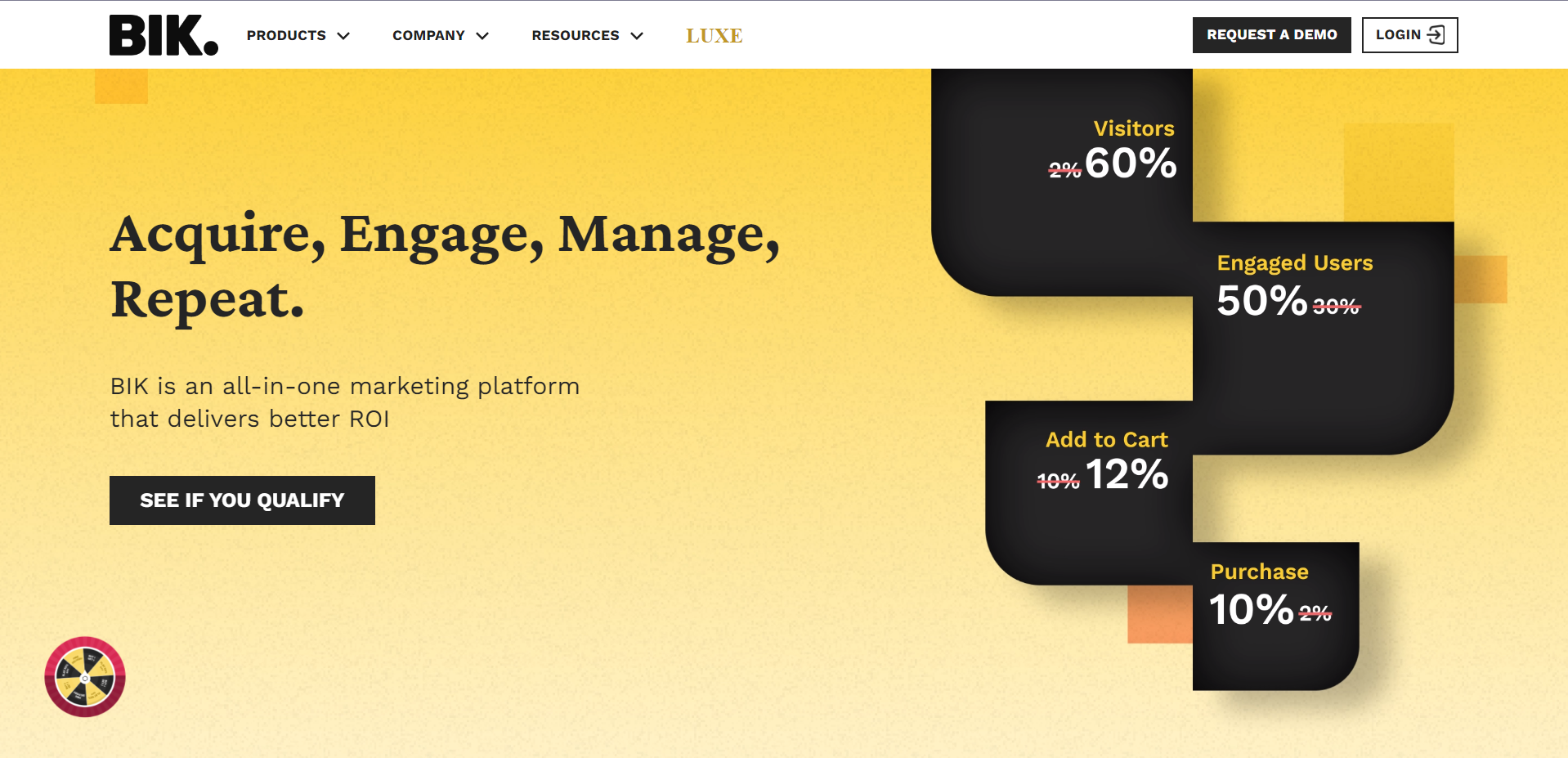 When it comes to e-commerce marketing, BIK is at the top of the list of the best e-commerce marketing tools to empower your business. With BIK, you can streamline your marketing efforts and achieve remarkable results, all from a single platform. From targeting the right audience to creating captivating campaigns, BIK empowers you with a comprehensive suite of features designed to drive conversions and maximize growth. With its advanced analytics and segmentation capabilities, BIK provides valuable insights into customer behavior, enabling you to optimize your marketing strategies with precision. Experience the power of BIK and witness how this all-in-one marketing automation tool takes your e-commerce business to unprecedented heights.
Best e-commerce analytics tool
Google Analytics

Discover the ultimate powerhouse for ecommerce analytics - Google Analytics. Unleash the full potential of your online business by diving deep into invaluable insights and data-driven strategies. With real-time metrics, campaign tracking, and conversion analysis, Google Analytics becomes the best ecommerce analytics tool for unlocking unprecedented growth opportunities. Gain a competitive edge by understanding customer behavior, identifying trends, and optimizing your marketing efforts. Let Google Analytics be your trusted companion on the journey to ecommerce success, as it empowers you to make informed decisions and elevate your business to new heights.
Best e-commerce SEO tool
Ahrefs

When it comes to optimizing your ecommerce website for search engines, Ahrefs is the ultimate game-changer. With its comprehensive suite of features, Ahrefs empowers you to analyze competitors, conduct in-depth keyword research, and monitor your website's performance with precision. Optimize your content, uncover untapped opportunities, and boost your online visibility. From advanced backlink analysis to accurate rank tracking, Ahrefs provides invaluable insights to stay ahead of the competition. Elevate your ecommerce business with Ahrefs, the industry-leading tool trusted by professionals worldwide. Take your website's SEO to the next level and achieve remarkable results with Ahrefs today.
Best e-commerce shipping tool
ShipStation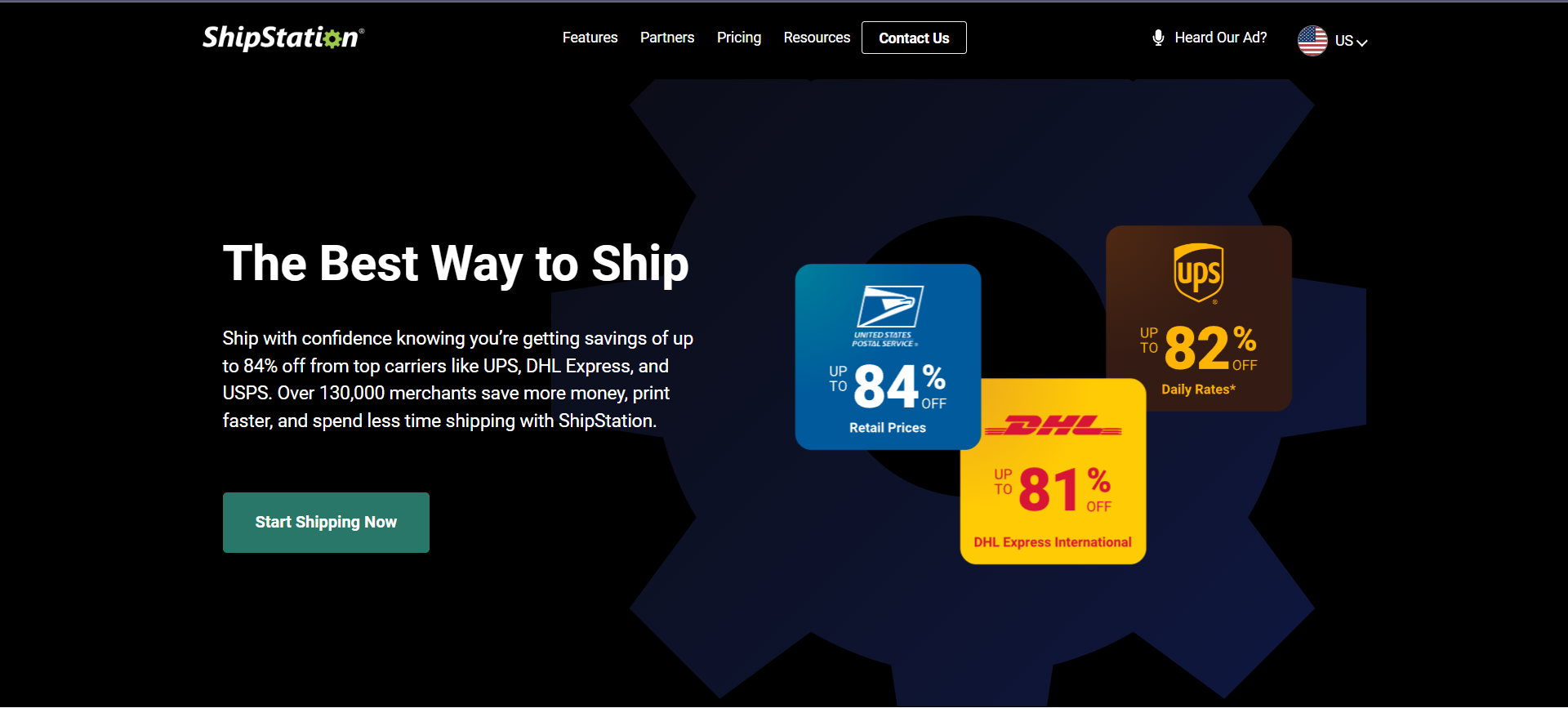 ShipStation is the ultimate e-commerce shipping tool that empowers businesses to optimize order fulfillment and deliver exceptional customer experiences. Seamlessly integrating with carriers, marketplaces, and e-commerce platforms, ShipStation ensures hassle-free shipping across channels.
Automate workflows and save time with ShipStation's powerful automation tools. Gain valuable insights through advanced reporting and analytics for data-driven decision-making. Recognized for its outstanding features and top-notch customer support, ShipStation is the go-to shipping solution for businesses of all sizes.
It helps you simplify order fulfillment, reduce costs, and exceed customer expectations. Experience seamless shipping success and unlock new growth opportunities for your business.
Best Ecommerce Inventory Management Tool
ShipBob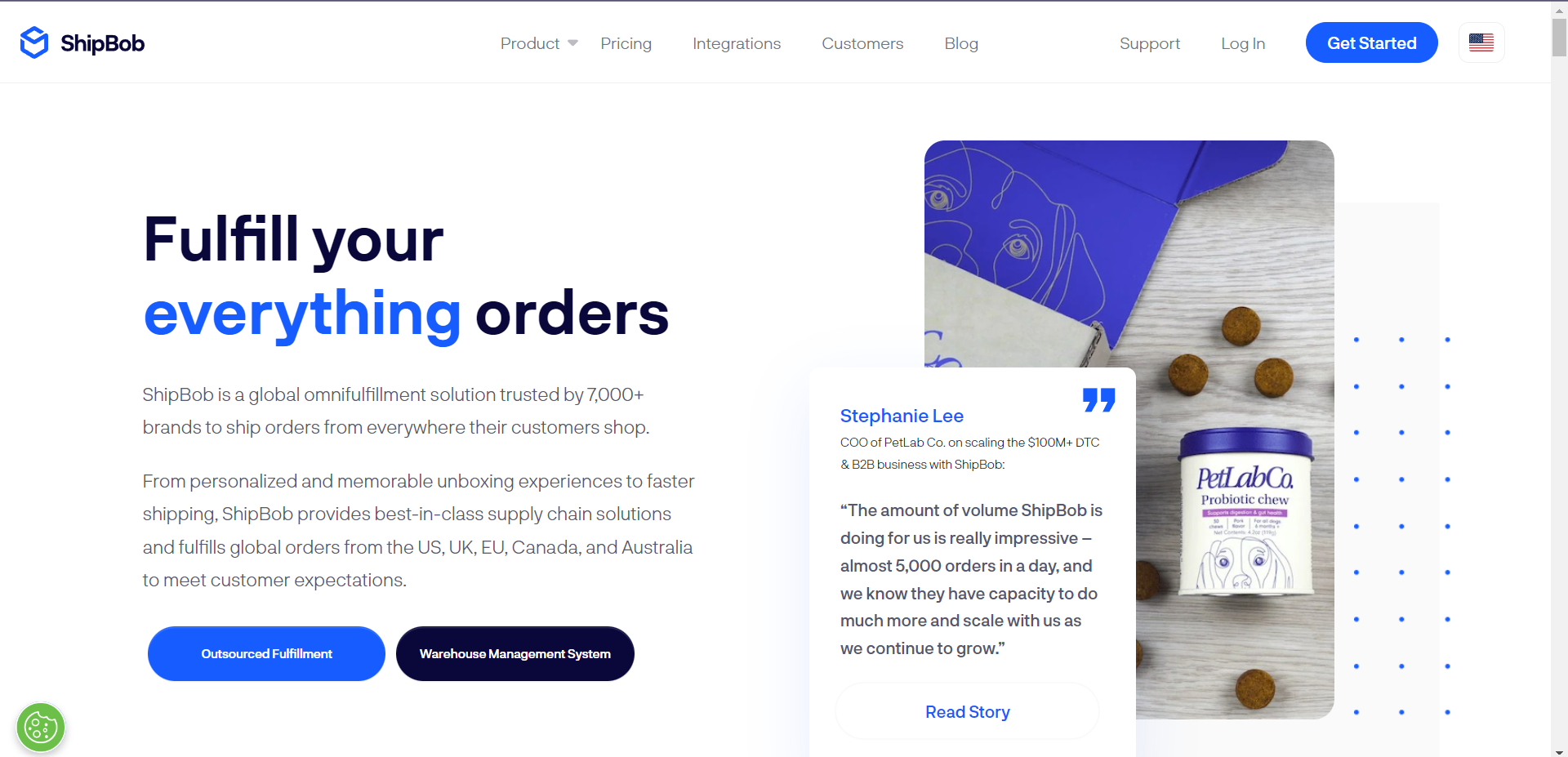 Experience the game-changing capabilities of ShipBob, the industry-leading inventory management tool designed to propel your e-commerce business to new heights. Seamlessly manage your inventory, optimize fulfillment processes, and exceed customer expectations with ease. ShipBob's cutting-edge features, such as real-time inventory tracking, automated order processing, and robust analytics, empower you to stay ahead of the competition. With its intuitive interface and seamless integrations, ShipBob ensures unparalleled reliability and performance, making it the go-to solution for businesses striving for excellence. Unleash the full potential of your business with ShipBob and witness remarkable growth and efficiency like never before.
Best Ecommerce E-mail Marketing Tool
Mailchimp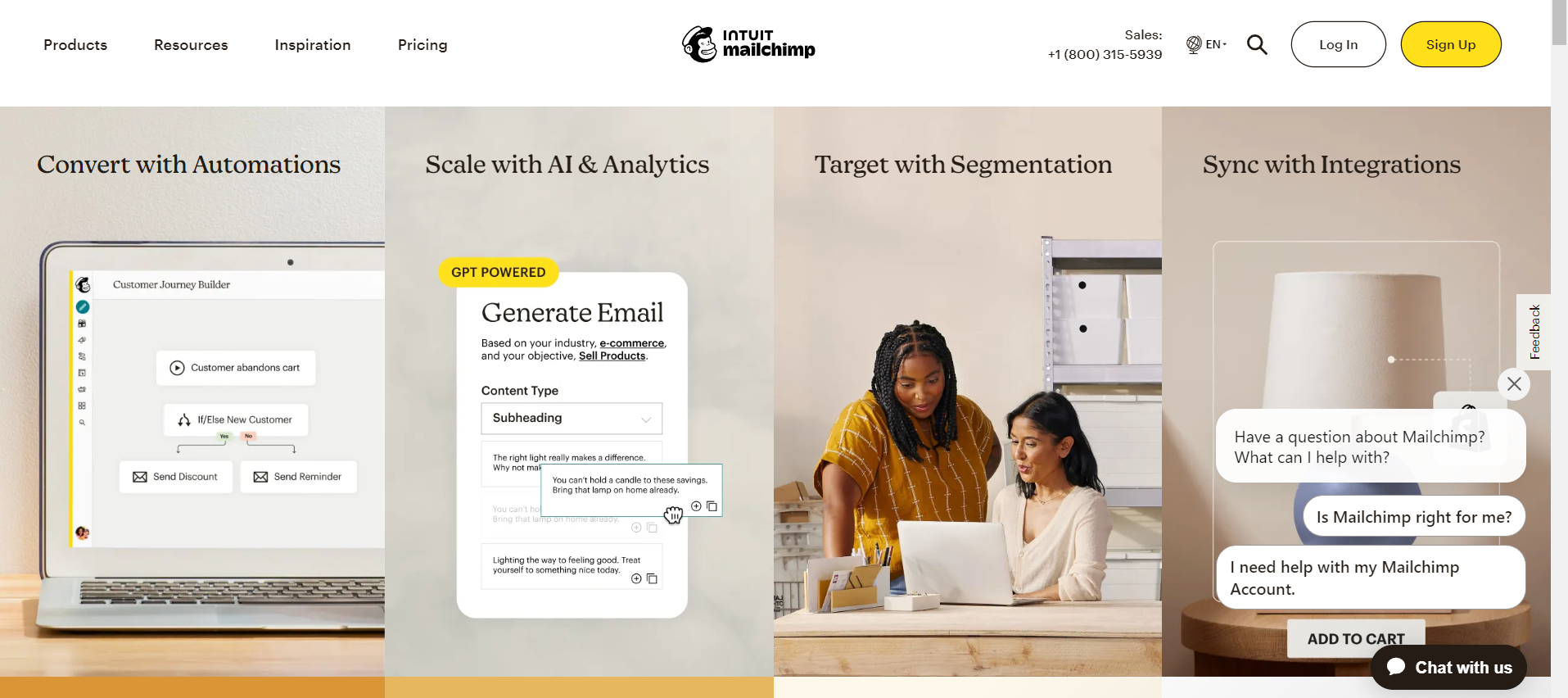 When it comes to e-commerce tools that can supercharge your business growth, Mailchimp stands out as a powerful and versatile email marketing tool. With Mailchimp, you can effortlessly create and send personalized email marketing campaigns to engage your audience and drive conversions. It's user-friendly interface and robust features allow you to automate your email marketing, segment your audience, and track performance with ease. With advanced analytics and A/B testing, you can optimize your campaigns for maximum impact. Trusted by millions of businesses worldwide, Mailchimp is renowned for its industry-leading deliverability rates and unmatched customer support, making it the go-to choice for e-commerce businesses looking to maximize their email marketing efforts.
Best Ecommerce User Experience Tool
HotJar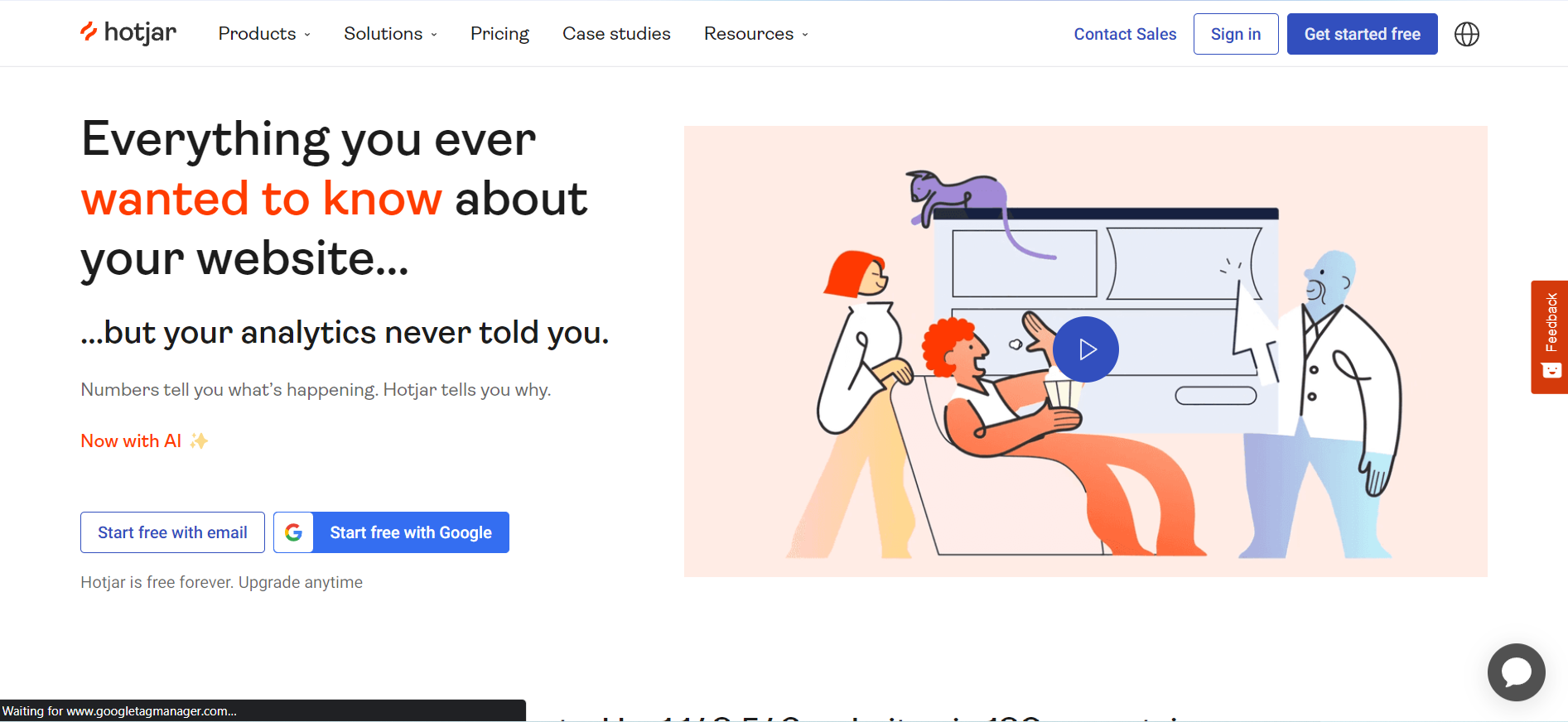 Unleash the true potential of your e-commerce business with Hotjar, the ultimate game-changer in enhancing user experience. Dive deep into the minds of your customers, understand their behavior, and make data-driven decisions that drive conversions. Hotjar's dynamic features, including interactive heatmaps, insightful session recordings, and targeted feedback polls, provide invaluable insights into user interactions, pain points, and preferences. With its user-centric approach and powerful analytics, Hotjar empowers you to optimize your e-commerce platform, create seamless customer journeys, and stay ahead of the competition. Elevate your business to new heights with Hotjar and witness the remarkable impact it has on your growth and success.
Best Social Media Management Tool
Buffer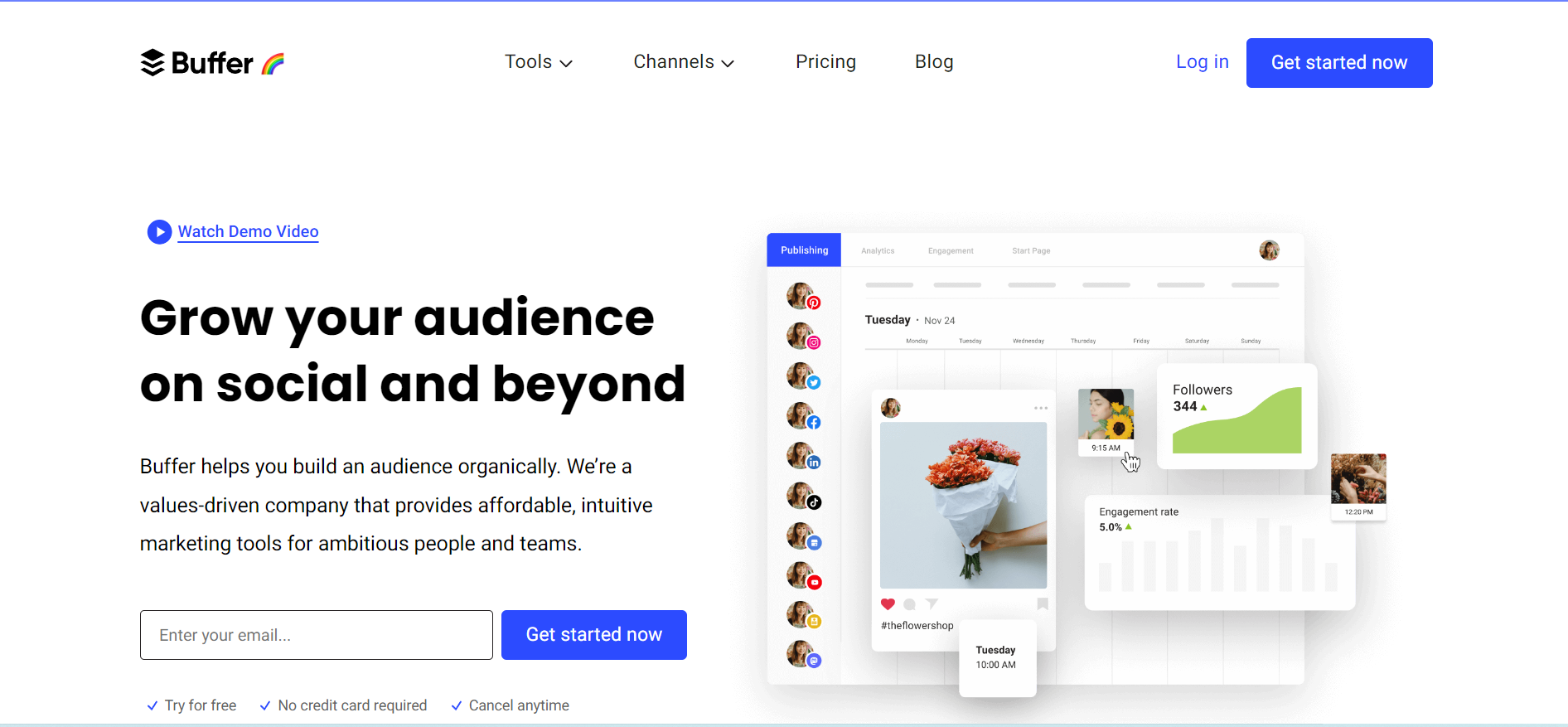 Level up your social media game with Buffer, the leading social media management tool trusted by e-commerce businesses worldwide. With Buffer, you can supercharge your online presence by effortlessly scheduling and publishing captivating content across multiple social media platforms. Harness the power of Buffer's advanced features and analytics to optimize your social media strategy, track performance, and drive business growth. From content planning and curation to audience engagement and analytics, Buffer sets the industry standard for social media management tools, making it the go-to choice for e-commerce businesses looking to dominate the digital landscape. Elevate your brand's social media presence with Buffer and unlock a world of opportunities for your business.
Final Thoughts
The world of online business relies heavily on ecommerce tools for success. These tools play a crucial role in various aspects of running an online store, enabling businesses to:
Create an appealing and user-friendly ecommerce website that captivates customers and enhances their shopping experience.
Utilize e-commerce analytics tools to gain insights into user behavior, track performance, and make data-driven decisions to optimize the website's effectiveness.
Automate repetitive tasks and streamline operations, allowing for greater efficiency and organization in day-to-day business operations.
Develop effective marketing campaigns to establish a strong brand presence, attract a wider audience, and increase customer visibility and engagement.
Provide exceptional customer support services that foster customer loyalty and encourage repeat purchases.
By leveraging the power of ecommerce tools, businesses not only establish themselves in the online marketplace but also unlock their true growth potential. These are the best tools for e-commerce websites to serve as essential resources in building a thriving and successful online business.