500+ Catchy Jewelry Business Names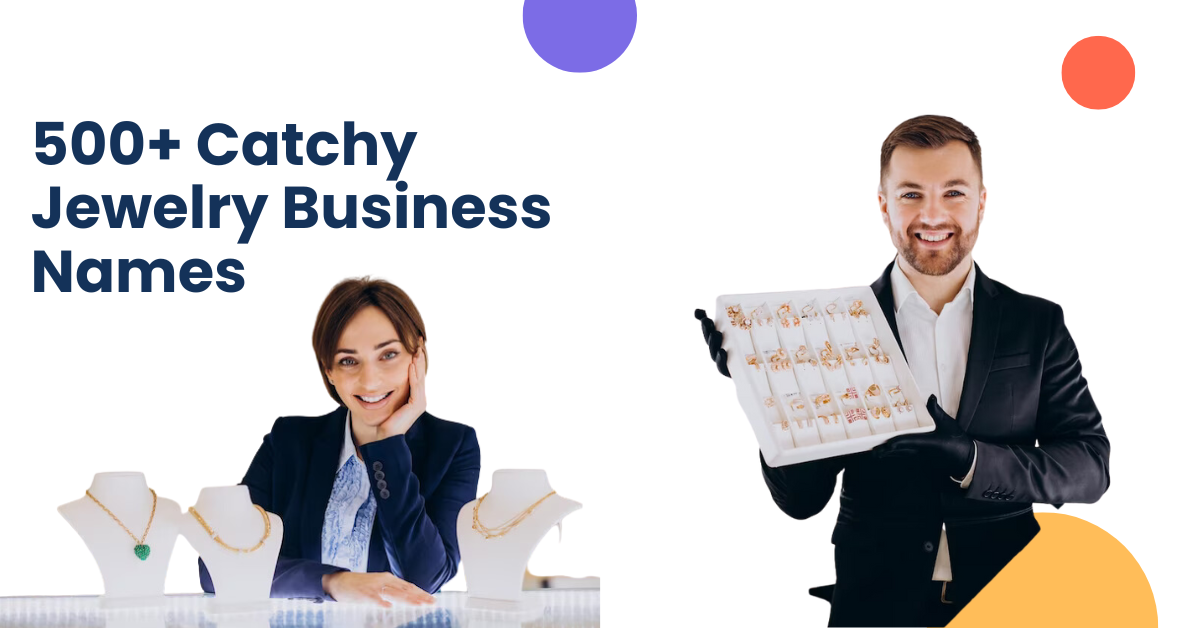 Jewelry is a personal and meaningful purchase, so it's important to choose a business name that reflects that. This blog post will explore 500+ catchy jewelry business names that are sure to stand out from the competition. From unique and quirky names to elegant and sophisticated names, there's sure to be a name on this list that's perfect for your business.
When choosing a jewelry business name, it's important to consider the following factors:
Your target audience: Who are you selling to? What are their interests?
The tone: What kind of image do you want to project? Are you going for a playful, flirty, or sophisticated feel?
The competition: What are other jewelry businesses in your area called? Do you want to choose a name that is similar or unique?
The availability: Make sure the name you choose is available as a domain name and social media handle.
Here are some tips for choosing a catchy jewelry business name:
Keep it short and sweet: People should be able to remember your name easily.
Use keywords: Use keywords that are relevant to your business.
Be creative: Don't be afraid to think outside the box.
Make it memorable: Your name should stick in people's minds.
Best names for jewelry business
Radiant Rocks Jewelry
The Jewel Vault
Sparkling Splendors
Precious Adornments
Gem & Grace Jewelry
Enchanted Elegance
Dazzling Desires
Gem Glow Creations
Luxe Luster Jewels
Royal Gemstone Treasures
Brilliant Baubles
GemCrafted Charms
Starry Night Jewels
Opulent Ornaments
Gemstone Dreamscape
Adorned Allure
Elysian Gems
Glittering Gaze
Treasured Trinkets
Golden Radiance Jewels
Gem Haven Boutique
Lustrous Legacy
Gemstone Gallery
Crystal Cascade Creations
Eternal Elegance
Charm & Chic Jewels
Gemstone Symphony
Enchanted Carats
Jewel Aura
Crystal Clear Creations
Timeless Treasures
Gemstone Reverie
Sparkle & Shine Jewels
Precious Gemstone Grove
Royal Radiance
Gem Delights
Allure Gems
Jewel Luxe
DazzleCrafted
Glint & Glaze
Gemstone Enchantment
Adorned Bliss Jewelry
Dreamy Gemstone Boutique
Gemstone Galaxy
Elysian Elegance
Glamour Gems
Luminous Legacy
Gemstone Wonderworld
Ethereal Elegance Jewels
Gemstone Galleria
Trendy names for jewelry business
LuxeLoom
Crystal Carat
JewelVista
GoldenGleam
SparkleSphere
PearlCraze
SilverTrove
RadiantAura
GemCrafted
BlingBoutique
DazzleDash
TreasureGrove
GemstoneGaze
OpalOrbit
Starshine Stones
VelvetVogue
PreciousPalette
GlitterGrasp
EleganceEra
Gemfinity
ChicCrest
StoneSense
GemGalleria
BlingStreet
CrystalCrafts
GoldNest
GemGrace
RadiantRealm
TreasureTrail
LuxeLinks
GemWhisperer
SparkleSpell
OpulentOrnaments
TreasureVibe
GemStoneGrove
JewelElegance
SilverShimmer
MoonstoneMosaic
GemHaven
VelvetVogue
CrystalChic
LuxeLuster
PreciousPiece
StarGaze Stones
DiamondDunes
GemEclipse
SparkleSpectrum
OpalEnvy
TreasureTrove
Gemstone Galaxy
Popular jewelry business names ideas
Sparkling Radiance
Jewel Haven
Eternal Charms
Dazzling Adornments
Precious Treasures
Gem Elegance
Crystal Clarity
Glamour Gems
Timeless Ornaments
Radiant Reverie
Golden Dreams
Diamond Delights
Luxe Jewelry Lounge
Gem & Gold Emporium
Allure Accessories
Sterling Shine
Bijoux Boutique
Shimmering Jewels
Artisan Gems
Royal Gemstone Treasures
Gemstone Gallery
Enchanted Crystals
The Jewelry Box
Gemstone Gaze
Starry Gemstone Elegance
Pure Sparkle Haven
Luxurious Ornaments
Crystal Couture
Gemstone Whispers
Regal Radiance
Gem Envy
Timeless Sparklers
Radiant Gem Boutique
The Gem Palace
Artistry in Gems
Gemstone Adornments
Shining Treasures
Bijou Bliss
Precious Gemcraft
Brilliant Baubles
Gemstone Galore
The Gem Vault
Gemstone Opulence
Dazzle & Delight
Classic Gem Elegance
Jewel of the Nile
Gemstone Enchantment
Gemstone Glamour
Golden Adornments
Gemstone Gaze
Cute business names for jewelry
Gemstone Gaze
Sparkle & Shine Creations
Jewel Jamboree
Glittering Trinkets
Gem Garden
Starry Baubles
Crystal Carousel
Bling Bling Boutique
Twinkle Treasures
Dazzle Delights
Bead Boudoir
Glistening Charms
Bijou Bliss
Pearl Petals
Shimmer Haven
Gem Glow Galore
Silver Whispers
Lustrous Lockets
Charm Chateau
Radiant Ornaments
Aurora Adornments
Enchanted Baubles
Gemstone Graces
Charm Cascade
Twinkling Trinkets
Crystal Cove
Starlight Sparklers
Gleam & Glow Treasures
Glitter Galaxy
Gemstone Gazebo
Bead Boutique Bliss
Jewel Jungle
Sparkling Serenades
Crystal Cottage
Bling Fling
Whimsy Wonders
Radiant Reverie
Dazzle Dreams
Pearl Pizzazz
Moonbeam Magic
Shiny Shire
Gemstone Glitz
Bijoux Boulevard
Precious Petals
Bead Bliss Boutique
Starry Nights Jewelry
Crystal Dreamscape
Twinkle Town Treasures
Glimmering Gems
Luminous Lockets
Handmade jewelry business names
ArtisanGem Creations
Crafted Elegance Jewels
BeadAdorned Treasures
Handcrafted Sparkle
Gemstone Galleria
Artistry in Jewelry
JewelCrafted Delights
Earthly Treasures Jewelry
Boho Chic Baubles
Crafted Gemstone Studio
PreciousMetal Artistry
UniqueBeaded Adornments
Nature's Gemstone Forge
WhimsicalWire Creations
HandmadeHeirloom Jewelry
Enchanted Gem Designs
VintageTreasures Jewels
BeadArtistry Studio
GemstoneMosaic Creations
SparklingBijoux Boutique
ArtisanalAdornments
RusticCharm Gems
BeadedWhispers Jewelry
Nature'sElegance Crafts
ExquisiteMetalwork
CrystalCanvas Creations
GemstoneHarmony Studio
BohemianChic Ornaments
TimelessTreasure Forge
GemstoneBoutique Artistry
EarthlyElegance Crafts
BeadEnchantment Jewelry
ArtisanGemstone Delights
WhimsyWire Creations
VintageElegance Bijoux
PreciousStone Forge
CrystalCascade Jewelry
RusticCharm Crafts
BohoBeaded Creations
Nature'sCanvas Gems
EnchantedMetalwork
GemstoneMosaic Bijoux
SparklingHeirloom Studio
ArtisticWire Creations
BeadDreamland Treasures
WhimsicalGem Jewelry
HandcraftedGems Studio
EarthlyChic Adornments
GemstoneHarbor Crafts
BohoTreasures Boutique
Catchy jewelry business names
Sparkle & Shine Creations
Radiant Jewel Haven
Crystal Clear Adornments
Glitterati Gems
Allure & Elegance Jewelry
Diamond Dreams Boutique
Bijou Bliss Creations
GemCrafted Treasures
Golden Elegance Jewels
Enchanted Gem Gallery
LuxeAura Jewelry
Starstruck Stones
Gilded Glamor Jewels
Bling Bling Baubles
Treasured Trinkets Co.
Shimmer & Shine Jewels
Artisan Gem Emporium
Moonlit Marvels Jewelry
CharmCrafter Creations
Opulent Ornaments
Ethereal Essence Gems
Crystal Cascade Jewels
Radiant Rays Jewelry
Elysian Gem Treasures
JewelBox Elegance
Luminous Luxe Creations
Gemstone Galore Boutique
GlamourGlow Gems
Bijoux Brilliance
Stellar Stonecraft
Diamond Delights Co.
GemVista Jewels
Precious Perfection Jewelry
Sparkling Starlets
Crystal Haven Creations
GemGlow Treasures
Aurora Adornments
GemCascade Jewelry
Moonbeam Baubles
Brilliant Belle Jewelry
Treasured Gem Trove
Radiant Riches Jewels
Opal & Onyx Creations
GemCrafted Elegance
Gemstone Galaxy
Pearl & Petals Jewelry
Stardust Jewels
Crystal Crown Creations
Timeless Treasures Jewelry
Gemstone Glow Jewelry
Small business names for jewelry
Sparkling Treasures
JewelCrafted Adornments
Gem Enchantment Boutique
Diamond Dreams Jewelry
Crystal Elegance
Radiant Ornaments
Golden Charms Collective
JewelVogue Creations
PreciousGems Gallery
Gemstone Majesty
LuxeLoom Jewels
Crystal Cascade
Gem Glitter Creations
Royal Jewels Emporium
Timeless Adornments
BlingBoutique Finds
Gemstone Glow
VelvetBox Jewelry
SparklingAura Gems
ElegantEra Ornaments
DiamondDazzle Creations
GemstoneGrace Gallery
CrystalHues Haven
GemGoddess Adornments
JewelJunction Treasures
RadiantBloom Jewelry
GoldenHarbor Charms
GemLoom Treasures
CrystalEnvy Gallery
PreciousAura Ornaments
GemstoneWonders Emporium
LuxeLoom Creations
CrystalVista Gems
GemstoneGrove Boutique
RoyalElegance Jewels
TimelessCharms Collective
BlingBoutique Jewels
GemstoneHaven Finds
VelvetBox Adornments
SparklingAura Gallery
ElegantEra Creations
DiamondDazzle Haven
GemstoneGrace Emporium
CrystalHues Boutique
GemGoddess Ornaments
JewelJunction Charms
RadiantBloom Treasures
GoldenHarbor Adornments
GemLoom Gallery
Gemstone Haven
Unique names for jewelry business
Sparkling Treasures
JewelCrafted Elegance
Radiant Ornaments
Gem Haven
Dazzle & Adorn
GemAura Creations
Bijou Bliss
Gemstone Galaxy
LuxeLoom Jewelry
Radiant Reverie
CrystalCascade Jewels
Luminous Loom
StarryGem Creations
Opulent Ornaments
TreasureTroves
CrystalDream Designs
Ethereal Elegance
GemGlow Creations
SparkleSphere
Enchanted Gems
Bijoux Bazaar
PrismCrafted Jewels
Aurora Adornments
GemWonders
LuminaLux Jewels
VividVogue Ornaments
BijouXquisite
GemHarmony
CelestialCharm Jewelry
ShimmeringSpark Treasures
JewelEnigma
CrystalWhirl Creations
Starstruck Ornaments
GemCrested Adornments
Radiant Reverie Gems
EtherealGlow Jewels
GemFire Creations
JewelRapture
LuminaLuxe Adornments
CrystalEclipse
DreamDazzle Jewels
GemLoom Treasures
Bijoux Brilliance
PrismFlare Creations
VelvetGem Adornments
GemGlow Elegance
LuxeSphere Jewelry
CrystalCascade Charms
StellarStone Ornaments
Gemstone Galleria
Fashion Jewelry Brand Names
AdornAura
CrystalVogue
LuxeLoom
SilverWhisper
BlingElegance
GemstoneGaze
ChicCharms
TreasuredTrinkets
RadiantOrbit
JewelJive
GlamourGlitz
ShimmerShine
GemGrace
DazzleDash
FashionFlare
CharmCraze
CrystalCrest
VogueVault
GemGazebo
EleganceEssence
LushLoom
RadiantRevive
SparkleSpire
GemstoneGlimpse
SilverSpell
CharmChorus
LuxeLoom
GlamourGrove
TreasureTrail
GemGrove
RadiantRealm
JewelJourney
ChicCrystals
CrystalCanvas
BlingBoulevard
ShimmerSpectrum
GemGarden
SparkleScape
FashionFinesse
CrystalCrafted
LuxeLabyrinth
RadiantRhythms
GemstoneGallery
CharmChase
DazzleDreams
VogueVista
GlamourGlow
SilverSymphony
EleganceEthereal
GemGlow
Girly Jewelry Business Names
Sparkle & Shine Jewelry
Dazzling Gems Boutique
Glitter Glam Jewelry
Bling Bling Treasures
Gemstone Goddess Jewelry
Crystal Elegance
Jewel Delights Boutique
Chic Charms & Chains
Precious Petals Jewelry
Twinkle Trinkets
Radiant Rose Gems
Enchanted Pearls
Gemstone Garden Treasures
Glamour & Glitz Jewelry
Lush Lavender Jewels
Princess Sparkles
Gemstone Haven
Elegant Emeralds
All That Glitters Boutique
Starry Night Jewels
Sparkling Sapphires
Crystal Crown Jewels
Whimsical Wonders Jewelry
Shimmering Sea Treasures
Rose Gold Romance
Vintage Velvet Jewels
Gemstone Dreamscape
Crystal Cascade Jewelry
Radiant Ruby Charms
Butterfly Kiss Jewels
Luxe Lilac Pearls
Golden Glamour Treasures
Moonlit Opal Gems
Delicate Daisy Jewels
Gemstone Glow Boutique
Serenity Stones Jewelry
Chic Cherry Blossom Gems
Velvet Violets Jewels
Gemstone Carousel
Crystal Clear Charms
Fairy Tale Jewels
Aurora Borealis Treasures
Royal Rosebud Gems
Gemstone Enchantment
Pink Petal Princess
Emerald Envy Boutique
Vintage Lace Jewels
Gemstone Galaxy
Golden Sunflower Charms
Ocean Pearl Dreams
Famous jewelry store names
Tiffany & Co.
Cartier
Harry Winston
David Yurman
Pandora
Kay Jewelers
Zales
Jared
Swarovski
Blue Nile
Bulgari
Van Cleef & Arpels
James Allen
Graff
Chopard
Tacori
Roberto Coin
Kendra Scott
Boucheron
Monica Vinader
Shane Co.
Hearts On Fire
Alex and Ani
Mikimoto
Stephen Webster
Gorjana
Marli
Kendra Bridelle
Meira T
Temple St. Clair
Elizabeth Locke
Buccellati
Gurhan
Lagos
John Hardy
Effy
Le Vian
Anna Sheffield
Lorraine Schwartz
Hearts of London
Lark & Berry
Rarities
Retrouvai
Goshwara
Marco Bicego
Anita Ko
Loree Rodkin
Rosa De La Cruz
Irene Neuwirth
Brilliant Earth
Famous jewelry store names

Brilliant Earth
Tiffany & Co.
Cartier
Harry Winston
David Yurman
Pandora
Kay Jewelers
Zales
Jared
Swarovski
Blue Nile
Bulgari
Van Cleef & Arpels
James Allen
Graff
Chopard
Tacori
Roberto Coin
Kendra Scott
Boucheron
Monica Vinader
Shane Co.
Hearts On Fire
Alex and Ani
Mikimoto
Stephen Webster
Gorjana
Marli
Kendra Bridelle
Meira T
Temple St. Clair
Elizabeth Locke
Buccellati
Gurhan
Lagos
John Hardy
Effy
Le Vian
Anna Sheffield
Lorraine Schwartz
Hearts of London
Lark & Berry
Rarities
Retrouvai
Goshwara
Marco Bicego
Anita Ko
Loree Rodkin
Rosa De La Cruz
Irene Neuwirth
Necklace business names
SparkleAura Necklaces
Gemstone Glow
Elegant Ornaments
Crystal Cascade
GoldenLoom Neckwear
JewelJunction
NecklaceNook
SilverSprings Necklaces
AdornAllure
PreciousPendants
RadiantRopes
LuxeLinks Neckwear
CharmChains
GemGlow Necklaces
DivineDrapes
PearlPerfection
TrinketTreasures
GoldGraces
GracefulGems
DazzlingDrops
TwinkleTresses Neckwear
JewelJive
CrystalCrest Necklaces
GleamGlitter
GemEnsemble
OpulentOrbits
DelicateDrapery
ShimmerShores Neckwear
RegalRosaries
TimelessTrinkets
RadiantRibbons
LuxeLariats
EnchantElegance
GemstoneGalaxy Necklaces
AllureAdornments
PearlPleasures
SparkleStrings
GoldGleam Neckwear
GracefulGarlands
DazzleDrops
TwinkleTales
JewelJunction Necklaces
CrystalCharms
GleamGrace Neckwear
GemstoneGalore
OpulentOrnament
RegalRadiance
TimelessTwists
RadiantRings
LuxeLinks
10 Tips to grow your Jewellery store business
Set competitive prices. You want to be affordable, but you also want to make a profit.
Offer great customer service. This is essential for any business, but it's especially important for jewelry stores.
Build a strong online presence. This means having a well-designed website and active social media accounts.
Run effective marketing campaigns. Use email marketing, social media marketing, and other channels to reach your target audience.
Partner with influencers. This is a great way to reach a new audience and boost your sales.
Attend trade shows. This is a great way to meet potential suppliers and learn about new trends.
Invest in SEO. This will help your website rank higher in search results, which will drive more traffic to your store.
Use social media marketing. This is a great way to connect with potential customers and promote your products.
Never give up. Running a business takes hard work and dedication, but it's also very rewarding.
Choose the right products. Make sure you offer a wide variety of jewelry that appeals to your target audience.
Here are some additional tips that are specific to the jewelry industry:
Focus on quality. Jewelry is a luxury item, so customers expect high quality. Make sure your products are made with high-quality materials and craftsmanship.
Personalize your offerings. Jewelry can be a very personal purchase, so customers appreciate it when you can personalize their jewelry. This could mean offering engraving services, or creating custom pieces.
Stay up-to-date on trends. Jewelry trends change frequently, so it's important to stay up-to-date on the latest trends. This will help you attract new customers and keep your existing customers coming back for more.
Build relationships with your customers. Jewelry is often a gift, so it's important to build relationships with your customers. This will make them more likely to do business with you again in the future.
Discover how Manifest AI, a GPT-powered tool, can elevate your lingerie store:
Effortless Product Discovery: Manifest AI boosts add-to-cart rates with seamless product discovery, enhancing the shopping experience.
Multilingual Engagement: Communicate in 95+ languages, building trust and driving conversions globally.
Tailored Recommendations: Harness AI for personalized product suggestions. Revitalize your business with AI in under 5 minutes!