400+ Unique Lingerie Store Names For your Shopify Store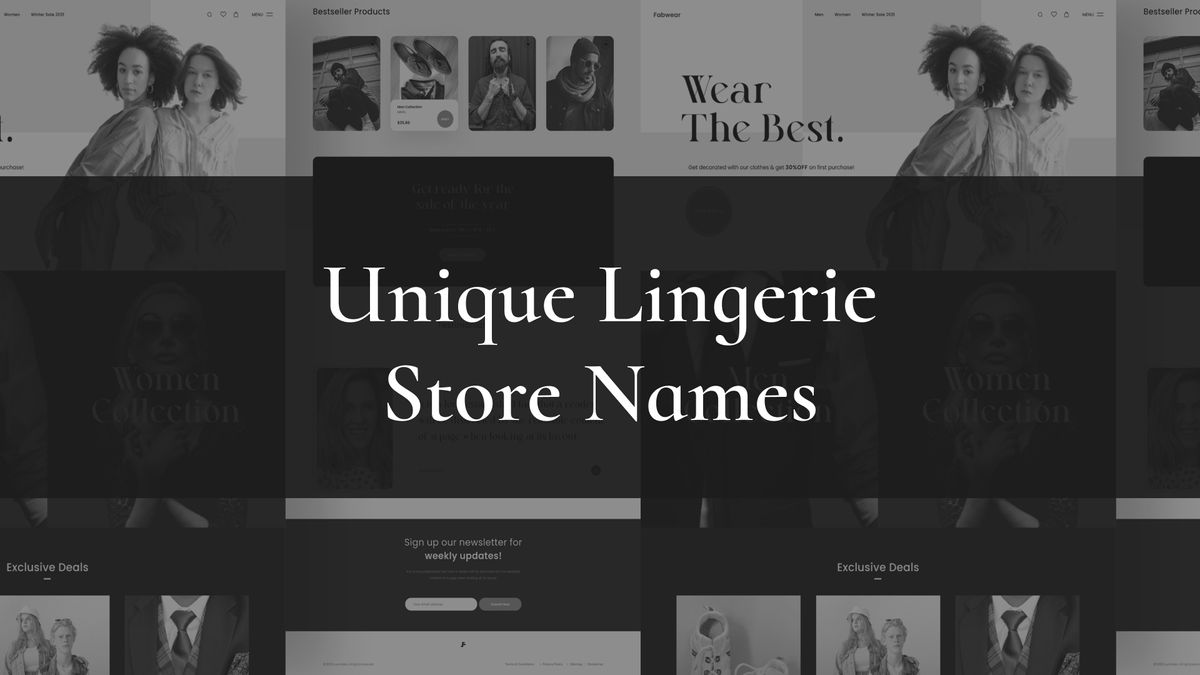 Lingerie is a personal and intimate purchase, so it's important to choose a store name that reflects the feeling of confidence and empowerment that lingerie can bring. This blog post will explore 100 lingerie store names that are sure to make your customers swoon. From playful and flirty names to sophisticated and elegant names, there's sure to be a name on this list that's perfect for your business. These lingerie brand name ideas are unique and perfect, who is starting their business in 2023.
Unique lingerie business name ideas
Siren Silk Lingerie
Velvet Whispers Intimates
Sheer Elegance Underwear
Blissful Lingerie Haven
Silk Seduction Emporium
Satin Secret Wardrobe
Enchanting Lace & Love
Temptation Tulle Treasures
Divine Intimates Boutique
Silhouette Charm Lingerie
Lace & Luxe Essentials
Bare Necessities Boudoir
Allure of Adornments
The Intimate Affair
Sweet Nothings Haven
Velvet Kiss Lingerie
Barely There Boutique
Silken Whispers Wardrobe
Lacy Allure Emporium
Exquisite Intimate Apparel
The Lingerie Loft
Boudoir Chic Essentials
Sensual Sirens Silk
Tulle & Temptation
Flirty Lace Fantasy
Secret Silhouettes Haven
Silk & Satin Whispers
Elysian Lingerie Oasis
Enchanted Lace & Love
Opulent Intimates Boutique
Sheer Elegance Ensembles
Lustrous Lingerie Haven
Velvet Touch Essentials
Adorned in Lace
Temptation Trail Treasures
Featherlight Intimates
The Luxe Lingerie Lounge
Satin & Silk Serenity
Sweet Seduction Emporium
Delicate Allure Boutique
Whispering Secrets Silk
Bare Essentials Boudoir
Divine Lingerie Charm
Silken Dreams Wardrobe
Lace Adornments Haven
Scent of Satin
The Silk Seductress
Tulle Temptation Boutique
Velvet Whispers Wardrobe
Lace Dreams Boutique
Cute lingerie store name ideas
Frilly Delights Lingerie
Cozy Couture Corsets
Bubbly Bra Boutique
Pajama Party Palace
Sweetheart Silhouettes
Cuddly Comfort Wear
Teddy Bear Treasures
Lace Love Letters
Cotton Candy Dreams
Snuggle Bunny Boutique
Chic & Cheeky Intimates
Flirty Feathered Finds
Lacy Lullabies
Velvet Bow Lingerie
Polka Dot Pretties
Whimsical Lace Land
Kissable Comforts
Bowtie Bliss Boutique
The Cotton Cloud
Starry Nightwear Shop
Cupcake Couture Corsets
Dreamy Drawers
Cherry Blossom Charm
Honey Bee Lingerie
Blossom Boudoir
Teddy's Tea Party
Rosy Cheeks Boutique
Cotton Candy Kisses
Sweet Serenade Silks
Lacey Love Shack
Frosted Frills
Bunny Slippers & Lace
Flannel & Flirt
Heartstrings Lingerie
Silk Pajama Serenity
Giggles & Garters
Snuggle Up Secrets
Blushing Petals Boutique
Whisker Kissed Lingerie
Love Bug Loungewear
Polka Dot Pajamas
Tickle Me Tulle
Rosy Dreams Intimates
Breezy Braids Boutique
Sweet Embraceables
Cupcake Confetti Corsets
Dreamland Dainties
Lullaby Lace Lounge
Berry Blissful Boutique
Starry-Eyed Sleepwear
Trendy Lingerie Store Name Ideas
Velvet Secrets
Siren Sylk
IntimaChic
Lacey Luxe
Elegance Ensembles
Whispering Tulle
Pure Indulgence
Allure Couture
Boudoir Belle
Lingerie Loft
Silken Sensations
Provocative Wear
Temptation Treasures
Satin & Lace Haven
Envy Intimates
Barely There Bliss
Sheer Desires
Luxe Lingerie Lounge
Embellish Elegance
Tempt & Tease
Lustrous Lovelies
Silk & Satin Dreams
Flirty Foundations
Lacey Luxuria
Velvet Touch Lingerie
Sultry Silhouettes
Enchanted Elegance
Dreamy Delicates
The Lace Lounge
Glamour Gartery
Scent of Silk
Bare Essentials Boutique
Velvet Whispers Wardrobe
Sensual Sirens
Silk & Secrets
Elegant Intimates
Whispered Allure
Provocateur Palace
Luxe Lingerie Lab
Delicate Dreams
The Silken Seductress
Lingerie Luxuria
Satin Sirens
Lacey Desires
Velvet Vixens
Lace Haven
Silk Enchantment
Seduction Sensations
Bare Necessities Boutique
Chic Lace & Silk
Classic lingerie store name ideas
Elegant Intimates
Luxe Lingerie Boutique
Silk & Lace Essentials
Vintage Vanity Lingerie
Delicate Dreams Boutique
Timeless Tulle Treasures
Enchanting Elegance
Pearl & Lace Lingerie
Sophisticated Silhouettes
The Velvet Rose
Classic Charm Lingerie
Whispering Lace Wardrobe
Graceful Glamour
Ivory & Lace Haven
Opulent Obsession
Bare Necessities Classics
Timeless Allure Boutique
Silk Sensation Emporium
Satin Serenity Silhouettes
Eternal Elegance
Enchanted Lace Dreams
Vintage Silk Seduction
Classic Couture Lingerie
Precious Pearls & Lace
Signature Silken Whispers
Ivory Elegance Essentials
Antique Lace Treasures
Royal Velvet Lingerie
Lace & Linen Haven
Radiant Ruffles
Silky Sophistication
Graceful Curves Boutique
Pearlescent Lingerie
Whispers of Romance
Vintage Charm Wardrobe
Time-Honored Tulle
Heirloom Lace Elegance
Platinum & Lace Classics
Velvet Reverie Boutique
Regal Rose Lingerie
Classic Contours
Lace Legacy Emporium
Ivory Enchantment
Tulle Temptation Classics
Satin & Silk Serenades
Eternal Essence Lingerie
Lace Embrace Haven
Vintage Velvet Dreams
Elegance Defined
Whispered Secrets Classics
Good name for lingerie store
Boudoir Blossoms
Intimate Allure
Silk & Lace Haven
Seductive Silhouettes
Elegance Embellished
Lingerie Luxe Lounge
Velvet Whispers
Bare Necessities Boutique
Adorned in Lace
Delicate Desires
Sensual Serenades
Enchanted Intimates
Satin Dreams
Sweet Seduction
Sheer Elegance Emporium
Lacy Lingerie Loft
Temptation Trail
Silk Seductress
Barely There Ensembles
Opulent Obsessions
Featherlight Favorites
Lustrous Lace & Love
Silken Serenity
Tulle Temptations
Flirty Whispers
Velvet Touch Treasures
Elysian Allure
Allure Adornments
Luxe Lingerie Lounge
Lingerie Love Notes
Blissful Bare Essentials
Tempting Tulle
The Lace Lounge
Enchanted Elegance
Satin Secrets
Barely Hidden Charms
Exquisite Ensembles
Silk Sensations
Sweet Nothings Emporium
Sheer Indulgences
Divine Allure
Lace & Love Affairs
Bare Desires Boutique
Velvet Visions
Whispering Lace Wardrobe
Silken Whispers
Satin & Secrets
Delicate Drapes
The Intimate Boutique
Lace Lagoon
Beautiful lingerie store names ideas
Lace Elegance
Velvet Desires
Satin Serenity
Silk Seduction
Enchanted Allure
Whispering Silk
Lace Blossom
Intimate Whispers
Silk Harmony
Bare Necessities
Velvet Dreamscape
Sheer Bliss
Graceful Lingerie
Luxe Allure
Divine Silhouettes
Barely There Beauty
Velvet Rose Intimates
Lace & Love Boutique
Silken Whispers
Enchanting Comforts
Lace Delights
Velvet Temptations
Silk Secrets
Lacy Dreamscape
Allure & Lace Haven
Heavenly Silhouettes
Bare Essentials Boutique
Velvet Charm
Whispering Desires
Lace Blossom Boutique
Satin Serenade
Graceful Intimates
Luxe Elegance
Silk Embrace
Sheer Delights
Velvet Whispers Boutique
Lustrous Lace
Barely There Elegance
Enchanted Whispers
Silk Dreamscape
Divine Allure Boutique
Lace & Rose Lingerie
Satin Enchantment
Sheer Serenity
Velvet Embrace
Graceful Silhouettes
Luxe Seduction
Silken Sensations
Whispering Dreams
Lace Haven
Popular Undergarments shop names in India
Inner Bliss
Body Comfort Hub
Lingerie Lounge
Cotton Clouds
Silk & Satin Haven
Undercover Boutique
The Intimate Wardrobe
Bare Essentials
Cotton Dreams
Secret Silhouettes
Velvet Comfort
Cozy Creations
Silken Whispers
Divine Delicates
Lace Allure
Inner Beauty Bazaar
The Undergarment Emporium
Comfort Zone
Enchanted Essentials
The Innerwear Shoppe
Whispering Secrets
Soft Touch
Silk Sensations
Lace Love
Bare Necessities
The Lingerie Boutique
Sensual Comforts
Cozy Couture
Velvet Appeal
Body Bliss Emporium
Lace & Silk Treasures
The Lingerie Lounge
Underneath Elegance
Cotton Candy Dreams
Intimate Expressions
Alluring Comforts
Inner Elegance Hub
Lace Envy
Cozy Creations
Silken Dreams Emporium
Velvet Comforts
Body Grace
The Innerwear Studio
Elysian Elegance
Soft Silhouettes
Luxe Lingerie
Lace Allure Boutique
Silk & Satin Secrets
Cotton Comfort Zone
The Undercover Hub
Elegant lingerie store name ideas
Elegance in Silk
Silk & Lace Elegance
Lingerie Couture
Velvet Whispers
Ivory & Lace Lingerie
Opulent Intimates
Sheer Elegance Boutique
Graceful Allure
Luxe Silk Lingerie
Pure Charm Silks
Adorned in Lace
Silken Dreams Emporium
Enchanted Elegance
Lace & Satin Serenity
Velvet Touch Lingerie
Timeless Lingerie Elegance
Classic Lace Essentials
Satin Enchantment
Ivory Elegance Hub
Exquisite Silhouette
Divine Lace & Love
Whispering Silk Delights
Lavish Lace & Lingerie
Regal Intimate Couture
Silk & Pearl Elegance
Lustrous Lingerie Lounge
Elegant Adornments
Sheer Bliss Emporium
Satin & Lace Reverie
Timeless Charm Lingerie
Silken Splendor
Graceful Silhouettes
Allure of Satin & Lace
Velvet Reverie Boutique
Elysian Elegance
Royal Silk Couture
Opulent Lace Wardrobe
Luxe Lingerie Boutique
Heavenly Silk Dreams
Lace & Silk Whispers
Pure Elegance Emporium
Silk Sophistication
Satin & Lace Haven
Ivory Allure Treasures
Enchanting Silhouettes
Classic Velvet Charm
Elite Lace Essentials
Silken Splendors Boutique
Ivory Silk Reverie
Luxurious Lingerie Elegance
Sophisticated Lingerie store name ideas
Eleganza Lingerie
Silk & Lace Sophistique
Regal Intimates
Opulent Silhouettes
Luxe Elegance Boutique
Sheer Serenity
Velvet Whisper Couture
Silken Allure Emporium
Ivory Charm Lingerie
Graceful Elegance Hub
Lavish Lace & Luxe
Divine Silk Dreams
Classic Couture Essentials
Enchanted Adornments
Timeless Lingerie Reverie
Lace & Satin Sophistication
Velvet Touch Couture
Pure Elegance Emporium
Opulent Silk Silhouettes
Silk & Pearl Reverie
Lustrous Lingerie Lounge
Refined Lace Couture
Elysian Intimates
Sheer Bliss Boutique
Satin & Silk Serenades
Ivory Lace Charm
Silken Splendors Haven
Elite Elegance Treasures
Ivory Silk Reverie
Luxurious Lingerie Elegance
What to avoid when naming your lingerie store?
When naming your lingerie store, it's essential to create a lingerie brand name
name that is both attractive and suitable for your target audience. Here are some things to avoid when naming your lingerie store:
Inappropriate or Offensive Names: Avoid names that are explicit, offensive, or demeaning. Your store's name should be tasteful and respectful to all customers.
Overly Complex or Long Names: Long and complicated names can be challenging for customers to remember and may not be as catchy. Keep it concise and easy to pronounce.
Trademarked or Copyrighted Terms: Ensure that your chosen name does not infringe on any trademarks or copyrights. Conduct a thorough search to avoid legal issues.
Limited Appeal: Be cautious with names that cater to a very niche or specific audience, as they may limit your store's potential customer base.
Negative Connotations: Avoid names with negative connotations, even if unintentional. Certain words or phrases may have negative associations that could deter potential customers.
Overused Terms: Using generic terms like "Lingerie World" or "Intimate Collections" can make it challenging for your store to stand out in a competitive market. Aim for uniqueness.
Hard-to-Spell Words: Difficult-to-spell words can lead to confusion when customers try to find your store online or through word-of-mouth recommendations.
Regional or Cultural Insensitivity: Be mindful of cultural differences and sensitivities when choosing a name, especially if you plan to expand internationally.
Overemphasis on Discounts: While discounts and deals can be appealing, avoid names that focus solely on discounts, as they may undermine the quality and value of your products.
Limited Growth Potential: Consider the long-term scalability of your store's name. A name that's too specific to a single product or location may hinder future expansion.
Complex Puns or Wordplay: Clever wordplay can be fun, but overly complex puns or wordplay may confuse potential customers.
Names That Lock You In: Avoid names that pigeonhole your store into a specific product category or style, preventing you from diversifying your offerings in the future.
10 Tips to grow your Lingerie store business
Here are 10 tips to grow your lingerie store business, including one tip on using GPT-powered AI tools like Manifest AI:
Choose the right products. Make sure you offer a wide variety of lingerie that appeals to your target audience.
Set competitive prices. You want to be affordable, but you also want to make a profit.
Offer great customer service. This is essential for any business, but it's especially important for lingerie stores.
Build a strong online presence. This means having a well-designed website and active social media accounts.
Run effective marketing campaigns. Use email marketing, social media marketing, and other channels to reach your target audience.
Partner with influencers. This is a great way to reach a new audience and boost your sales.
Attend trade shows. This is a great way to meet potential suppliers and learn about new trends.
Invest in SEO. This will help your website rank higher in search results, which will drive more traffic to your store.
Use GPT-powered AI tools. These ecommerce tools can help you with tasks like generating product descriptions, writing marketing copy, and creating social media posts.
Never give up. Running a business takes hard work and dedication, but it's also very rewarding.
Here's how you can use GPT-powered AI tools like Manifest AI to grow your lingerie store business:
Seamless product discovery. Manifest AI can help your customers in product discovery and increase add to cart rate by 50%.
Respond in 95+ languages. Manifest AI understands more than 95 languages and can respond in the same. It can increase the trust with the customer and overall help in higher conversions.
Personalize product recommendations. GPT-powered AI tools can help you send personalize product recommendations.
This is the most popular way to grow your business by implementing AI tool. The best thing is, it takes less than 5 minutes to install on your store.