10 Must-Try Print-on-Demand Shopify Apps for Unique Products and Designs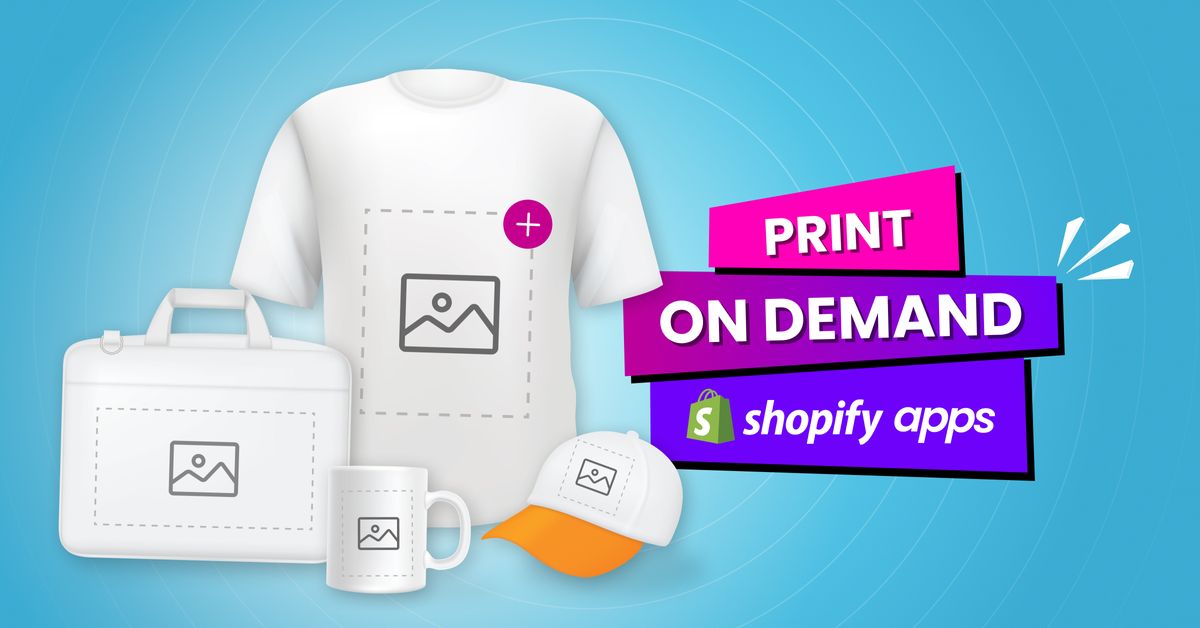 If you are skeptical about what is print on demand business, then you must read on to know about it.
In the bustling realm of e-commerce, it can be a formidable challenge for many businesses to stand out. Do you agree? Many companies must provide distinctive products to their target customers that resonate with them. It is where the Print on Demand (PoD) comes into play. Print on demand (pod) ensures to offer entrepreneurs a quick solution, enabling them to create unique and personalized merchandise without the burden of upfront inventory costs.
However, managing PoD services efficiently within an online store can take time and effort. It is where Shopify, which is a renowned e-commerce platform, steps in to integrate the PoD services seamlessly. With the help of these print on demand Shopify apps, businesses can seamlessly solve the issue of differentiation and provide their customers with products that carry their unique touch.
In this blog post, we will explore some of the best print on demand Shopify apps that can effectively address the challenges mentioned above and let businesses showcase their individuality while expanding their reach.
10 Best Print On Demand Apps For Shopify
These print on demand service providers are the best in the industry. Check the list of
Printful

Have you ever heard about Printful? Well, this is a leading print on demand Shopify app and hence is known for its extensive product range and accessible integration facility. While Printful ensures seamless printing, packing, and shipping process, it also spares up time for the e-commerce store owners to focus on other creative aspects.
Features
Prompt and responsive customer support team for assistance and resolving of queries.
Provides order tracking facility for both the store owners and the customers.
Provides personalization options for customers for unique designs.
Product quality assurance and commitment to high print.
Extensive product variety like accessories, apparel, and home goods.
Pros
User Friendly Interface
Prompt customer inquiry resolution
Global shipping network
Cons
Longer shipping times for international customers
High product cost
Printfy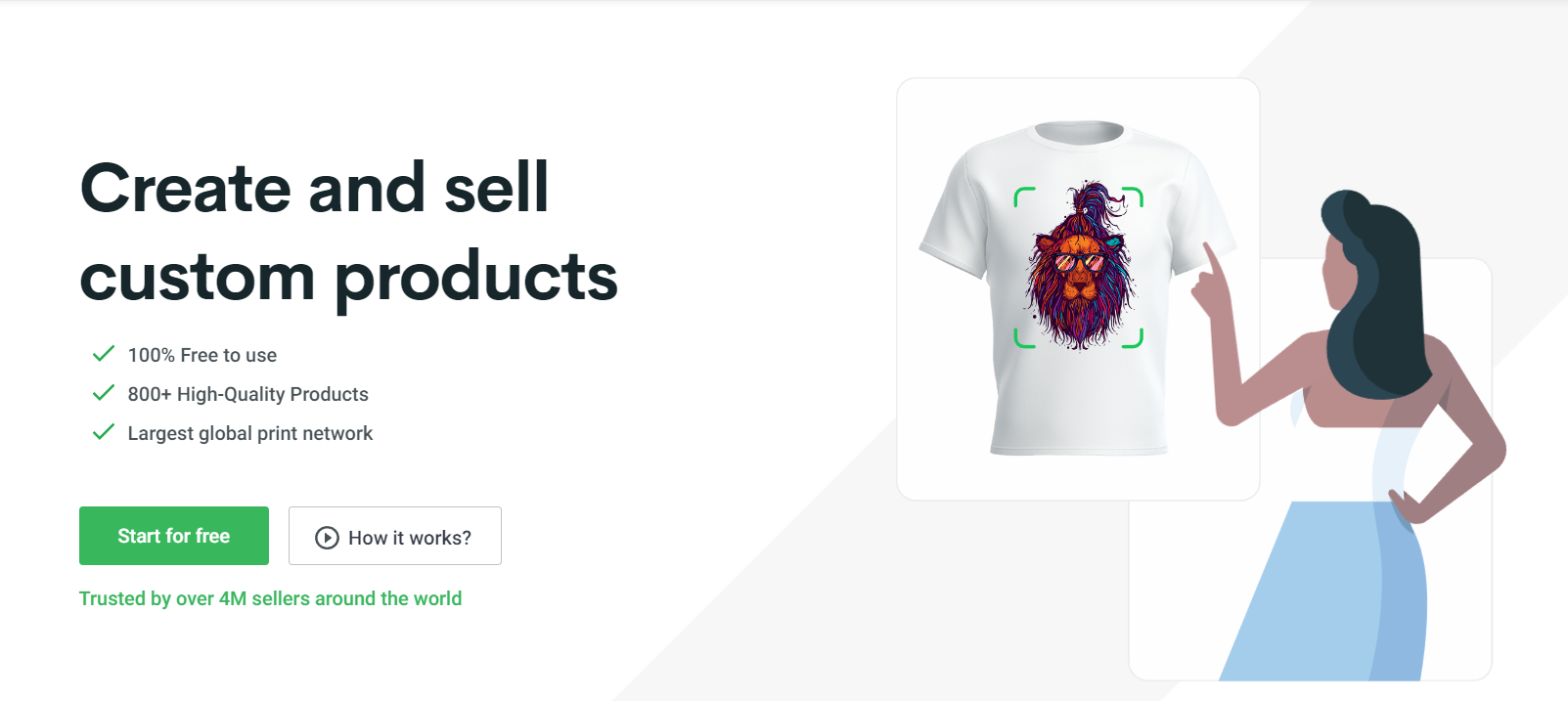 Printfy is another print on demand Shopify apps designed to provide easy integration with the Shopify apps, offering businesses the ability to generate and sell custom products without the stress of inventory management. Printfy has many intuitive features that empower entrepreneurs to showcase their creativity. It even offers personalized merchandise to its customers.
Features
Resolves customer inquiries promptly with a responsive customer support team.
Integrates seamlessly with the Shopify stores.
Offers numerous tools for designing and personalizing products with ease.
Provides international shipping to reach a broader customer base.
Pros
User Friendly Interface
Branding Control
Quality Assurance
Diverse Product Range
Cons
Delays in Shipment
Erratic Feedback on the Customer Support Team
Apliiq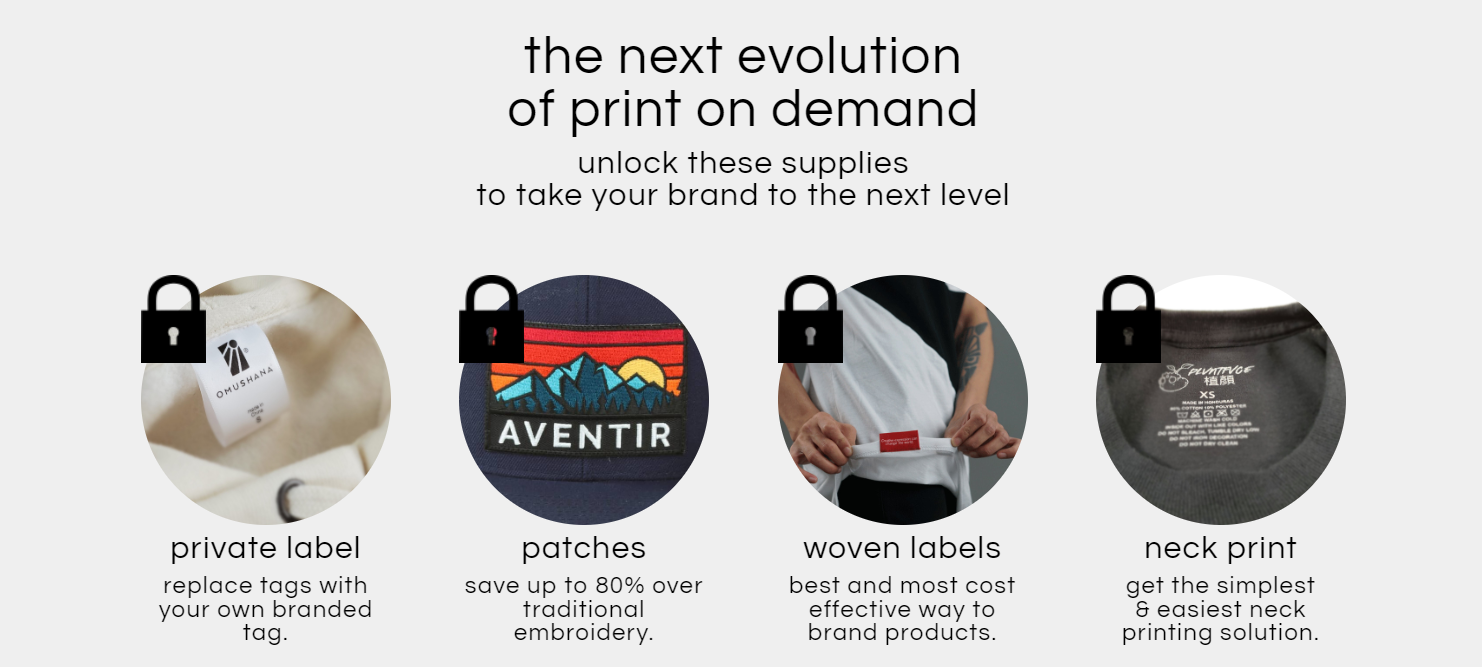 Another unique print on demand Shopify app is Apliiq, as its main focus is on adding a creative touch to clothing and accessories through embellishments and fabric customization. Apliiq has Shopify printing shipping labels, patches, and other fabric applications. It even offers Shopify store owners an opportunity to stand out from their competitors, enhancing their merchandise's value.
Features
Offers assistance to customers for orders and customization.
Enables the users to create a self-personalised fabric design.
Ensures high-quality fabric customization.
Pros
Quality Assurance
Responsive Support Team
Personalized Design
Cons
Complex Design
Limited Scalability
Higher Costs
Gooten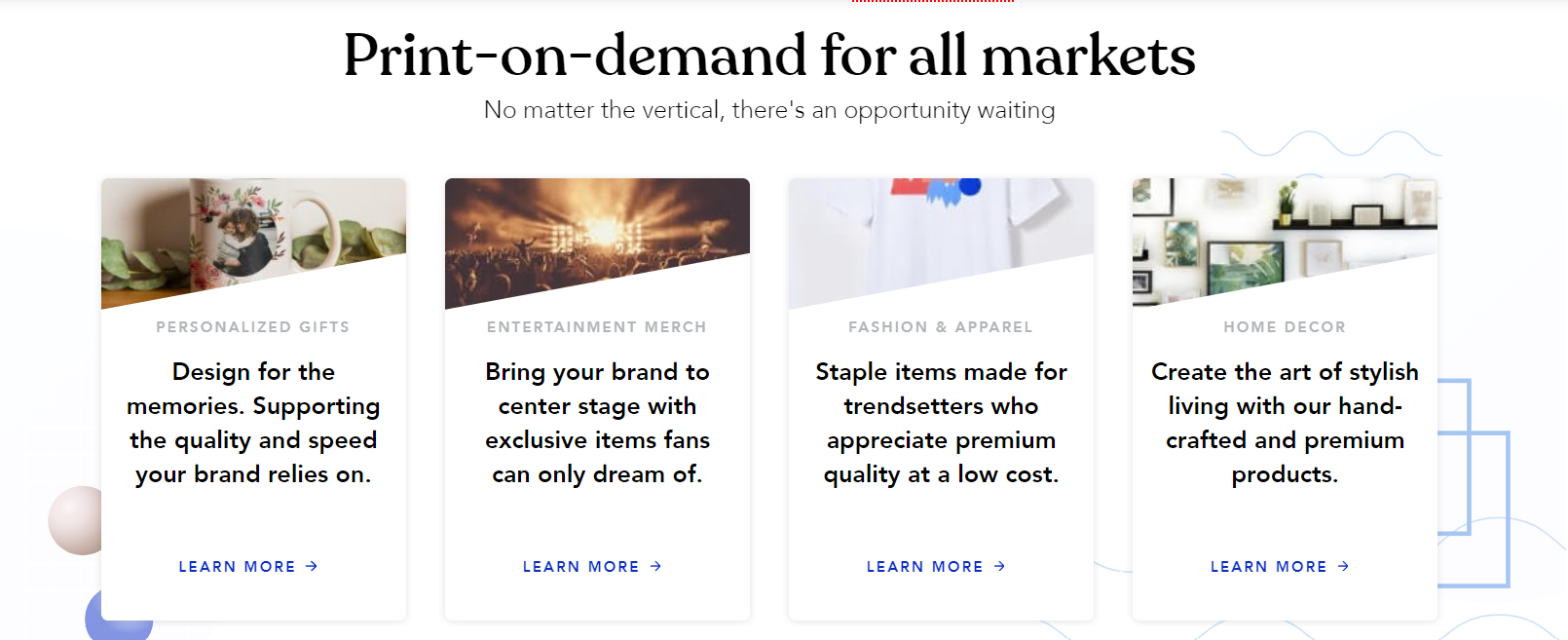 Another comprehensive custom digital print on demand platform which partners with Shopify is Gooten. It provides a vast range of customizable products for e-commerce businesses. Moreover, Gooten has a user-friendly interface that allows entrepreneurs to generate and sell personalised merchandise without facing the struggle of inventory management.
Features
Has a vast network for efficient order processing and fulfilment.
Manages the process of printing, packaging, and shipping automatically.
Smooth integration with Shopify stores for streamlined operations.
Quick customer support response to customer inquiries.
Pros
Global Fulfilment
Design Visualisation
Responsive Support Team
Cons
Integration Complexity
Feature Updates
Product Costs
Gelato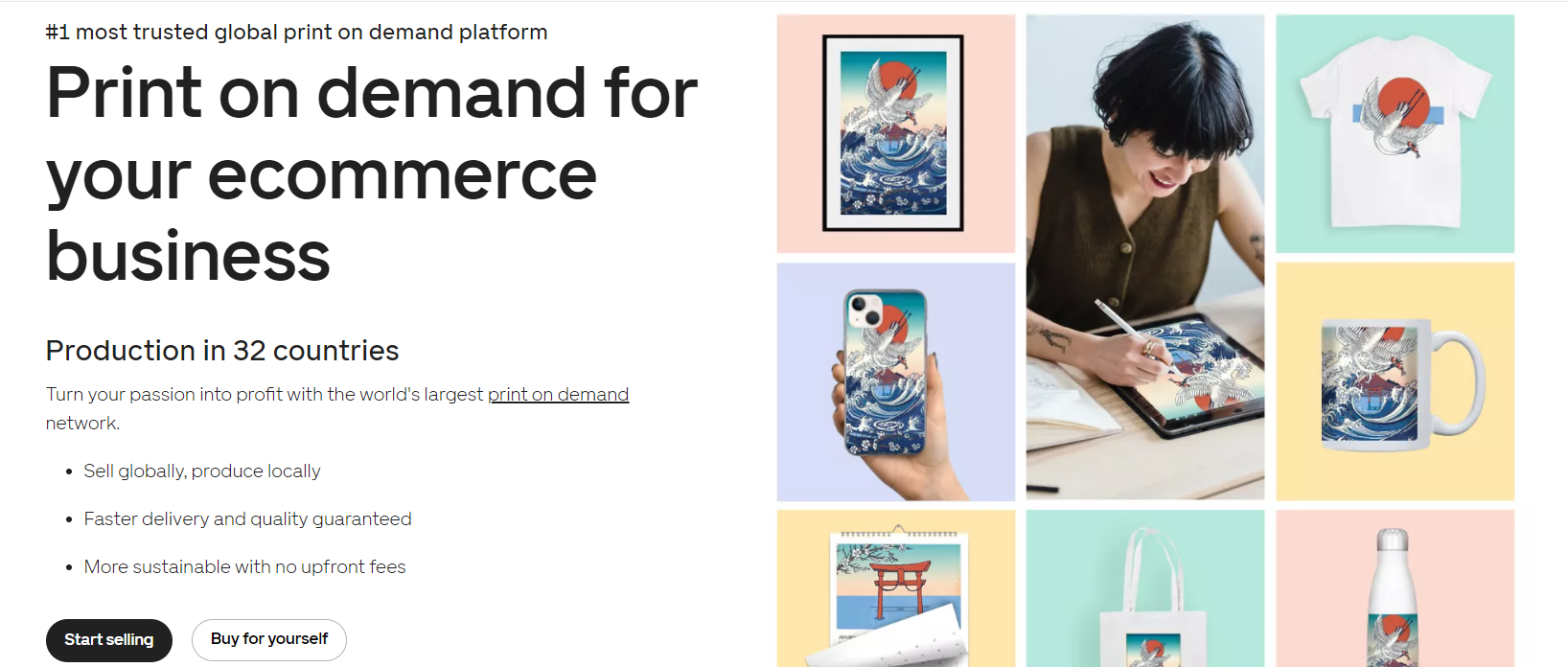 Have you ever heard about Gelato? Well, if not, worry not! It is a global print on demand Shopify platform that offers seamless integration with popular Shopi apps like Woocommerce, Wix, Etsy, and more. It enables businesses to create, customize, and sell a wide range of products to a worldwide audience. The main focus of Gelato is placed on sustainability and hence aims to provide efficient order fulfillment while minimizing its environmental footprint.
Features
Leverages a network of worldwide printing partners with efficient order processing.
Easy integration with Shopify for easy product setup and management.
Adopts sustainable printing practices.
Pros
API Integration
Real-Time Tracking
International Shipping
Focus on sustainable practices
Cons
Learning Curve
Limited User Reviews
Customization Limitations
CustomCat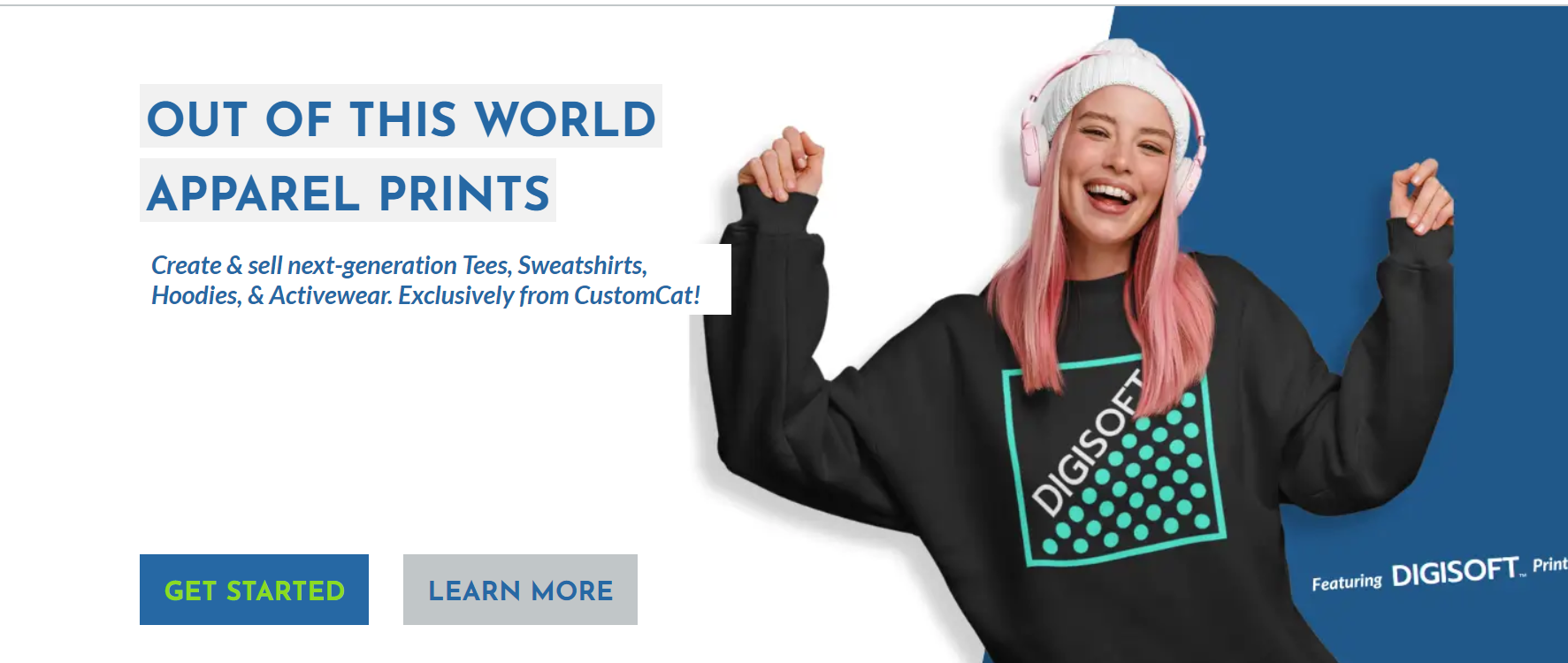 The main focus of CustomCat is on efficiency and a user-friendly interface. Hence, it aims to simplify creating and selling personalized merchandise while handling order fulfillment and printing logistics.
Features
Provides mockups on visualizing designs on products before finalizing.
Supports branding with custom Shopify printing shipping labels and packaging materials.
Offers international shipping options to reach a broader audience.
Seamlessly integrates with Shopify for easy setup and management.
Pros
Wide Product Variety
Quality Printing
Automated Fulfilment
Cons
Shipping Times
Service Availability
Feature Updates
JetPrint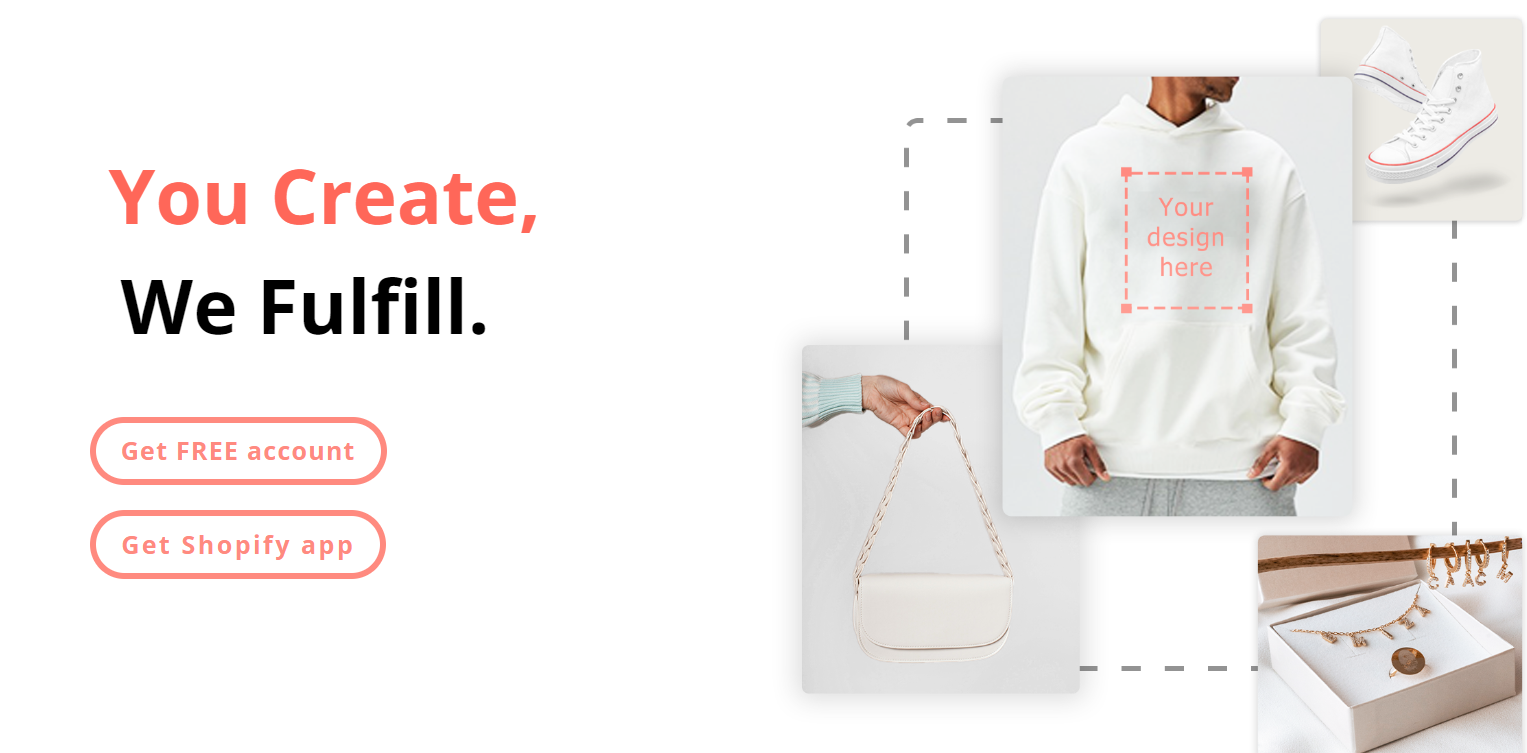 JetPrint is a Print on Demand app that collaborates with Shopify, enabling businesses to design and offer their customers a diverse range of personalized products. With a focus on quality and innovation, JetPrint aims to provide efficient order fulfillment and printing services while allowing entrepreneurs to showcase their creativity through unique designs and merchandise.
Features
User-Friendly Interface
Shopify Integration
Extensive Product Range
Pros
Quality Printing
Innovative Offerings
Design Personalization
Cons
Customization Limitations
Shipping Times

ShineOn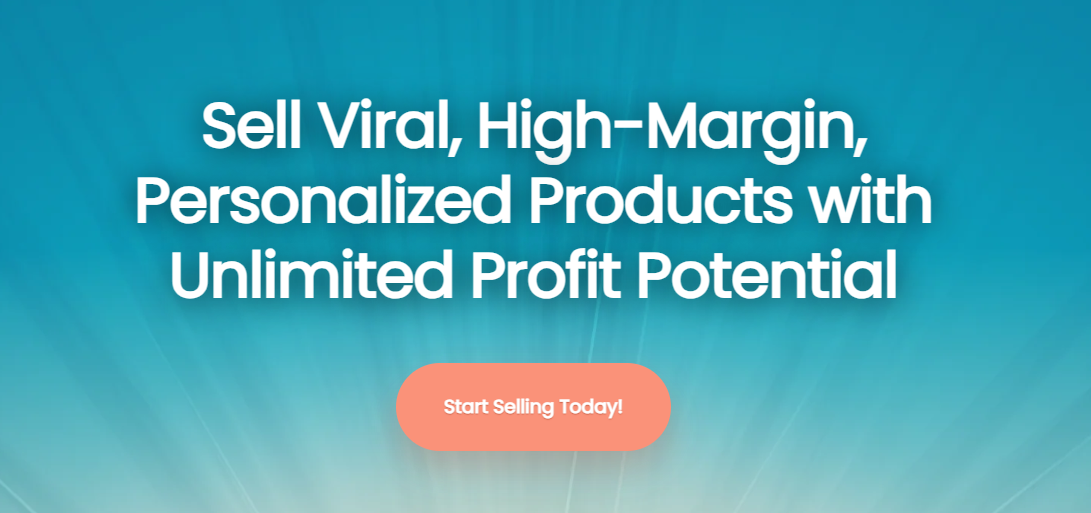 ShineOn is a Print on Demand Shopify app, allowing businesses to create and sell personalized jewelry and accessories. With a focus on high-quality craftsmanship and customizable designs, ShineOn empowers entrepreneurs to offer unique and sentimental pieces to their customers, making special occasions even more memorable.
Features
Empowers entrepreneurs to offer one-of-a-kind jewellery pieces.
Tailors to creating memorable and meaningful gifts for special events.
Emphasises quality in the creation of personalised jewellery pieces.
Pros
Quality Craftsmanship
Design Preview
Unique and Sentimental
Cons
Product Variety
Market Saturation
Teelaunch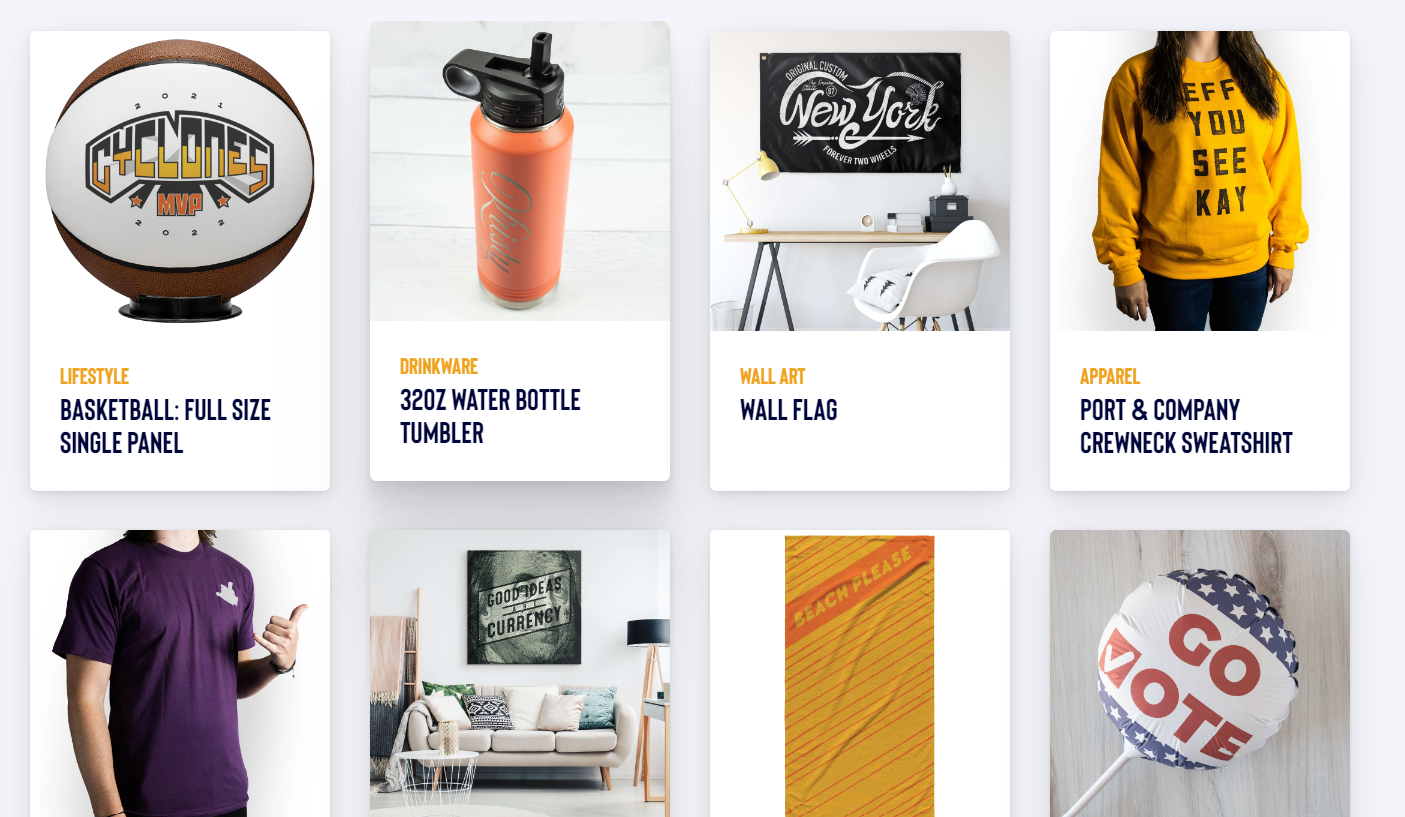 Teelaunch is a comprehensive print on demand Shopify apps, that allows businesses to create, customize, and sell various products without inventory management. With a focus on quality and a diverse range of customizable items, Teelaunch aims to simplify the process of offering unique merchandise while handling order fulfillment and printing logistics.
Features
Utilises a network of printing partners for efficient fulfilment.
Supports businesses of varying sizes, from startups to established brands.
Provides international shipping options to reach a broader audience.
Offers assistance for inquiries related to orders and products.
Pros
Design Personalization
Print Network
Seamless Shopify Integration
Cons
Feature Updates
Quality Control
SPOD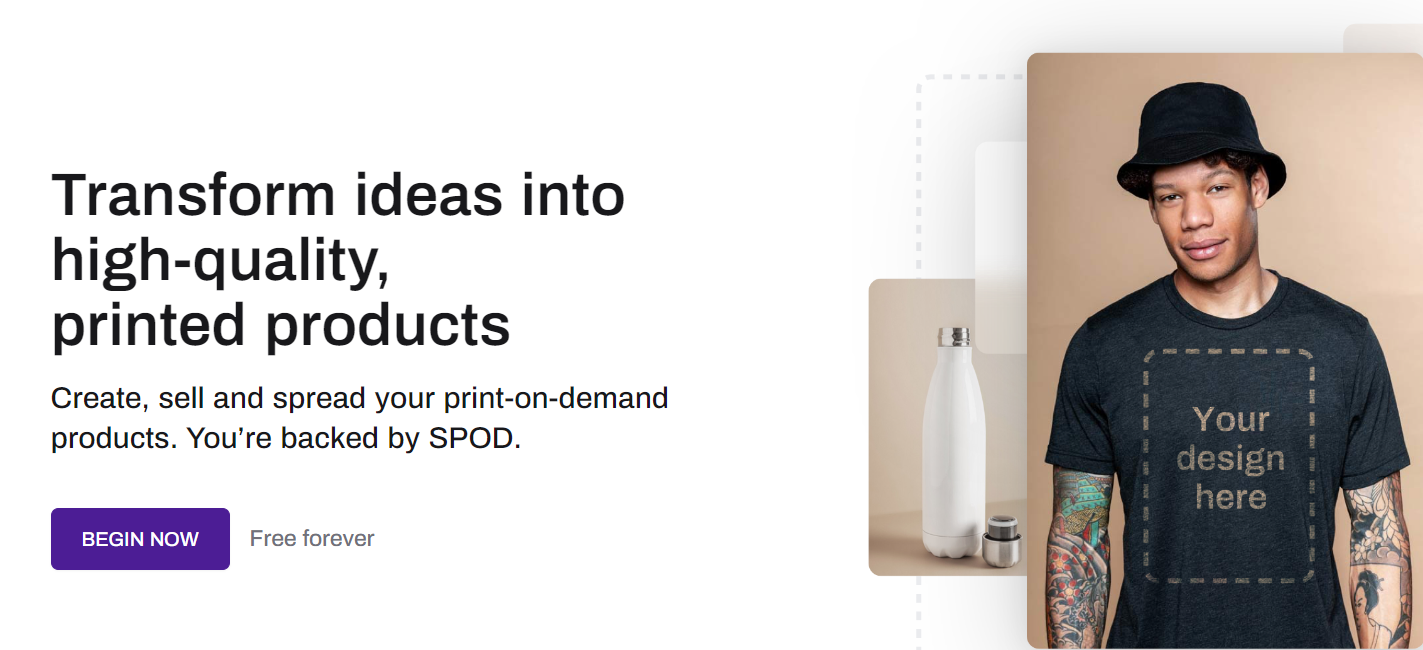 SPOD is a print on demand Shopify apps, allowing businesses to create and sell customizable products focusing on eco-friendly and sustainable practices. By offering a range of products that align with ethical and environmentally conscious values, SPOD enables entrepreneurs to provide unique and socially responsible merchandise to their customers.
Features
Can deliver under 48 hours on demand.
Emphasises socially responsible production and sourcing.
Easy to set up & 50K+ product design options.
Pros
Design Templates
Ethical Practices
Eco-Friendly Focus
Cons
Limited User Reviews
Limited Product Range
How To Choose The Best Print-on-Demand App?
Choosing the best Print on Demand Shopify App involves several essential factors, which are highlighted below:
Before making a final decision, it's better to review the product catalogue to ensure it offers the type of products you want to sell, like jewellery, accessories, clothing, eyewear, footwear, and more.
Quality and Print Options
Next, you should look for the quality and printing options offered by the app, as it significantly impacts the customers' satisfaction level.
Before selecting any Shopify app, first, understand the fulfillment and shipping options. Look for factors such as shipping duration, shipping cost, and availability of international shipping capabilities. Customers, in general, prefer quick and reliable shipping.
You can also order samples from the app so that you can first assess the quality of the products. With this, you can analyze the kind and quality of the products your customers will receive. It would help you make any necessary adjustments to your offerings.
A helpful and reliable customer service team would be essential. Testing their responsiveness by contacting them before making a final decision is sound.
Well, go through and understand the app's terms and conditions, return policies, and other policies in advance to ensure that it aligns with your business expectations.
Take Advantage of the Trial Period
If the app offers a free trial period, we recommend taking advantage of that, as it would give you a fair idea about the entire structure before committing.
Conclusion
Leveraging Print on Demand Shopify apps can unlock creative possibilities and unique product offerings seamlessly integrated with Shopify. From personalized jewellery to eco-friendly goods, each platform, whether the diverse range of CustomCat or the sustainable ethos of T-Pop, presents an opportunity for entrepreneurs to turn their visions into tangible, sought-after merchandise.
By embracing quality design, strategic marketing, and responsive customer engagement, businesses can navigate the Print on Demand landscape with finesse, capturing hearts and conversions alike and ultimately transforming their Shopify stores into captivating havens of personalized expression and innovation.
Frequently Asked Questions (FAQs)
1. How Does Shopify Print on Demand Work?
Shopify Print on Demand works by using apps like Printful or Gooten. You design or choose products, upload designs to your store, and the app handles printing and shipping when a customer orders.
2. How to Set Up Print on Demand Using a Shopify App?
Set up Print on Demand with an app:
Install the chosen app from Shopify App Store.
Create products with the app's interface.
Customise and upload designs.
Set prices and publish in your store.
3. Does Shopify Allow Print on Demand?
Yes, Shopify allows Print on Demand using apps in its App Store. You can offer customised products without managing inventory.