10 Smart Ways to Increase Shopify Conversion Rate with AI
If you are aiming to do Shopify conversion rate optimization of your Shopify store, there are several aspects of the customer experience that you need to enhance. First and foremost, improving the appearance and design of your website is crucial.
Why???
Because an enhanced website design encourages users to stay on your site and explore, increasing the likelihood of converting visitors into customers.
Furthermore, having a user-friendly interface is another significant aspect that must be taken care of when willing to Shopify conversion rate optimization services. Creating a mobile-responsive and easy-to-navigate user interface can significantly boost your website's conversion rate. Incorporating high-quality images, customer reviews, and other valuable information helps to establish trust among potential customers on your website. These are just suggestions, there are numerous different ways to increase Shopify's conversion rate, let's figure them out in this blog post.
What is the Average Shopify Conversion Rate?
As per some industry leaders, an ideal average Shopify conversion rate is around 2.5% to 3%. As per the official website of Shopify, it is reported that the average conversion rate of Shopify stores is 1.4%. However, worry not if you have an average conversion rate below 0.5%, as there's room for improvement.
Shopify stores having an average conversion rate of 3.3% are likely to have an excellent e-commerce conversion rate.
We have attached a screenshot of what the average conversion rate of the Shopify store looks like:
10 Smart Ways to Increase Shopify Conversion Rate
Are you a Shopify ecommerce store owner? If yes, then these 10 ingenious strategies would help you to Shiprocket your conversion rate. From implementing GPT-like search options to improving the website's speed and performance, each approach is tailored to elevate your online business and convert visitors into potential buyers.
1. Enhance Customer Retention through Intelligent AI Nudges
Enhancing customer retention with the help of intelligent AI nudges involves using AI technology, which keeps the customers engaged and motivates them to continue their ongoing interaction with your Shopify store. Nudges can also be in the form of delivering timely reminders to customers via emails, SMS, and notifications that arouse their interest and compel them to purchase.

How does Manifest AI help?
Manifest AI monitors the actions of individual customers, such as the purchase of products, browsing, views, clicks, and other activities. Manifest AI suggests products to customers that align with their preferences. It even nudges the customers with captivating entry points to explore the additional offers, sharing product-related information and enhancing the likelihood of purchasing.
2. Implement GPT-like Search and Recommendation Capabilities
Implementing a GPT-powered search engine for ecommerce would revolutionize how your customers would find a product in your store, enhancing their shopping experience. A GPT-like search feature would analyze customer behavior, purchase history, and preferences. It is a continuous process in which the customers are consistently presented with their preferred products, which can be converted into potential sales.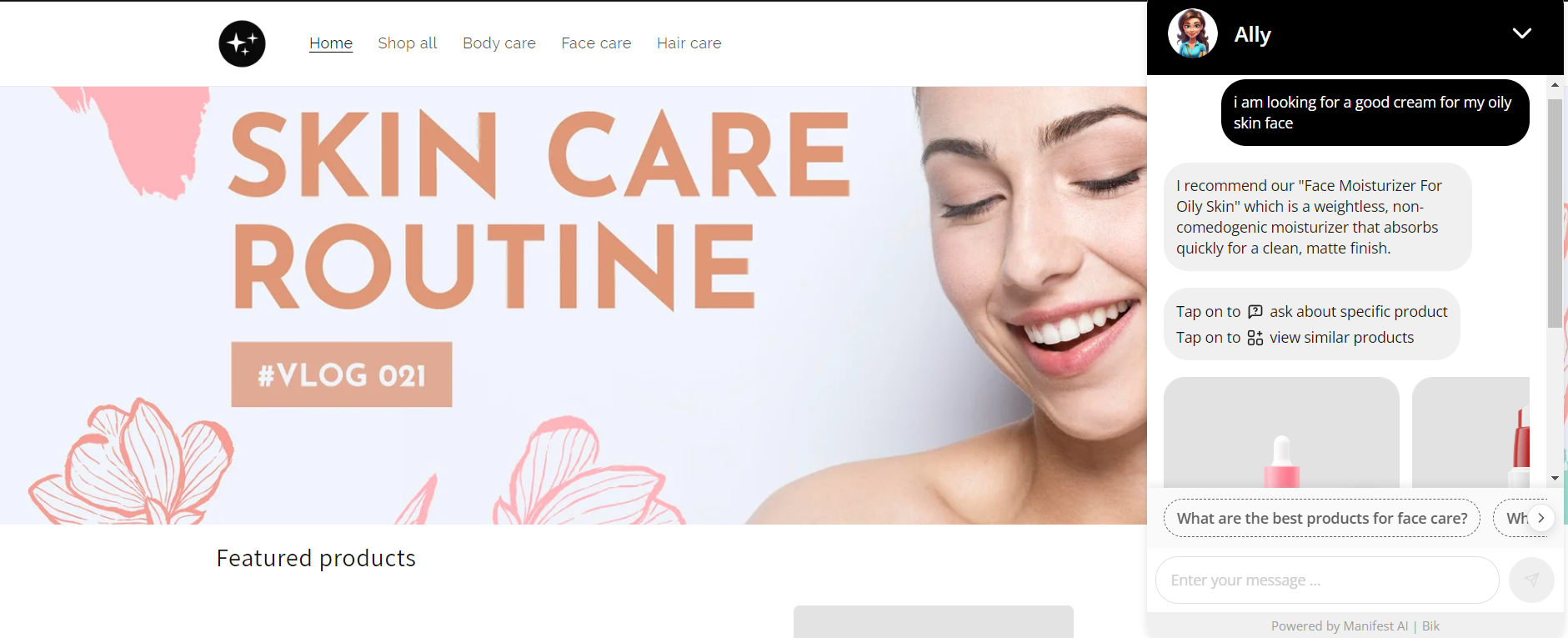 How does Manifest AI help?
Manifest AI excels in this aspect, providing a platform that harnesses AI language models' power like GPT. For instance, when a customer searches for "reasonable women begs", the AI understands the prompt and displays the relevant matches by understanding the visitor's search in terms of grammatical errors, and languages, and providing budget-oriented results. It, in turn, creates a user-friendly and effective buyer search experience.
3. Facilitate Proactive Customer Support Engagement
Facilitating proactive customer support engagement means formulating AI-driven solutions to anticipate customer needs and provide quick assistance. It generates brand loyalty and enhances customer satisfaction. It involves reaching out to customers before they have a problem, such as sending welcome emails, following up on abandoned carts, or offering product recommendations on Shopify.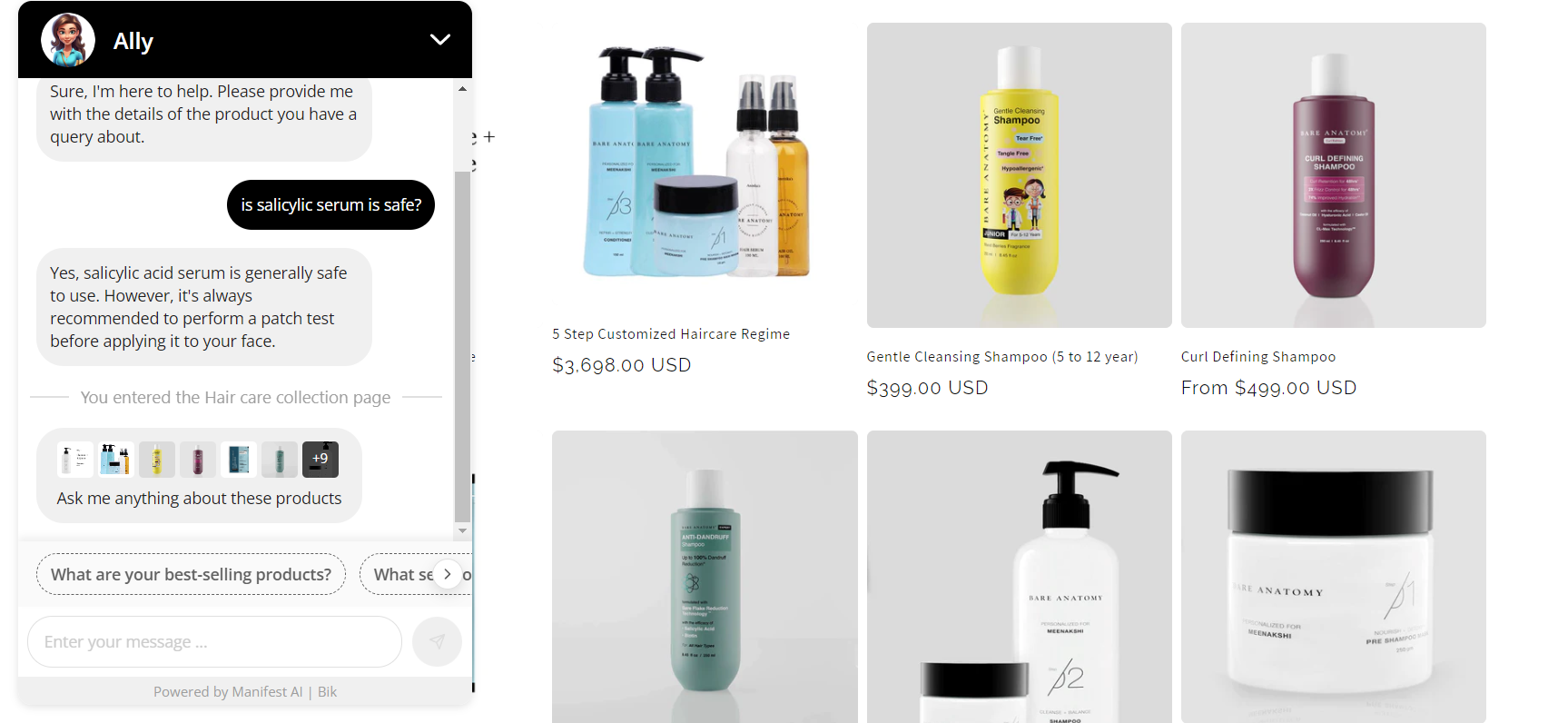 How does Manifest AI help?
Some AI chatbots developed by Manifest AI can monitor customers' behavior in real-time. For instance, if a customer spent a considerable amount of time browsing a particular product category, the AI would then showcase product recommendations with valuable insights that they might have overlooked. It keeps the customers engaged, which increases the likelihood of conversion rate optimization for ecommerce leading to less cart abandonment. The best part is, if the customer is unsatisfied with the AI live chat, it will immediately give an option of switching to an agent.
4. Overcome Language Barriers with a Comprehensive Understanding
By leveraging advanced AI language processing, your Shopify store can seamlessly communicate with buyers from varied linguistic backgrounds. The AI technology ensures that the website content, customer support interactions, and product information are preserved during translation. The availability of real-time translations transforms your store into a global marketplace where customers can explore in their preferred language.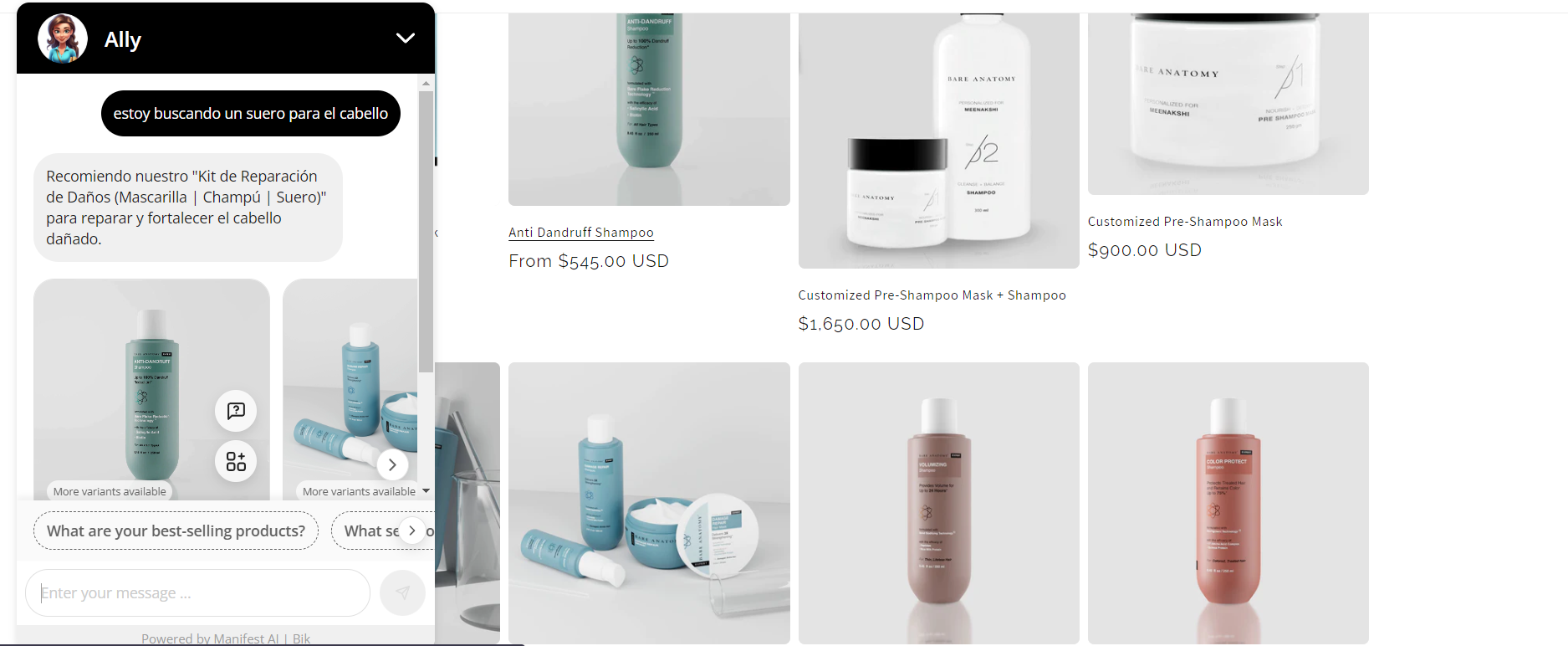 How does Manifest AI help?
Manifest AI is a GPT-powered AI chatbot for Shopify that fosters customer experience by taking their attention to the next level in their native language. It understands 95+ languages which means breaking barriers and creating a warm and welcoming marketplace for everyone. It increases the chance to improve the conversion rate for Shopify.
5. Leverage Product Recommendations for Increased Sales Potential
By harnessing the insights of advanced AI algorithms, you can help your customers with tailored suggestions that resonate with their preferences. Additionally, AI technology analyses customers' browsing patterns and past purchases to generate recommendations.
How does Manifest AI help?
Manifest AI product recommendations by strategically guiding the customers about complementary products, which boosts cross-selling and upselling opportunities. These suggestions become accurate with time which enhances the likelihood of conversions.
6. Deliver Consistent and Personalised Brand Experiences
Every customer does have an individual customer preference. So, by elevating your Shopify store's appeal, you can render personalized and consistent brand experiences to each of your customers. You can do this by personalizing your website and marketing campaigns to each customer, and by providing consistent customer service across all channels. When customers have a positive experience with your brand, they are more likely to convert into paying customers through your website or even receiving emails, the essence of your brand remains intact.
How does Manifest AI help?
Manifest AI takes brand personalization to the next level by leveraging AI-powered insights. This personalized approach tailors higher customer engagement by maintaining a solid connection between the customers and your brand. It will treat each store visitor in a personalized way like a virtual sales assistant.
7. Streamline AI Chat Segmentation with Automated Labelling
It is an intelligent way to increase Shopify's conversion rate by making it easier to train and improve AI chatbots. Automated labeling can be used to quickly and easily label chat conversations, which can then be used to train AI chatbots to better understand customer intent. This can lead to more accurate and helpful chatbot interactions, which can ultimately lead to increased conversions.
How does Manifest AI help?
Manifest AI's advanced AI chatbot doesn't need any specialized training, it automatically trains itself based on user queries/prompts and fetching data from the online store or ecommerce website. In addition, it provides an option for uploading PDFs related to any specific information. It reduces response time, raising the bar for enhanced customer satisfaction.
8. Streamlined Checkout Process
Several factors streamline the checkout process, such as user-friendliness, which transforms the process into a hassle-free and seamless endeavor. Additionally, integrating automated form filling expedites the checkout process by reducing the time and effort of filling lengthy forms.
How does Manifest AI help?
With Manifest AI, your customers can enjoy convenience as it enables one-click purchases for all its customers, as it automatically fetches the details for returning customers or the visitor can enter it into the AI live chat. It, in turn, leads to reduced cart abandonment and increased customer purchases. By enhancing security measures and building a sense of trust, Manifest AI streamlines the checkout process and instills confidence in customers to complete the buying process.
9. Optimise Website Speed and Performance
Focus on optimizing your website's speed and performance by boosting the page loading speed, and providing seamless responsiveness to every user willing to purchase.
How does Manifest AI help?
Manifest AI understands the importance of optimized website speed and uses compressed images and optimized code, dramatically improving your website's loading speed. It provides an engaging experience to users. Moreover, Manifest AI dedicatedly contributes to making your visitor stay more in engaging conversations which ultimately reduces bounce rates and boosts conversion rates. This is how to increase the Shopify store conversion rate.
10. Implement Exit-Intent Popups
Implementing exit intent, popups are one of the most potent techniques to retain customers just about to leave your site by offering them last-minute attention, which rekindles their interest.
How does Manifest AI help?
Manifest AI gauges mouse movements, scrolling patterns and other cues the AI triggers when the website visitors are on the verge of leaving. Manifest AI tailors certain in-chat nudges, such as time-sensitive offers and exclusive discounts, to entice them to stay and explore more. These on-store nudges act like pop-ups to boost engagement rates and provide valuable opportunities for re-engagement and increased conversions.
Conclusion
In today's world of online shopping, conversion rates are the ultimate gauge of success. As a Shopify store owner, you are not just selling products; but experiences that make the customers repeatedly arouse your store. As the digital landscape evolves, embrace the future with Manifest AI and redefine what's possible for your Shopify store.