Shopify Magic AI: Top 8 features from the latest Shopify Summer 2023 release
Shopify Magic is a suite of free AI-enabled features that can help businesses start, run, and grow their Shopify stores. Shopify Magic uses artificial intelligence to automate tasks, provide personalized support, and generate high-quality content.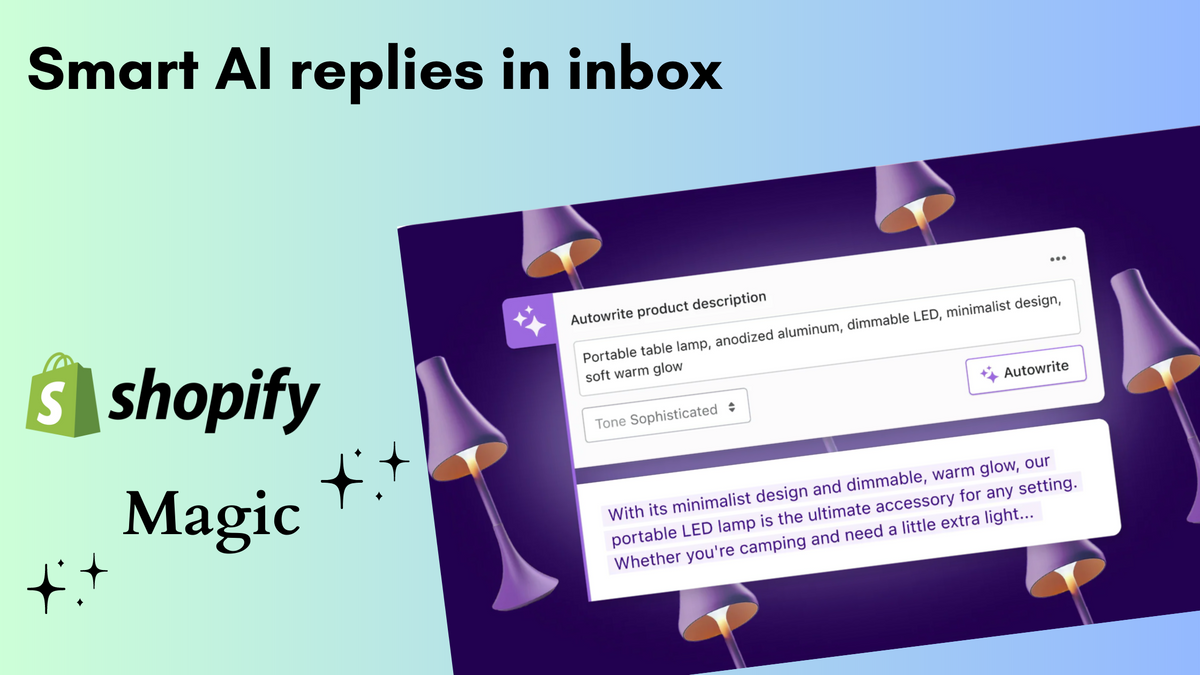 Say hello to Shopify Magic, the latest game-changing addition to the Shopify family. Shopify Magic is a suite of free, AI-enabled features seamlessly integrated across Shopify's products and workflows. It is developed to help businesses work faster, smarter, and more creatively.
Using the AI-technology, Shopify Magic delivers customized and contextually appropriate assistance across various functions, including store creation, marketing, customer support, and back office management. This powerful integration ensures tailored support to meet your specific needs and optimize your business operations.
In this blog, we'll explore the incredible capabilities of Shopify Magic, delve into its numerous AI-powered features, and uncover the transformative benefits it brings to businesses of all sizes.
🦸🏼‍♂️ Sidekick: AI-enabled commerce assistant
Shopify Magic Sidekick is effectively your AI assistant on the Shopify admin dashboard. It is important to note that Sidekick is designed for Shopify users (online brands) and not your end consumers.
It is intelligent enough to comprehend your regular language, enabling it to enhance your store, handle time-consuming tasks, and make more informed business choices. Whether it's recommending the most suitable apps for your business or assisting with marketing campaigns, Sidekick addresses inquiries, resolves issues, and accelerates your productivity, making your work more efficient.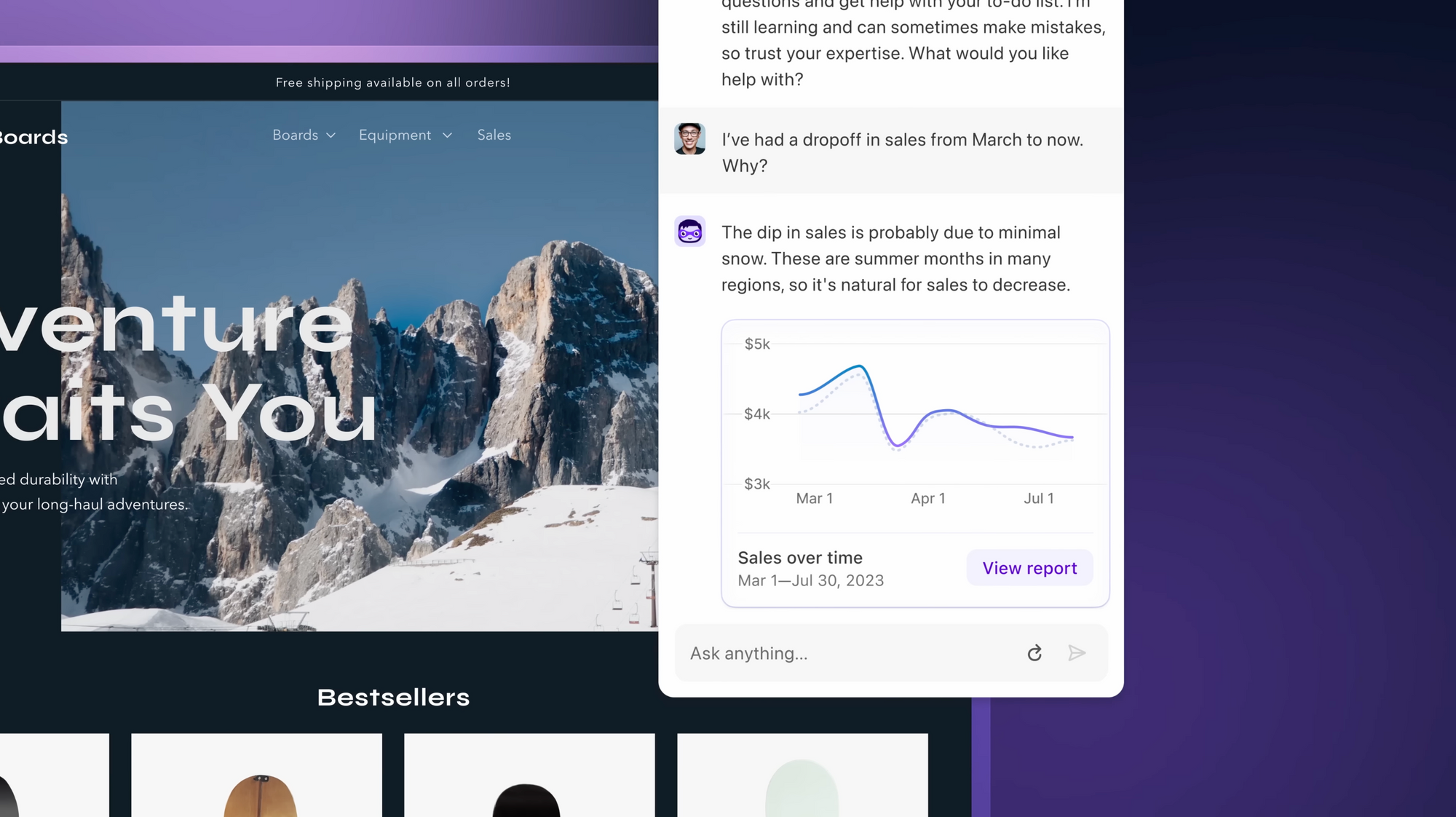 ➡️ How to enable?
Sidekick is in beta and is available on early access basis. Sign up for the Sidekick beta here.
💬 Smart AI replies in Inbox
The AI promptly addresses live chat inquiries using Al-generated responses powered by Shopify Magic. You can evaluate the suggested text, make necessary edits, and respond swiftly to drive conversions at the top of the funnel, effectively transforming more chats into successful sales.
Note: The AI doesn't automatically send the answer to the customer, it needs to be reviewed and sent. It does help your live chat agents but they are still required to send the answers to the customers. Also, the capabilities are limited at the moment. However, you can check out the Manifest AI app if you are looking for a solution to replace 80% of your live agents' bandwidth with spot-on answers to product inquiries, recommendations, and order-related support queries. It is free to use and also integrates with your live chat software including Gorgias for seamless chat transition to live agents when required.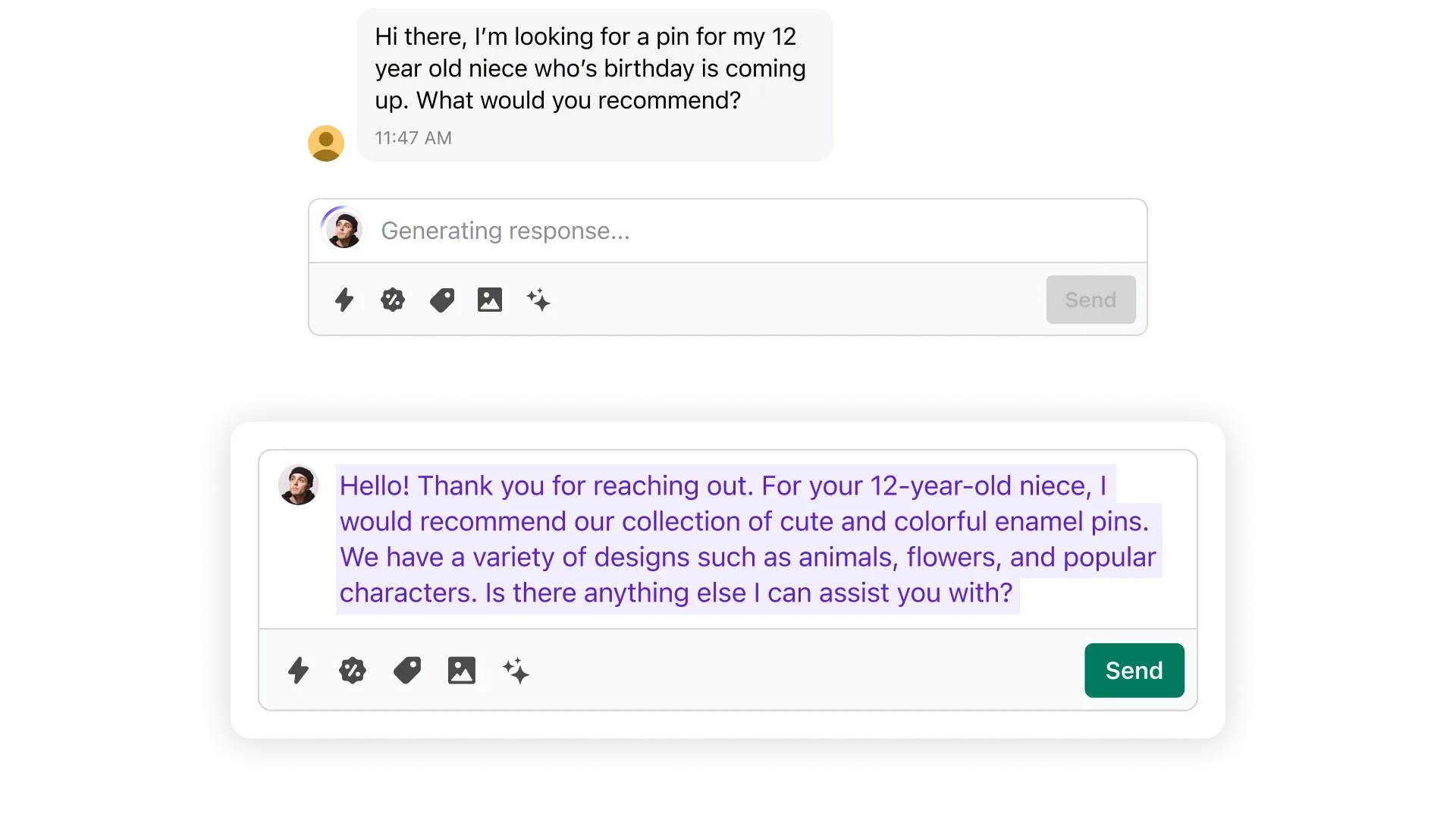 ➡️ How to use?
The feature is limited to selected businesses only. To apply for early access, sign up here.
📧 AI in Email: Subject lines, body content, and optimized send times
Boost the efficiency of your email campaigns with Shopify Magic AI, which helps you create high-performing campaigns in lesser time. Generate engaging subject lines and body content effortlessly. Additionally, leverage data-driven insights from millions of businesses on the Shopify platform to schedule emails for optimal delivery times.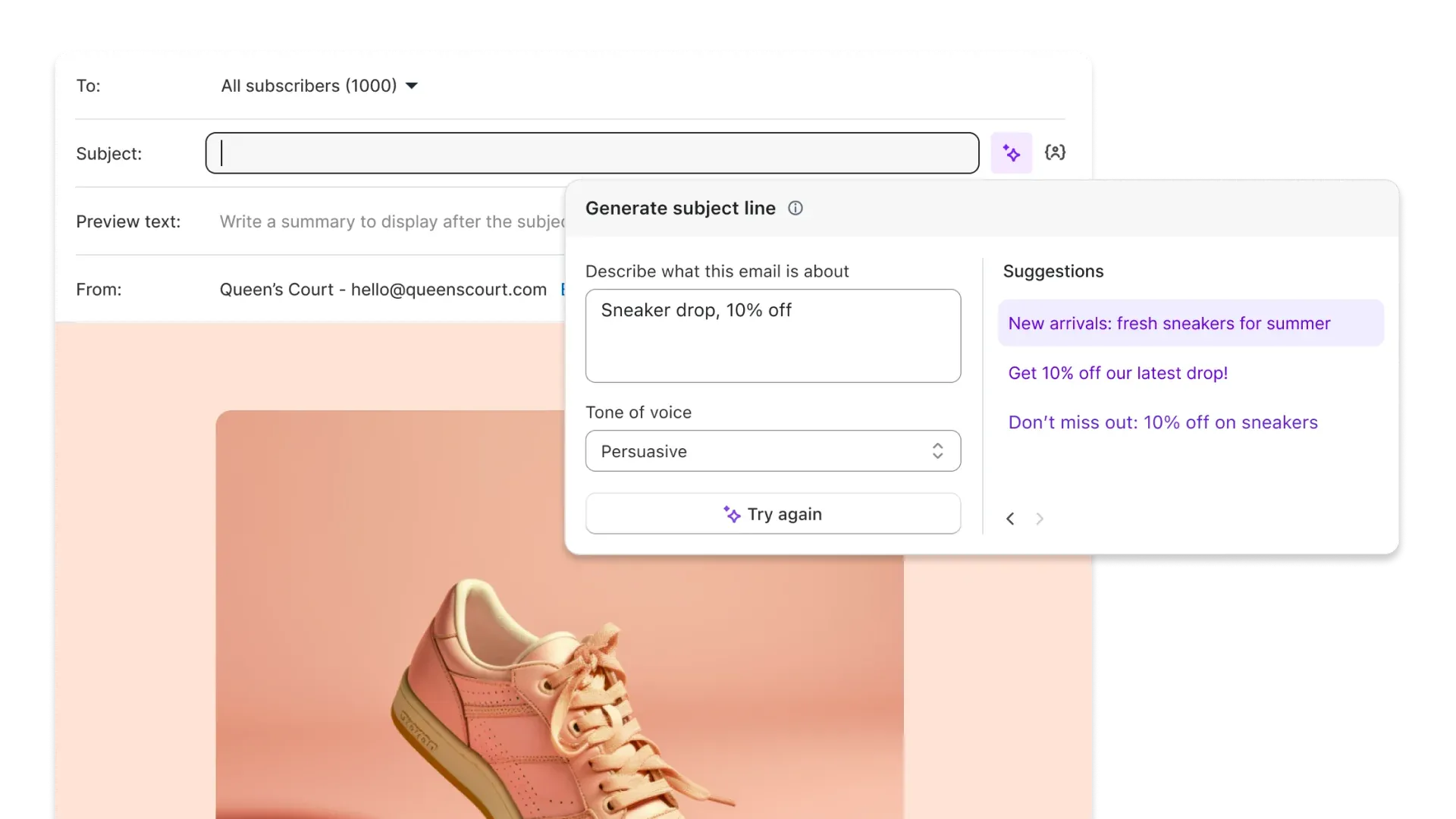 ➡️ How to use?
In the Shopify admin dashboard, go to Apps > Emails > Create a campaign > Select the template or create a new template. In both the subject line and body content you should be able to find ✨ AI icon, using this you can generate content suggestions in the tone you like.
Note: Shopify is rolling out this feature in phases, don't worry if you can see it now. It should be available in your store very soon.
❓FAQ generation in Inbox with AI
With Shopify Magic AI, your store's inbox chat receives personalized instant answers. You can review and publish FAQs tailored to your business, generated from past customer chats, store policies, and data on Shopify entered by you. This feature immensely saves time and optimizes FAQs that will significantly contribute to boosting sales and enhancing customer experience.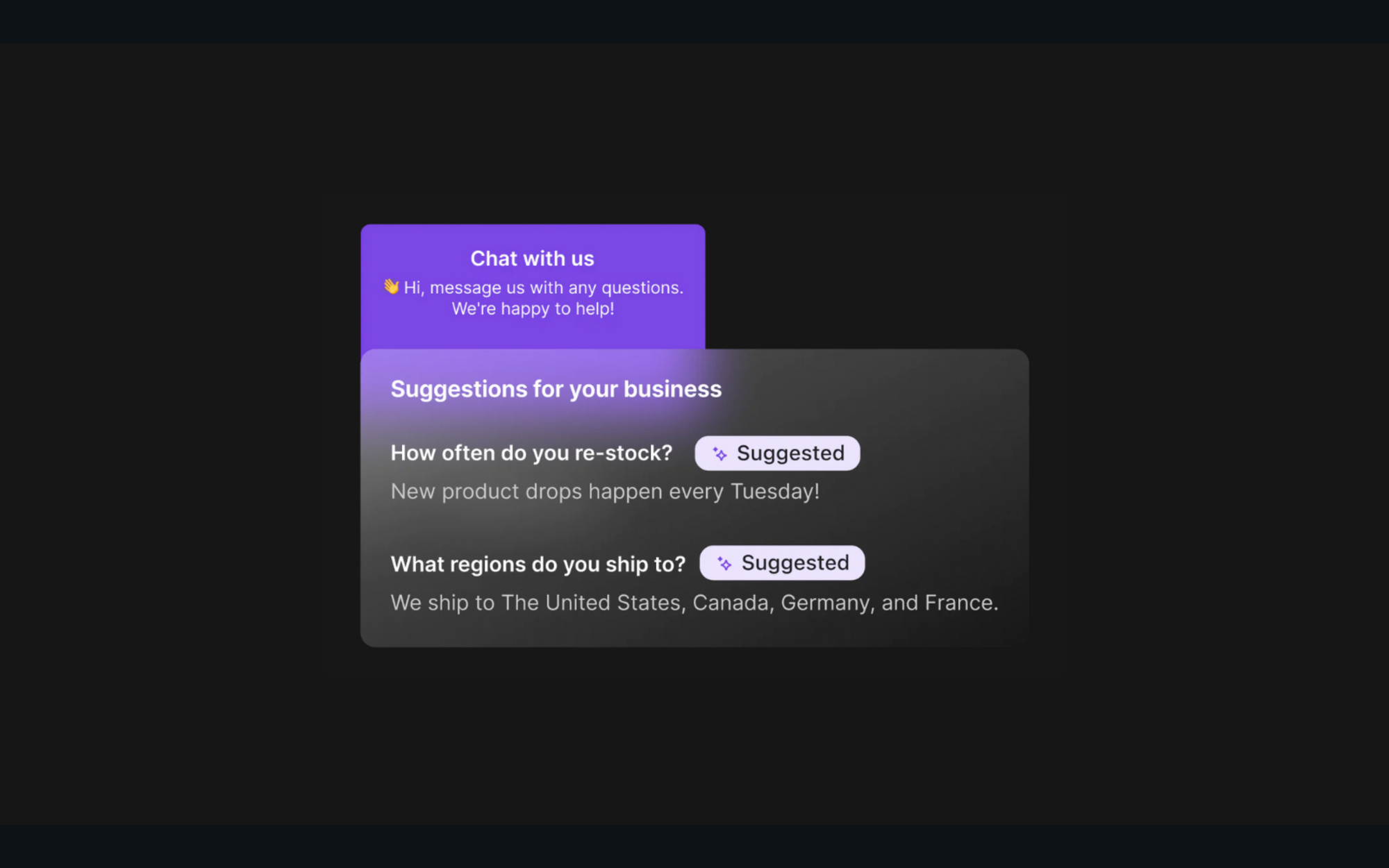 ➡️ How to use?
Go to Shopify Inbox > Manage instant answers (under the 'Get more out of Inbox' section). Find the 'Instant answers' section and check the suggested commonly asked questions and their answers. Click any of the suggestions you want to enter, review the answer, and edit (if required) then click on save.
📝 Save time in Blog creation with AI
With the remarkable capabilities of Shopify Magic, you can now very quickly create blog posts by just inputting the essential information. Simply enter your desired topic, customize the tone to match your brand's voice, and witness the magic unfold as it swiftly generates captivating, long-form blog content like any other free AI tool for writing. This invaluable tool not only saves you precious time but also ensures that the content produced is tailored to drive substantial traffic to your online store.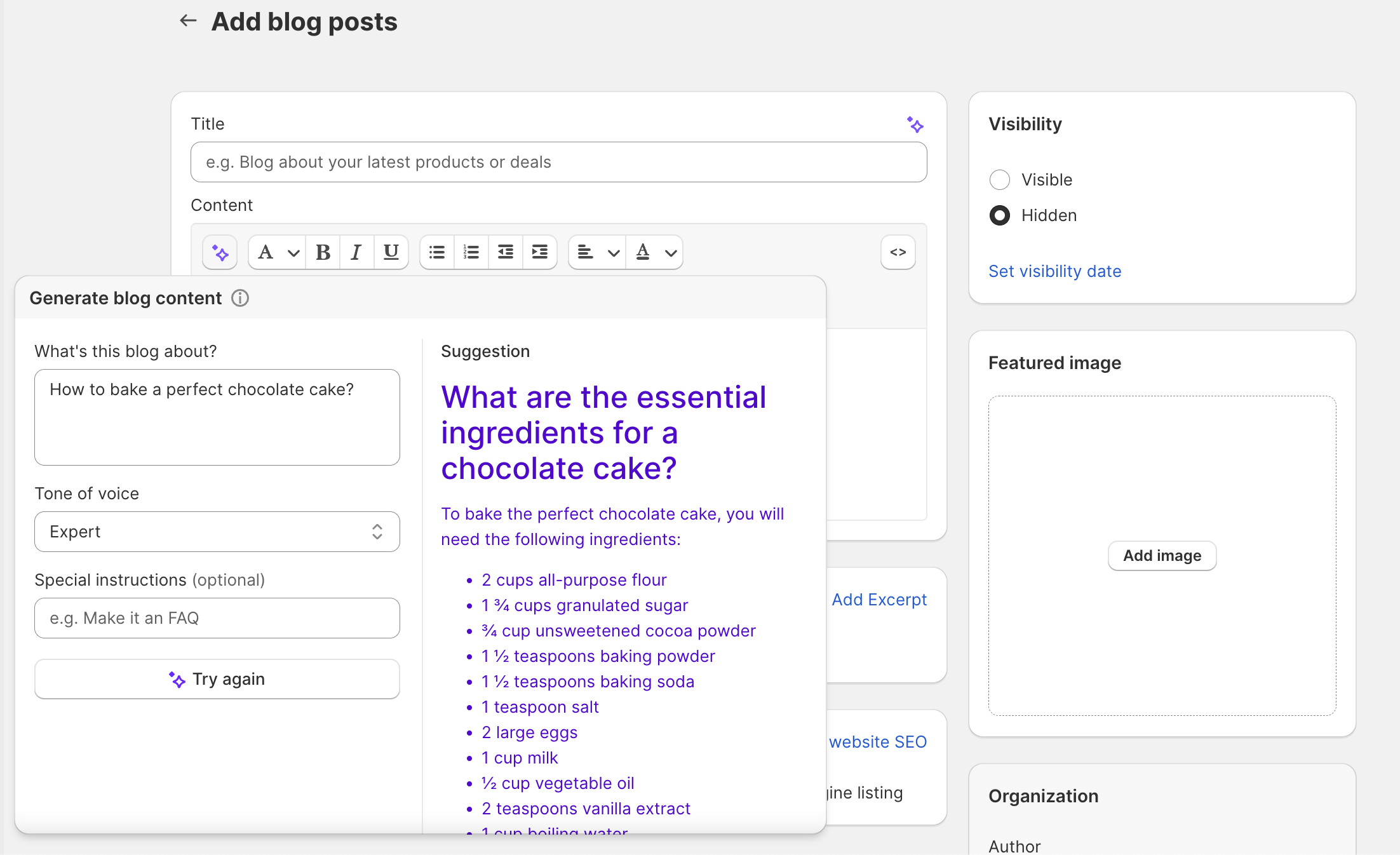 ➡️ How to use?
On your Shopify dashboard, go to Online Store> Blog posts. In the Blog post window, you should be able to find the ✨ AI icon, using this you can generate content in the tone you like. Just feed in the additional information you want to cover in the blog.
🛍️ AI text generator in the Online Store Editor
With Shopify Magic automatic text generation in the Online Store editor, you can speed up the process of building your store from top to bottom. Select the desired tone, input essential talking points, and effortlessly create captivating descriptions in mere seconds. This feature is now available in 8 languages and accessible on mobile devices, making it even more convenient for you.
➡️ How to use?
In the Shopify admin dashboard, go to your Online store > Customize theme. Select the part you want to edit. In the editor section you will be able to find the ✨ AI icon, using this you can generate text suggestions in the tone you like.
🤔 AI-powered review summaries
Gain confidence in choosing the right apps from the Shopify app store with concise summaries by AI, filtered from hundreds of customer reviews. Access valuable insights and make informed choices tailored to your business needs, enhancing efficiency and productivity.
➡️ How to use?
This is enabled in the Shopify app store and can be accessed by everyone. Just search for the app you are looking for. Scroll down to the reviews section and find the review summary at the top of customer reviews.
📙 AI-powered Shopify help center
Utilize the Shopify Help Center's innovative Al-driven assistant to find the assistance you require. Easily access answers to your questions and the information you seek, enabling you to focus on efficiently managing your business.
➡️ How to use?
We couldn't find this feature in the Shopify help center as of now. We assume it is in testing and should be released soon by Shopify.
Summary
The latest integration of AI-powered features of Shopify Magic AI empowers you to optimize efficiency by reducing time spent on manual tasks, allowing you to achieve more in less time.
We also want to highlight the Shopify app, Manifest AI that complements the Shopify Magic functionalities. It provides brands with enhanced customer interactions leveraging the power of GPT on your store giving personalized assistance, and streamlined support, leading to improved conversions and overall business success. Embrace the combined power of Manifest AI and Shopify Magic to unlock a new era of productivity and customer satisfaction for your brand.