Tidio Review: Pricing, Alternatives, Pros & Cons
Discover a comprehensive Tidio review. Explore pricing, alternatives, and the pros and cons of this versatile tool, empowering your business with exceptional live chat and chatbot solutions.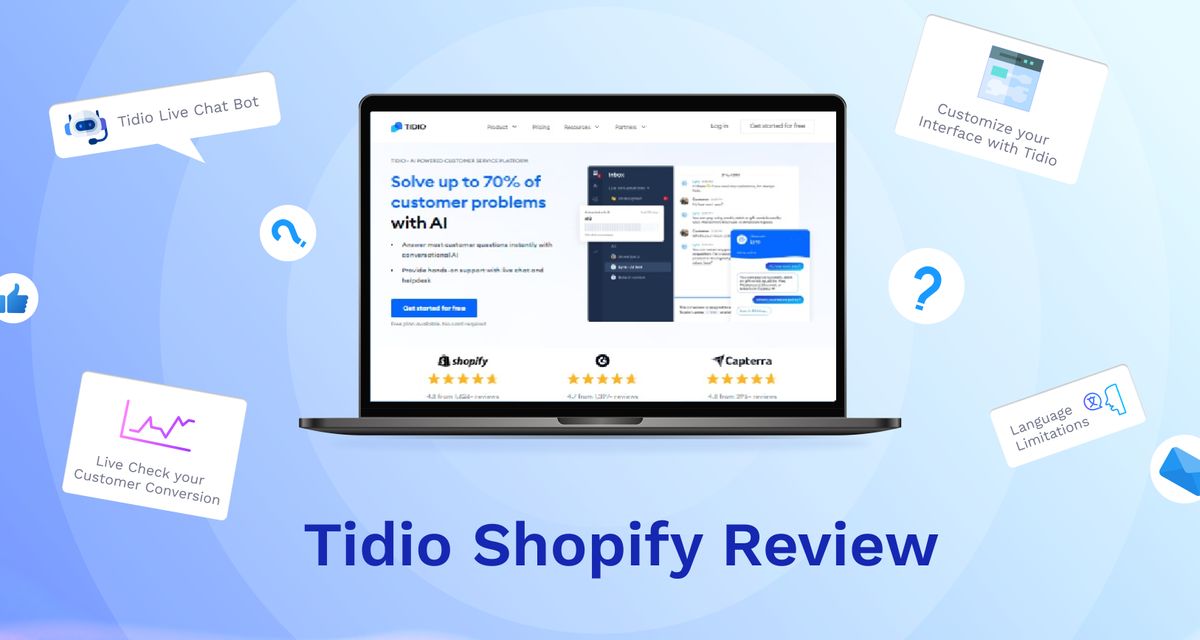 Looking to enhance customer service and drive sales on your Shopify store?
Consider exploring Tidio, a live chat and chatbot software that has garnered recognition from reputed sources like Forbes and Fox News. Tidio boasts user-friendly features, affordability, and a comprehensive range of tools, including live chat, chatbots, and analytics, making it an excellent option for businesses of all sizes.
In this blog post, we'll take a closer look at reviewing Tidio, its pricing, alternatives, pros, and cons. Additionally, we'll demonstrate how to leverage Tidio's capabilities to turn missed opportunities into successful conversions. Let's discover how Tidio could be the right solution to revolutionize your Shopify store!
But before diving headfirst into exploring Tidio's capabilities, let's cover the basics:
What is Tidio?- In simple terms
Tidio is a live chat software for e-commerce brands that enables businesses to engage with their website visitors in real-time.
Tidio is an all-in-one customer service platform offering ready-to-use sales and support chatbots that answer the most common questions from customers. They also provide a shared inbox to manage all customer messages in one place. They are used by businesses of all sizes and across various industries, including e-commerce, healthcare, and education.

Tidio Review: Key Features
Tidio comes with a lot of exciting features, especially for Shopify stores. There is a detailed Tidio chat review about each feature below:
Live chat
Pros: Tidio's live chat feature is easy to use and can be embedded on your website or in your Facebook Messenger or Instagram chat. It also offers a variety of features, such as pre-chat forms, chat transcripts, and chat analytics.
Cons: Tidio's live chat feature can be a bit slow at times, and the chat transcripts are not always easy to read.
Helpdesk
Pros: Tidio's helpdesk feature is easy to use and can help you track customer tickets and resolve issues quickly. It also offers a knowledge base that customers can access to find answers to their questions.
Cons: Tidio's helpdesk feature does not offer as many features as some other helpdesk software solutions.
Multichannel
Pros: Tidio's multichannel feature allows you to connect with customers on your website, Facebook Messenger, and Instagram. This gives you the flexibility to connect with customers wherever they are.
Cons: Tidio's multichannel feature is not as robust as some other multichannel CRM. As per its customer feedback, it responds late sometimes.
Analytics
Pros: Tidio's analytics feature provides you with insights into your customer interactions. This can help you see how well your chat and chatbots are performing and identify areas where you can improve.
Cons: Tidio's analytics feature is not as comprehensive as some other analytics solutions. Today, we have more smart analytics tools which offer better insights.
Chatbots
Pros: Tidio's chatbots can answer common questions, qualify leads, and even upsell products. They are also easy to create and manage.
Cons: Tidio does not allow you to manage client chats via WhatsApp, Instagram, or Twitter. It misses out on making quick connections with individuals.
Pros of Tidio
Tidio is a comprehensive customer service platform that integrates live chat, email marketing, social media, and automated messages into one platform.
User-friendly and easy setup: Tidio stands out for its easy setup and user-friendly approach, enabling businesses to swiftly integrate live chat functionality onto their websites. The setup process is straightforward and intuitive, even for those with limited technical expertise.

Centralized Inbox: Its chatbot integrates with email, Messenger, and Instagram, engaging with your customers. While the engagement happens on different channels, you can track them all in one place.

Real-time visitor view: You can see your customers' conversations live as they are typing, so your agents can simultaneously be prepared with responses.

Customizable interface: Tidio offers a customizable interface for both the backend and the website, allowing businesses to tailor the look and feel of their customer service platform.

Free Plan: Tidio has a free plan that you can use for as long as you want. You'll only have to upgrade to unlock more features as your business grows. However, if you're already signed up for a competing platform, Tidio matches your existing subscription, which means you can switch and pay nothing until your previous contract comes to an end.
Tidio offers a range of benefits for businesses; however, there are some limitations, which we'll explore in the next section.
Cons of Tidio
Basic Reports: The reports you can generate are pretty basic, and you may have to integrate a third-party tool to get more robust visitor analytics.

Limited features: Tidio's AI chatbots are not as feature-rich as some other chatbot platforms. Right now, brands are looking for GPT-enabled chatbots.

Limited Languages Support: Tidio supports customer interaction only in major languages like English, German, French, Italian, Portuguese (Brazil), and Spanish. This has been a concern for many users who are expanding their brand to a global audience.

Running on Old LLM Model: Tidio's chatbot relies on a keyword recognition concept, triggering a predefined flow based on user inputs. Though functional, most competitors now employ cutting-edge GPT versions for more dynamic conversations.

Not always accurate: Tidio's AI chatbots can sometimes make mistakes, especially when they are asked complex questions. The better will be to adopt an AI Shopping Assistant which can answer customer questions in a personalized way.

Can be frustrating for customers: If a customer's question cannot be answered by their AI chatbot, they may have to wait longer for a human agent to respond.
Is Tidio Free?
Well, Tidio does offer a free forever basic plan and doesn't require a credit card to sign up. Plus, they also offer a seven-day free trial on all premium plans.
Please find below the Tidio Pricing plans:
Tidio Integrations
Tidio seamlessly integrates with over 15 platforms, including Shopify, WordPress, and WooCommerce. Additionally, it offers integrations with various apps like Mailchimp, Klaviyo, and many others through its Zapier integration. This wide range of integrations allows users to synchronize their customer support and communication efforts across different platforms and tools, streamlining their workflow and enhancing overall efficiency.
Tidio Alternative
Before you conclude here are 4 other Tidio alternatives you can compare:
Zendesk

Zendesk Suite stands out as a strong contender and a viable alternative to Tidio for customer support solutions. This platform empowers your company to deliver real-time responses to clients, fostering customer loyalty and encouraging repeat business. By utilizing Zendesk Suite, you can proactively engage with prospects and customers, gathering essential information about their needs and preferences through a pre-chat form. This level of customization ensures that interactions with your brand are tailored to their specific requirements, increasing the likelihood of retaining them as satisfied customers. With Zendesk Suite, your company can take the lead in providing exceptional customer service and establishing lasting relationships that drive customer loyalty and growth.
Manifest AI
Manifest AI, is a GPT 3.5-powered AI shopping assistant, the latest addition to the customer support market, but it brings a cutting-edge capability to elevate your website's customer experience. It provides round-the-clock human-like customer support through an AI-powered chatbot, ensuring constant availability for your customers. An impressive feature of Manifest AI, that Tidio lacks is multilanguage support, covering over 95 languages, and its pre-training on more than 20 million conversations. This comprehensive AI-powered chatbot can answer complex product queries and provide personalized product recommendations as per your needs.
Just like Tidio, Manifest AI can be easily enabled, you can set it up in less than 5 minutes.
BIK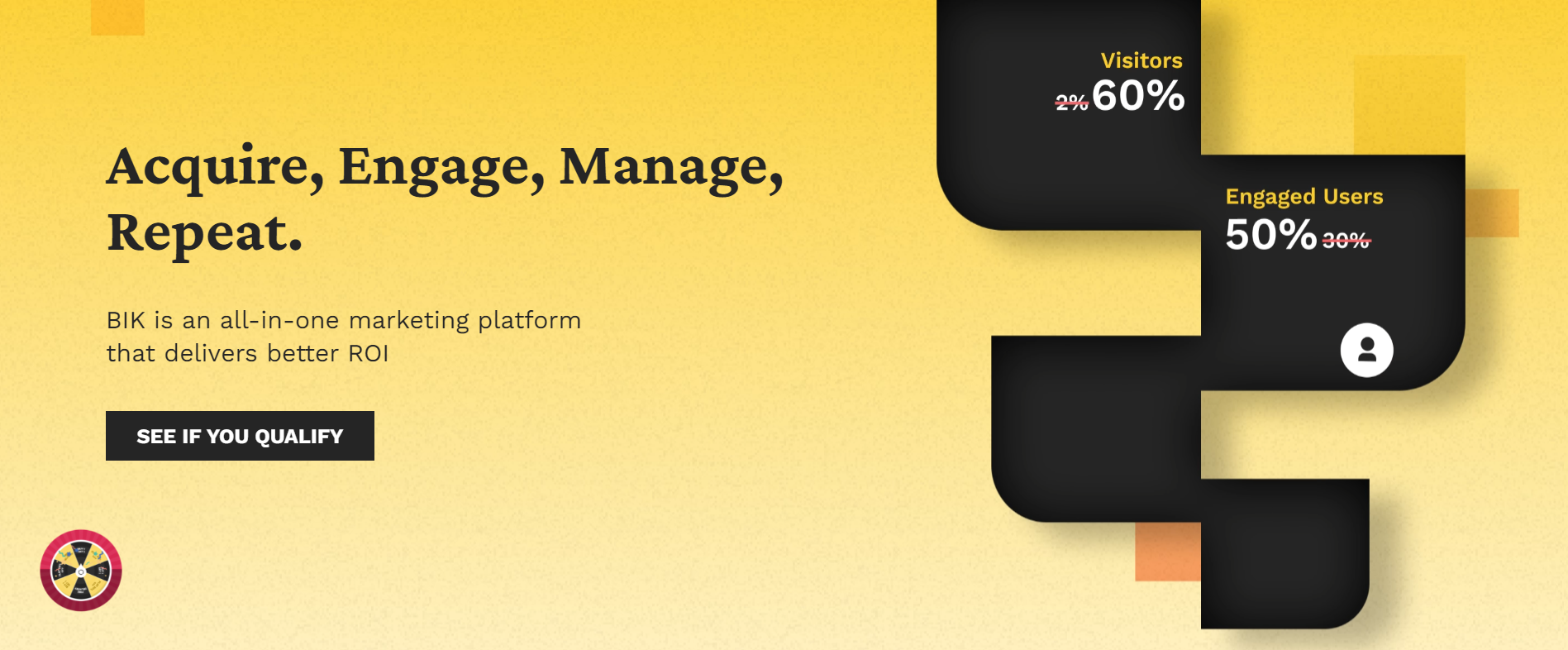 Discover BIK, a powerful alternative to Tidio for boosting customer engagement and driving sales on your Shopify store. BIK is an all-in-one marketing platform aimed at driving acquisition, retention, and customer engagement for D2C brands with conversational commerce on platforms including, Instagram, WhatsApp, Messenger, SMS, and Email. As an official Business Solution Provider of META (previously Facebook) it helps brands optimize the customer experience on the website with gamification and improve performance marketing by reducing your CAC and increasing RoaS. The major benefit of BIK over Tidio is it has an extraordinary multichannel CRM with robust features and exciting gamification widgets that can increase the conversion rate by up to 40%.
FreshDesk

Freshdesk has established itself as a prominent player in the customer support industry, offering a comprehensive suite of capabilities that make it an all-in-one solution suitable for businesses of all sizes.
Moreover, Freshdesk's compatibility with approximately 600 apps and those within the Freshworks ecosystem eases the transition for existing users of other products. Their advanced chatbot, Freddy AI, allows you to implement intelligent bots that respond based on user intent and behavior, enhancing the efficiency of customer interactions. Additionally, Freshdesk's in-app collaboration tools facilitate seamless teamwork, enabling team members to collaborate effectively and swiftly resolve customer issues.
Conclusion
Tidio facilitates productive discussions with consumers, enabling real-time interaction and conversation with website visitors. The automation assists users with certain processes and provides round-the-clock service, ensuring continuous support for customers.

An honest Tidio review, after evaluating the pros and cons, Tidio is a good investment for e-commerce brands seeking extraordinary customer support. But if you are looking for a chatbot that can help you in upselling & cross-selling using AI-powered e-commerce product discovery, then looking for a better alternative will be a good option.
However, it is worth considering an AI shopping assistant like Manifest AI for its broader language support and GPT-powered chatbot capabilities as an alternative option.