12 Effective Shopify Product Recommendation Apps for 2023
In the swarming world of e-commerce, where a myriad of products struggle for attention, there lies a challenge for almost every e-commerce business about how they can guide their customer to purchase the perfect product. The virtual world of online stores can be overwhelming, leaving shoppers needing clarification about what to choose from the wide variety of offerings.
Imagine walking into a grand fair without a guide; you would be lost amidst the captivating chaos of the colorful stalls, right? In such a scenario, it would be great to have a seasoned expert by your side who would anticipate your preferences and show you the most delightful treasures tailored just for you.
Well, that's where Shopify Product Recommendations come into play. With the help of Shopify Product Recommendation Apps, understanding each buyer's unique taste and preferences becomes an easy job, which means offering hand-picked selections becomes easier and resonates completely with their individual preferences.
In this blog, let's embark on a journey to treasure the magic of Shopify product recommendation apps in shaping the future of e-commerce!
Overview of E-commerce Product Recommendation
AI based product recommendation in e-commerce is a technique used by online retailers to suggest to their customers personalized products based on their product query, purchase history, browsing history, and other relevant data. Moreover, the shopping experience of the shoppers gets enhanced with the product recommendation app, which even increases the customer engagement to assistrate, with boosted sales and conversion rates.
These product recommendations are mainly displayed on shopping carts, checkout pages, and product pages only. By helping customers by showcasing the recommended products on Shopify that align with their interests, e-commerce product recommendation apps promote customer loyalty. This, in turn, enhances repeat purchases and contributes to the business's overall sales.
Top 10 Shopify Product Recommendation Apps for 2023
There are ample apps for Shopify product recommendations. Let's discuss some of them below:
Manifest AI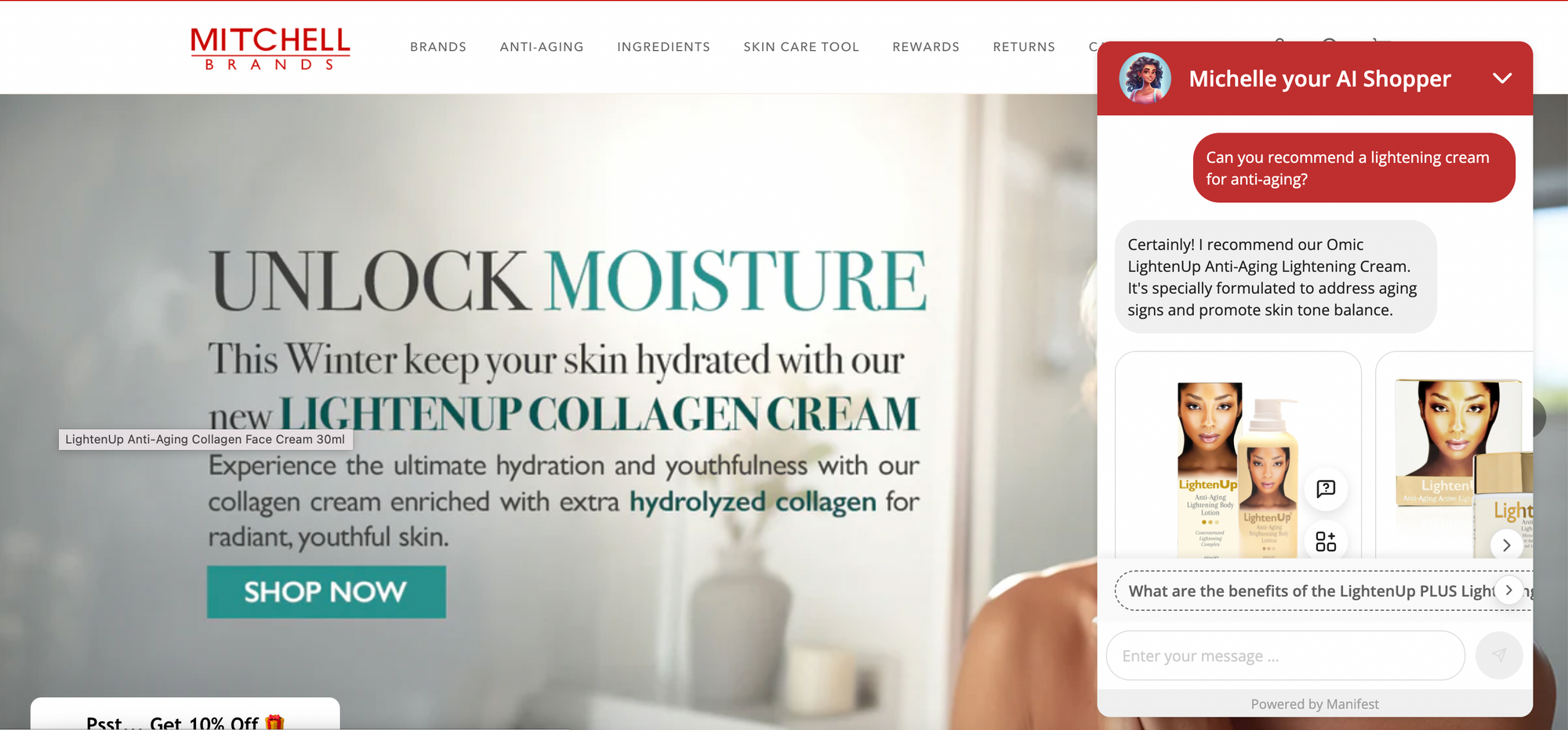 Manifest AI is a GPT-powered product recommendation app that aims to assist DTC businesses in streamlining their customer support efficiency using AI-powered product recommendations and personalized product discovery. It drives higher conversions with AI and minimizes the website bounce rate. Moreover, Manifest AI is mainly an AI chatbot for Shopify stores that can be trained on your Shopify website's data, such as product pages, FAQs, blog sections, and press releases, including other areas, within minutes. Manifest AI is the best product recommendation app for Shopify and has an effective team of customer support management that resolves customer queries quickly.
Key Features of Manifest AI
Assists visitors in finding the products they are searching for, enabling seamless product discovery.
Finds similar products and provide intelligent recommendations based on their preferences with just one click.
Resolves various product queries including warranty, reviews, refunds, brand information, and more.
Understands over 75+ languages.
Get trained in minutes by simply adding your FAQs.
Offers the option to switch to a live agent according to user convenience.
Utilizes upselling and cross-selling & shows Shopify suggested products.
Offers assistance in finding products within a budget.
Manifest AI Pricing
It offers its customers a free monthly plan to get 100 messages. This way, they can explore it and be assured whether their needs are being fulfilled with Manifest AI. Moreover, it even provides customers with a starter plan of $39/ month with 10000 messages.
Furthermore, this plan can even be upgraded to $249/month with 10,000 messages. You can even go up to their premium plan with 50,000 messages at $799/month per your requirement. Visit Manifest AI for more details on pricing.
LimeSpot
LimeSpot is mainly the leading Shopify product recommendation app known for its AI-powered capabilities. It delivers personalized and engaging shopping experiences to customers.
Key Features of LimeSpot
Intelligent Product Recommendations
Email Personalization
Audience Segmentation
Content Personalization
LimeSpot Pricing
The price starts from $18 per month. Check LimeSpot pricing for more details.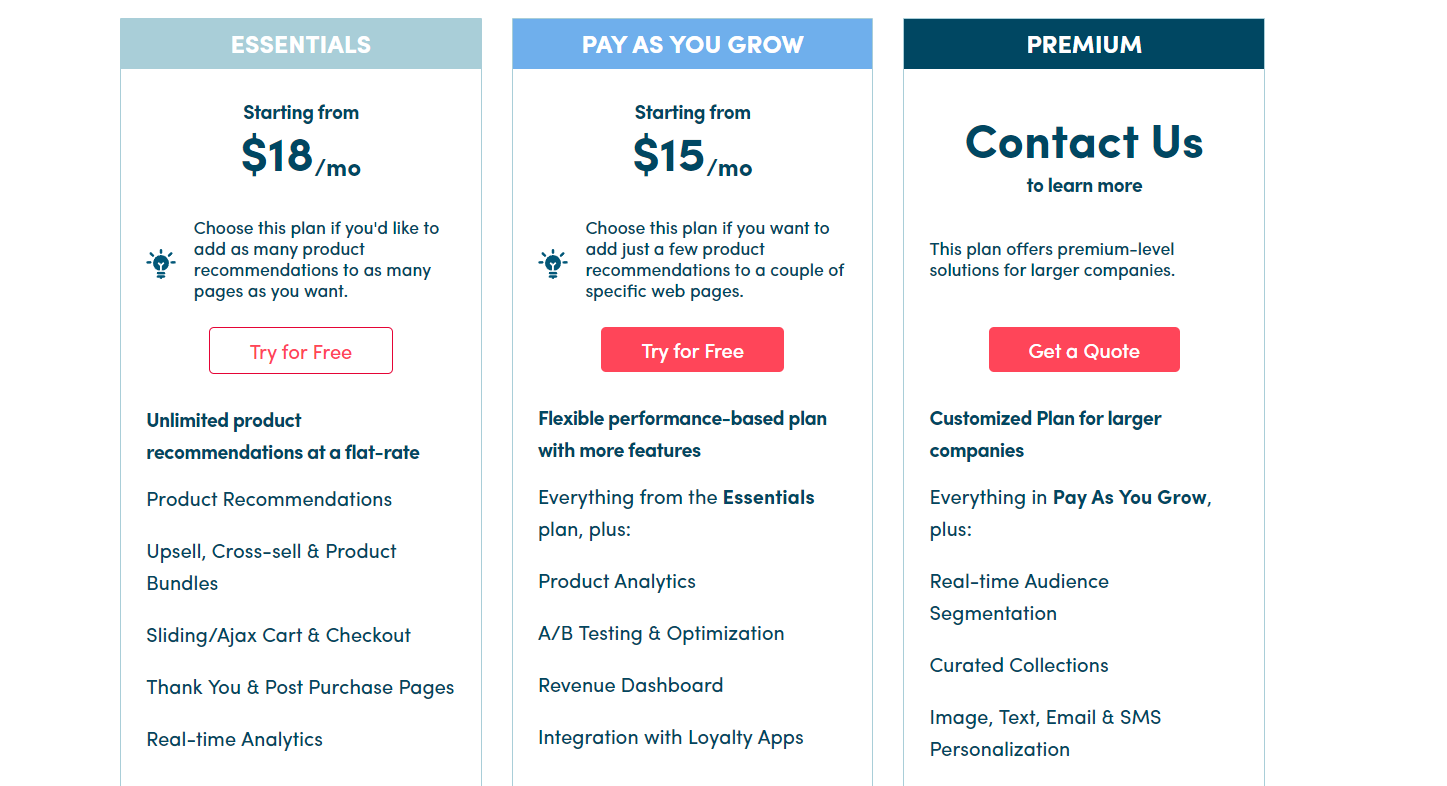 Dialogue AI
Dialogue AI is a prominent Shopify product recommendation app that leverages cut-edge AI technology to provide personalized product suggestions to online shoppers. Additionally, Dialogue AI analyzes customer behavior and preferences to offer engaging recommendations in real time.
Key Features of Dialogue AI
Cross-sell and upsell.
Boost AOV via "Frequently Bought Together" bundles
Captivate users with mini-tutorials and AI-generated product stories.
Tailored campaigns, banners, and content for personalized engagement.
Create Shoppable Stories
Dialogue AI Pricing
The price starts from $99 per month. Check Dialogue AI pricing for more details.

Shop Quiz
With Shop Quiz, merchants can generate engaging, fun quizzes enabling customers to discover the products tailored to their preferences and needs. The personalized approach enhances customers' shopping experience, increasing engagement.
Key Features of Shop Quiz
Quizzes boost sales by guiding customers to suitable products.
Gather data, and segment shoppers by responses.
send leads to your CRM for personalized campaigns.
Shop Quiz Pricing
Price starts from $39 per month but also it comes up with a free plan. Check Shop Quiz pricing for more details.


Wiser
Wiser is a renowned Shopify product recommendation app mainly known for its AI-powered technology. It enhances the shopping experience for the shoppers, boosting the conversions for e-commerce businesses.
Key Features of Wiser
AI-powered Bundle Offers, Product Suggestions & more
Display Upsells after Purchase, AI Tips, Cart Pop-ups & API Entry
ROI Tracking via Related Items, Recently Viewed & Upsells
Wiser supports Language Translation & Currency Conversion
Wiser Pricing
Price starts from $19 per month but also it comes up with a free plan. Check Wiser pricing for more details.

Candy Rack
Candy Rack is a renowned Shopify Product Recommendation app specializing in upselling and cross-selling techniques. It increases the average order value for e-commerce businesses and boosts their sales.
Key Features of Candy Rack
Comprehensive Solution: Upsells for pre-purchase, in-cart, and post-purchase, all in one.
AI-Driven Upsells: AI selects the best one-click upsell product.
Check Shopify suggested products on the product page.
High-performance app & preserving customer experience.
Candy Rack Pricing
Price starts from $29.99 per month but also it comes up with a free plan. Check Candy Rack pricing for more details.

Recomatic
Recomatic is another robust Shopify product recommendation app designed to enhance buyers' shopping experience. Like other best product recommendation apps, Recomatic analyses the browsing history of every customer and gives personalized recommendations.
Key Features of Recomatic
Easy Installation and Setup
Efficiently conduct A/B testing & optimize their performance
High-performance product recommendation engine for Shopify stores
Recomatic Pricing
Price starts from $69 per month. Check Recomatic pricing for more details.
Zipchat AI
As of 2023, Zipchat AI is a cutting-edge Shopify product recommendation app that integrates chatbots and artificial intelligence to deliver enhanced customer engagement and personalized product suggestions.
Key Features of Zipchat AI
AI Chatbot engages customers throughout the shopping.
Enhance AI accuracy through training.
Track conversions post-chatbot interactions.
Quick setup, no tech skills needed; just a few clicks.
Zipchat AI Pricing
Price starts from $15 per month. Check Recomatic pricing for more details.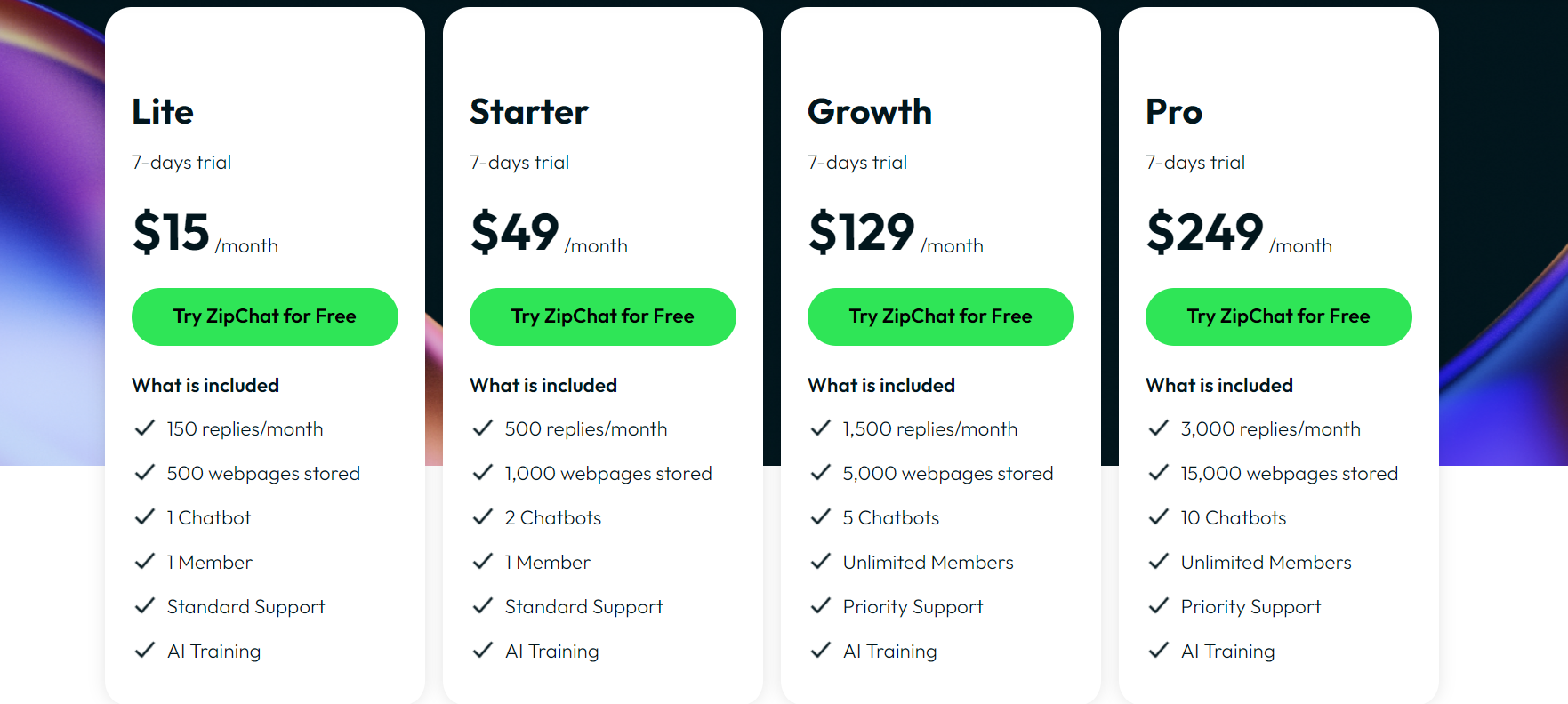 Tidio Live Chat
Tidio Live Chat is another powerful and the most popular live chat platform as of 2023, which goes beyond traditional customer support as it offers advanced features catering to the needs of e-commerce businesses.
Key Features of Tidio Live Chat
Engage in live chat with visitors for swift issue resolution and proactive sales.
Automate solutions for up to 70% of customer queries using an AI bot.
View carts, order history, and suggest products within the chat interface.
Fast integration with the Shopify app
Tidio Pricing
Price starts from $25 per month but also it comes up with a free plan. Check Tidio pricing for more details.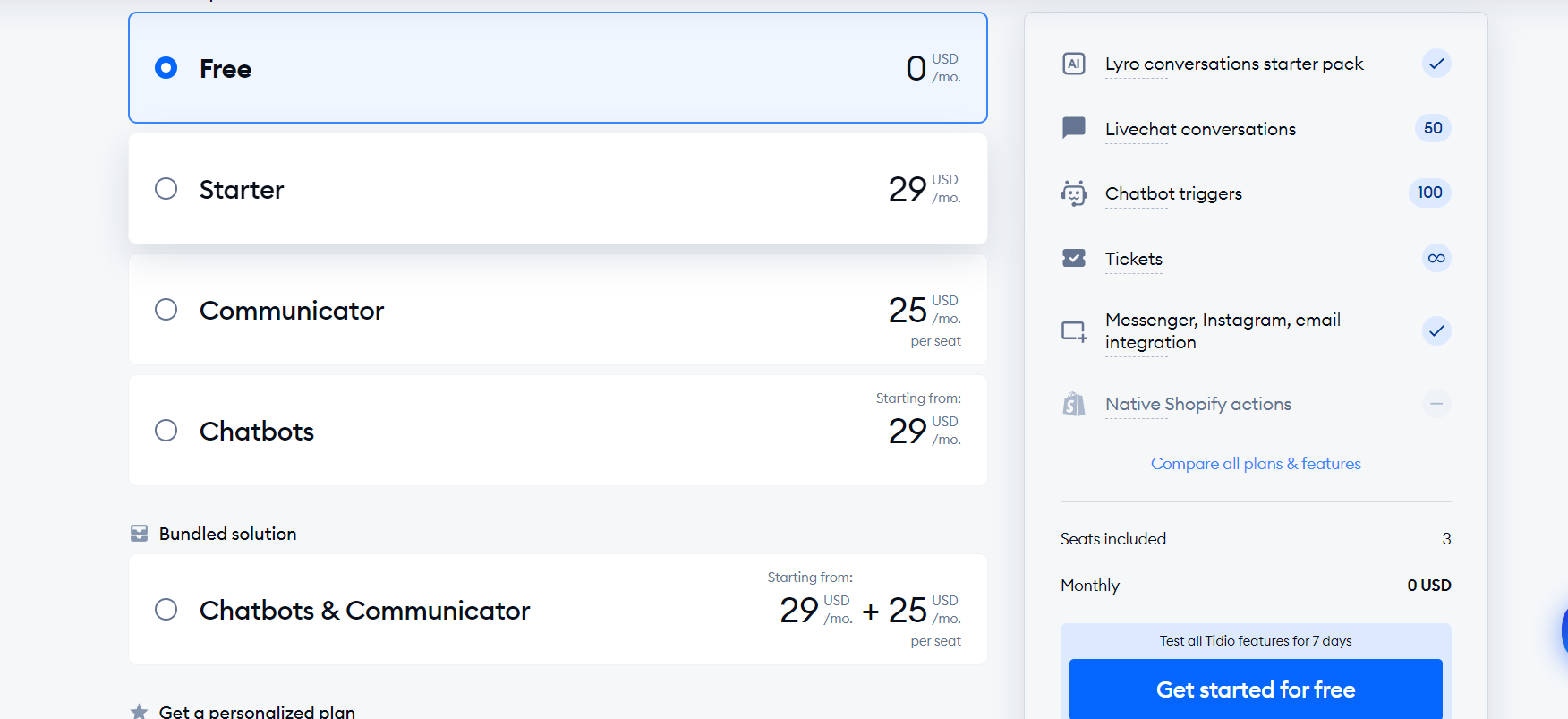 Rush
Rush is another innovative Shopify product recommendation app that will stand out in 2023. It helps e-commerce businesses optimize their product discovery procedure, boosting customer engagement.
Key Features of Rush
Fully customizable tracking page with AI-powered product recommendations
Integration with email marketing tools like Kalviyo & Omnisend
AI Predictive product & order related details
High-performance analytical dashboard - carrier performance, delivery, and custom workflows
Rush Pricing
Price starts from $29 per month but also it comes up with a free plan. Check Rush pricing for more details.

Conclusion
We cannot deny that Shopify product recommendation apps are essential for e-commerce businesses, keeping customers engaged and elevating their shopping experience in 2023. The importance of using these apps in 2023 cannot be overstated. In the continuously evolving landscape of e-commerce business, the role of AI-powered product recommendation apps has emerged as a powerful tool in reshaping how companies can connect with their customers.
Gone are the days when customers used to browse an overwhelming range of products aimlessly. Today's buyers demand a seamless journey guided primarily by technology that understands their individuality. To stay ahead of the competition and enhance the customer experience, the best approach is to install an AI shopping assistant that can provide personalized recommendations to visitors.