10 Best Dropshipping Apps for Shopify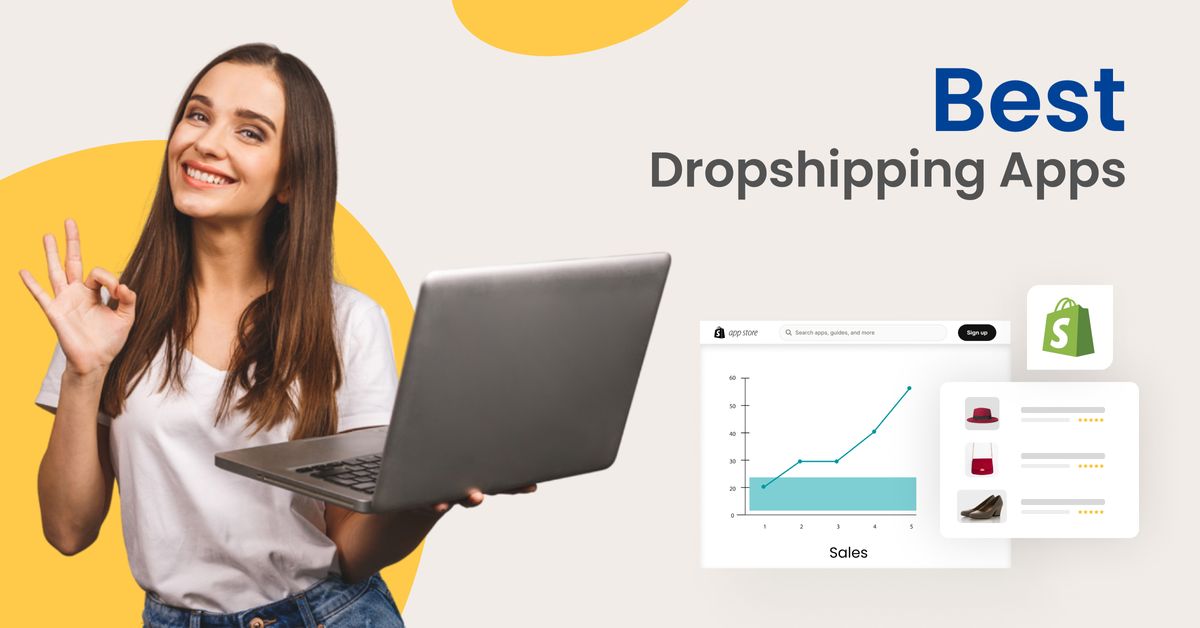 Are you a Shopify entrepreneur looking to enhance your dropshipping business's fulfillment process?
If so, you're in luck. Today, there are numerous top-notch free dropshipping apps for Shopify designed to streamline this crucial aspect of your e-commerce business. Among these apps, one of the most popular choices is Oberlo. It seamlessly integrates with Shopify, allowing the import of products from various suppliers. Oberlo not only automates businesses but also helps manage inventory. With these exceptional dropshipping apps, entrepreneurs can focus on essential business aspects like marketing and growth, while Shopify dropshipping apps handle and automate the complexities of order fulfillment.
This blog will explore the ten best dropshipping apps for Shopify currently available, along with discussing other vital aspects of dropshipping.
Are you ready to discover how dropshipping apps for Shopify can simplify your business operations and enable you to focus on other critical tasks?
Stay tuned until the end to find out!
10 Best Dropshipping Apps on Shopify
There are various dropshipping apps available that streamline the fulfillment process. Let's discuss the best dropshipping apps for Shopify below:
Gooten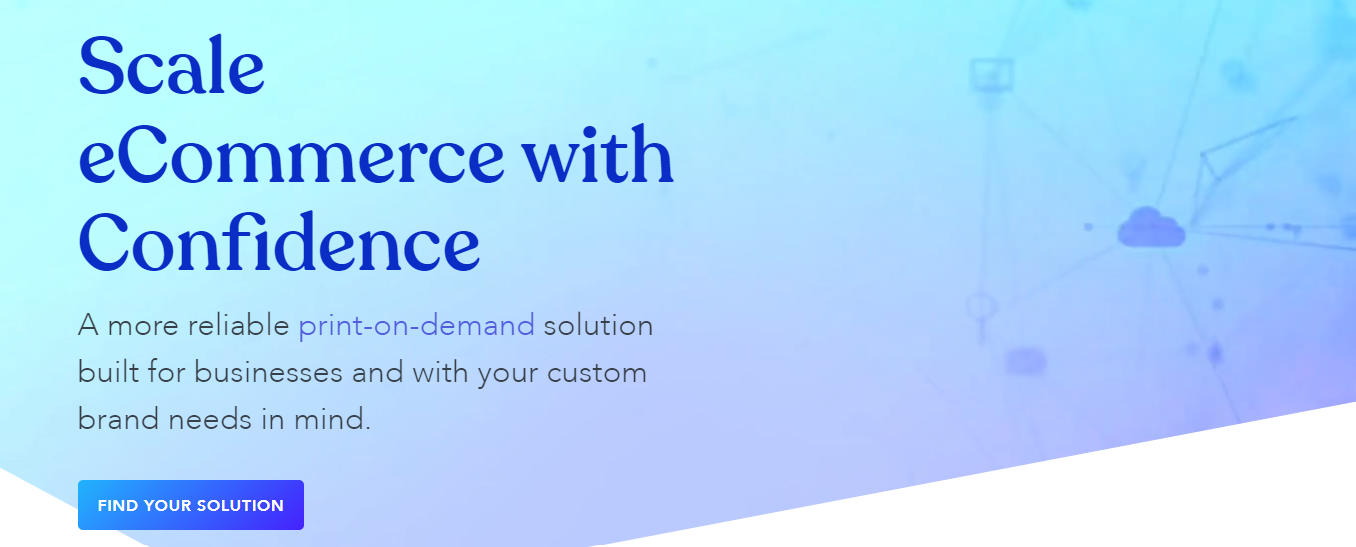 Gooten is a versatile Shopify app for dropshipping tailored mainly for Shopify and hence offers a diverse catalog of customizable products such as home decor, apparel, and high-quality printing services. Gooten offers seamless Shopify integration, pricing flexibility, automated order processing, and more. Not only this, it even provides entrepreneurs with various tools that help them manage personalized product sales efficiently. Gooten offers an extensive product range and customization options, which are very attractive.
Pros
Offers a wide variety of products including home decor, apparel, and more.
Known for delivering top-notch printing quality.
Seamless automated order syncing for efficient order processing.
No upfront costs for beginners.
Custom pricing options are available
Cons
Non-availability of an extensive supplier network as other providers.
Pricing for some products is relatively high.
Difficulty in understanding the interface for new users.
Shopify Rating
4.3/5
CJDropshipping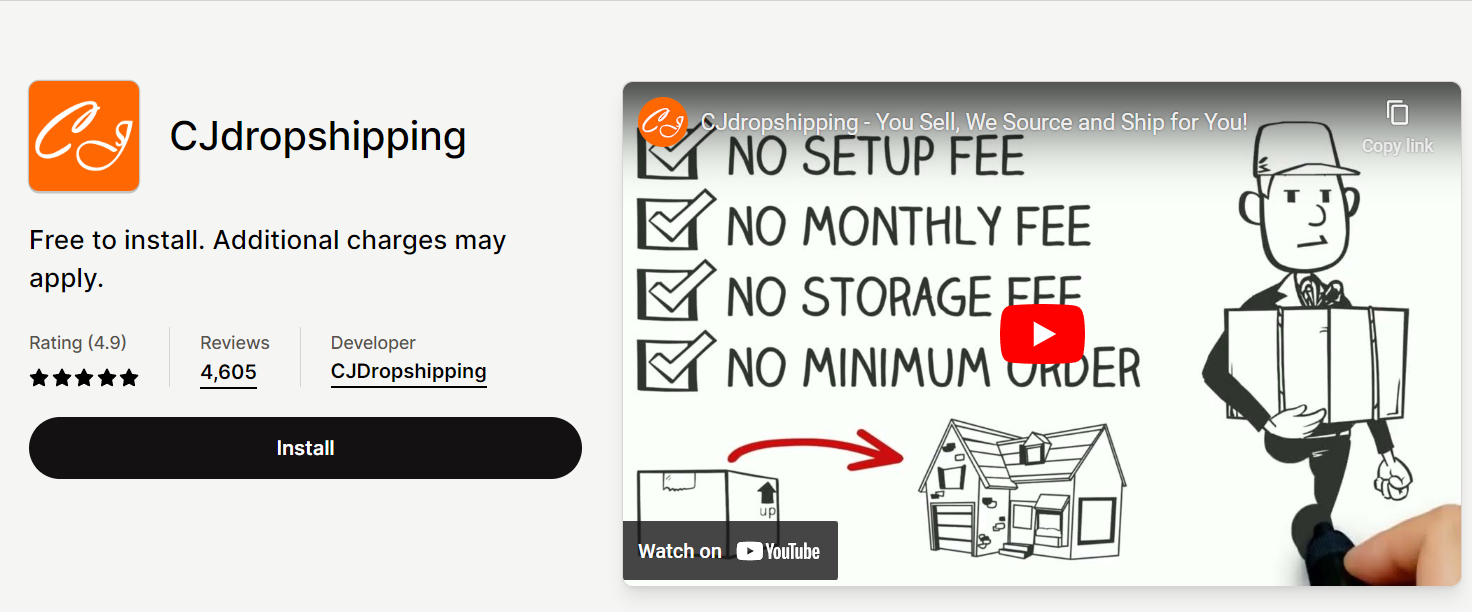 Another comprehensive list of the best dropshipping apps for Shopify known for its wide range of products and services is the CJ dropshipping Shopify app. This app enables entrepreneurs to access a vast catalog of products like fashion, electronics, home goods, and more. It is what makes CJDropshipping a suitable dropshipping app for Shopify for various niche markets. Moreover, there are multiple features provided by this app, including custom packaging, automated order processing, and branding services, which enhance the customer experience and streamline the process of fulfillment. Furthermore, CJDropshipping integrates seamlessly with various e-commerce platforms such as eBay, WooCommerce, and Shopify, enhancing convenience for store owners.
Pros
There's an extensive product catalog which is offered by CJDropshipping, including multiple niches and categories.
Allows to create a unique brand identity with its custom packaging and branding options.
Minimizing errors and reducing manual work with automated order processing.
Global network of fulfillment centers, reducing the shipping times and costs.
Cons
It may be difficult to deal with overseas suppliers due to linguistic barriers.
Maintaining product quality is a concern.
Shipping times can vary based on product sourcing locations, leading to extended delivery times.
Users might encounter delays in getting assistance.
Shopify Rating
4.9/5
Printify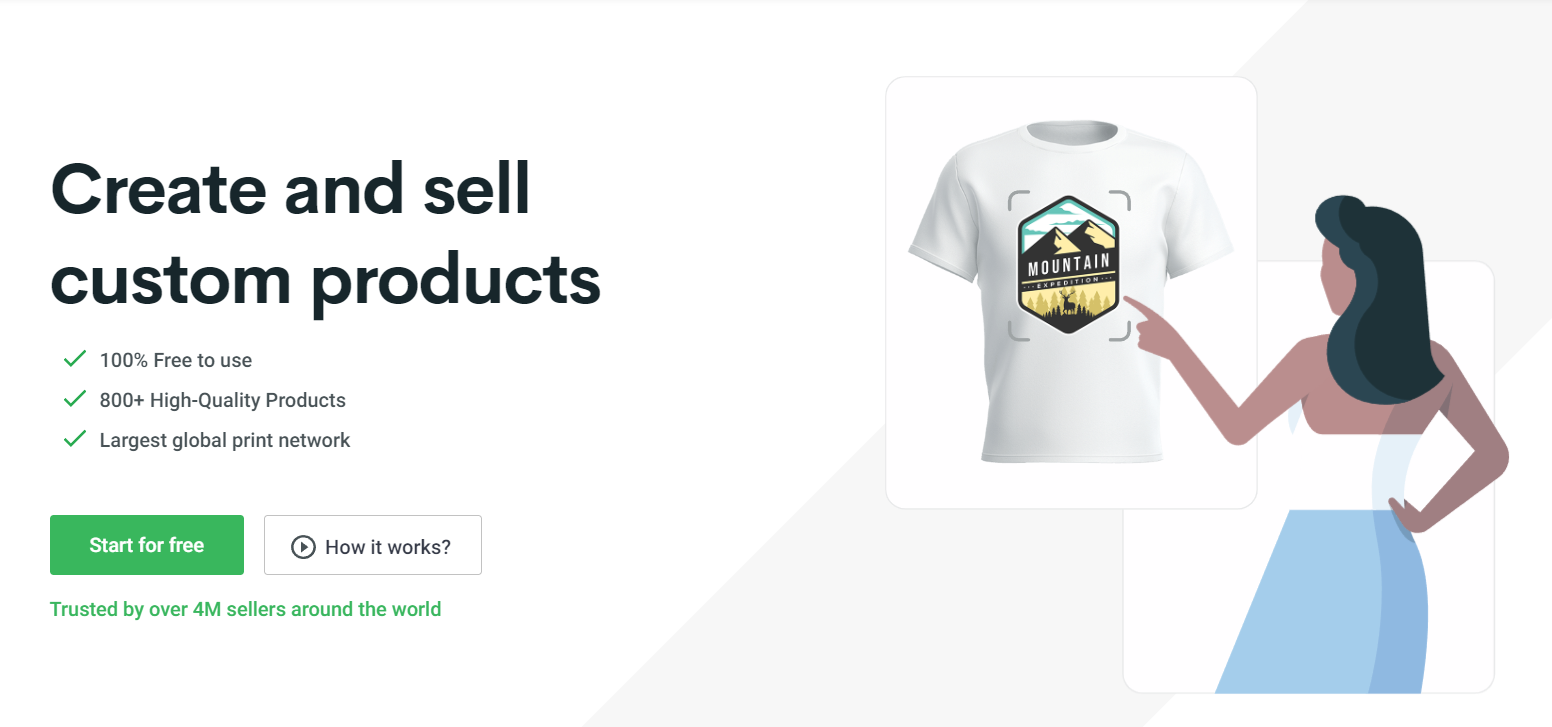 Printify is one of the prominent dropshipping apps for Shopify that simplifies creating and selling custom products. It empowers store owners to offer a wide range of personalized merchandise from clothing, home decor, accessories, and more. Critical features of Printify are that it enables high-quality printing services and seamless integration with other e-commerce tools such as WooCommerce, Shopify, etc. Other than dropshipping, it is one of the popular print-on-demand Shopify apps.
Pros
Provides competitive pricing options, making it suitable for businesses looking for cost-effective solutions.
Enhances the market reach by utilizing a global shipping network.
Efficient application with Automated Order Fulfillment feature, reducing the need for manual tasks.
Users need not maintain an inventory, reducing the risk of unsold products.
Cons
Users need not maintain an inventory, reducing the risk of unsold products.
Although competitive, pricing must be carefully managed to maintain profitability.
Communication with print providers may prove challenging due to linguistic barriers.
Shopify Rating
4.4/5
Dropified

Dropified is another dropshipping automation software designed to streamline and simplify managing a dropshipping business. It helps the store owners to efficiently source products from various suppliers and automate critical tasks like inventory management, order processing, and more.
Pros
Communication with print providers may prove challenging due to linguistic barriers.
Enables businesses to streamline their business operations by allowing them to manage multiple stores from a single Dropified dashboard.
Various customer support channels like forums, and webinars, help the users with great assistance.
Streamlines the process of importing products from various sources in a single click.
Enhanced efficiency as it enables seamless integration with other ecommerce platforms such as BigCommerce, WooCommerce, Shopify
Cons
Users must ensure the smooth functionality of Dropified, especially after updates.
Continuous monitoring is required to ensure accuracy.
There might be issues with data synchronization on an occasional basis, requiring troubleshooting.
Shopify Rating
4.6/5
AliExpress Dropshipping
AliExpress Dropshipping is an e-commerce retail platform that enables entrepreneurs to run online stores seamlessly by selling products without holding inventory. Dropshippers can select products from AliExpress and list them in their online store with marked-up prices. For instance, when a customer orders, the drop shipper purchases the product from the AliExpress supplier, who then ships it directly to the customer.
Pros
Availability of an extensive product catalog with millions of products under various niches.
Low startup cost is involved as there's no need to maintain an inventory or manage a physical store.
Minimal risk as there is no need to hold inventory
Cons
Product quality may vary as drop shippers do not inspect the products before shipping.
Shipping times can extend which may result in decreased customer satisfaction.
Shopify Rating
4.5/5
Modalyst

Modalyst is one of the comprehensive best dropshipping apps on Shopify catering to fashion and apparel-focused online businesses. It offers boutique-level style and accessory products, emphasizing a high-quality curated network of suppliers. Moreover, it has a diverse catalog spanning clothing for men, women, and children and accessories such as jewelry, handbags, and more.
Pros
Offers International shipping options, ensuring a global customer base.
Enhances the customer satisfaction level by allowing users to send branded invoices and packing slips.
Provides real-time tracking of inventory.
Reduces manual work by enabling automated order processing.
Cons
Subscription cost varies based on usage and plans.
Shopify Rating
3.9/5
Spocket

Sprocket is one of the popular dropshipping apps for Shopify that is designed in a way to facilitate efficient sourcing and order fulfillment for e-commerce entrepreneurs. Spocket ensures faster shipping times and high product quality and allows online store owners to deliver a superior customer experience with short delivery times and reduced shipping costs. Furthermore, Spocket offers a user-friendly interface that helps easily integrate with e-commerce platforms such as Shopify. In simple terms, Spocket is a powerful tool to improve dropshipping operations and boost customer satisfaction.
Pros
Focused on efficient order processing leading to reduced manual errors.
Seamless integration with ecommerce platforms such as Shopify, streamlining the dropshipping process.
High product quality, decreasing the likelihood of customer complaints.
Improved shipping times.
Cons
Geographic restrictions
Potentially higher product costs
Shopify Rating
4.7/5
Oberlo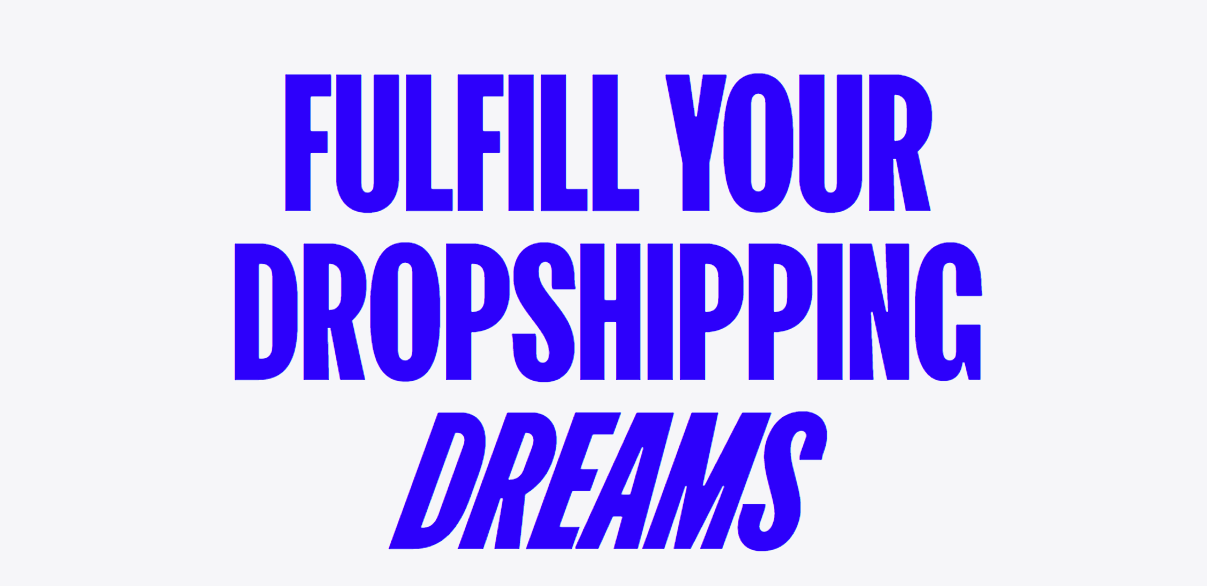 Oberlo is a top-notch user-friendly and best app to start dropshipping which is designed to simplify the process of selling products online. Mainly, Oberlo is the best dropshipping app for entrepreneurs starting their e-commerce business with minimal upfront costs.
Pros
Access to a wide range of products covering various niches.
Order tracking and monitoring facility, enabling the users to track the status of their orders.
Cons
Challenge in building a unique brand identity.
Shipping time variability affects customer satisfaction.
Syncee

Syncee is a cloud-based dropshipping platform designed to assist e-commerce businesses in importing, sourcing, and managing products from multiple suppliers. It automates the tasks related to inventory, product updates, and order management and smoothens the product sourcing process. Syncee provides a user-friendly platform and integrates smoothly with e-commerce platforms such as WooCommerce, Shopify, and BigCommerce, making it easier for online store owners to manage their inventory efficiently.
Pros
Syncee offers a user-friendly dashboard, making it easier for beginner and experienced level users.
Enables users to import multiple products at once, simplifying the process of adding items to the online store.
Availability of order tracking tools, enabling the users to keep track of tehri orders seamlessly.
Cons
Subscription costs vary based on usage and plans.
The challenge is maintaining the product quality as they are not inspected before shipping.
Shopify Rating
4.7/5
Doba

Doba is a dropshipping platform that connects e-commerce entrepreneurs with a vast network of manufacturers. Doba simplifies selling products online by providing access to various categories such as apparel, home goods, electronic goods, and more. While Doba offers convenience and a broad product selection, users must consider the subscription costs when using the platform.
Pros
Access to a wider range of products allows users to cater to different niches and markets.
Seamless integration with ecommerce platforms such as Shopify, WooCommerce, and more.
Provides tools for inventory management.
Cons
Low profit margins due to product costs.
Users, particularly newcomers, may face a learning curve.
Communication with suppliers may be difficult due to linguistic barriers.
Shopify Rating
2.8/5
Conclusion
Choosing a dropshipping platform should align with your business goals, niche, and operational preferences. While these platforms offer valuable tools and resources, success in dropshipping also depends on effective marketing, customer service, and adaptation to market trends. Conduct thorough research, consider your needs, and choose a platform that best supports your e-commerce venture.