7 Popular Shopify Upsell Apps for your Shopify Store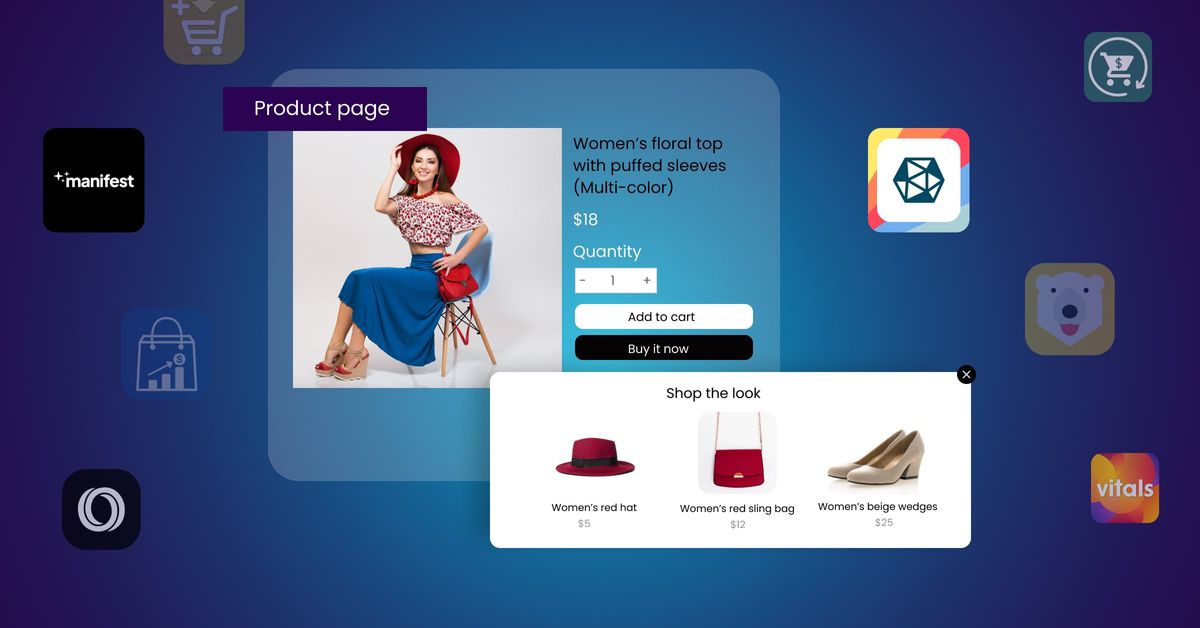 Are you ready to give your online ecommerce store a turbo boost?
Well, we are talking about the enhancement of your e-commerce store. Now you must be wondering why you need to enhance the aesthetic of an online store. Well, it is essential because it attracts customers, which makes them spend time on your website, which can ultimately lead to conversion.
One such way to bring customer engagement to your online store is by Shopify Upsell Apps. These apps are powerful tools mainly designed to help online businesses boost their revenue by making customers spend more time on their websites during shopping.
Shopify Upsell Apps integrate seamlessly with the Shopify stores, strategically prompting customers to add products to their carts, ultimately increasing the Average Order Value. Shopify Upsell Apps uses specific techniques such as providing discounts, offering bundled deals, free shipping, cross-selling and much more based on customer behavior and purchase history.
We will discuss various upselling apps available today to guide you to the right one.
So are you ready to revamp your website & boost your customer experience on your website?
Let's get started!
Importance of Upselling for Boosting Revenue
When a customer is on the verge of making a purchase but ultimately experiences cart abandonment, it's time to implement strategies such as an upsell Shopify app. This not only encourages customers to finalize their purchase but also stands as one of the most effective techniques for boosting revenue, which can significantly contribute to the business's bottom line.
Let's have a read to some compelling reasons why upselling is essential for boosting revenue:
Higher Spending
Businesses go for upselling apps mainly because it can persuade customers to choose a pricier option. It enhances their overall purchase amount, which in turn derives growth and revenue for the business.
Increased Transaction Value
By suggesting the customers with potential ad-ons and upgrades, businesses can boost each transaction value which will help them maintain a solid financial position.
Long Term Value
Upselling done correctly improves the current financial situation and boosts customer loyalty for a more extended period, leading to sustained revenue streams.
Positive Experience
When upselling is done thoughtfully, it makes the customer feel valued. It enhances their shopping experience, which arouses them to revisit the website in the future too.
Cost Effective
If a business is willing to generate additional revenue, the upselling must be done to the existing customers rather than the new ones. It leads to a cost-effective strategy.
How Do You Upsell on Shopify?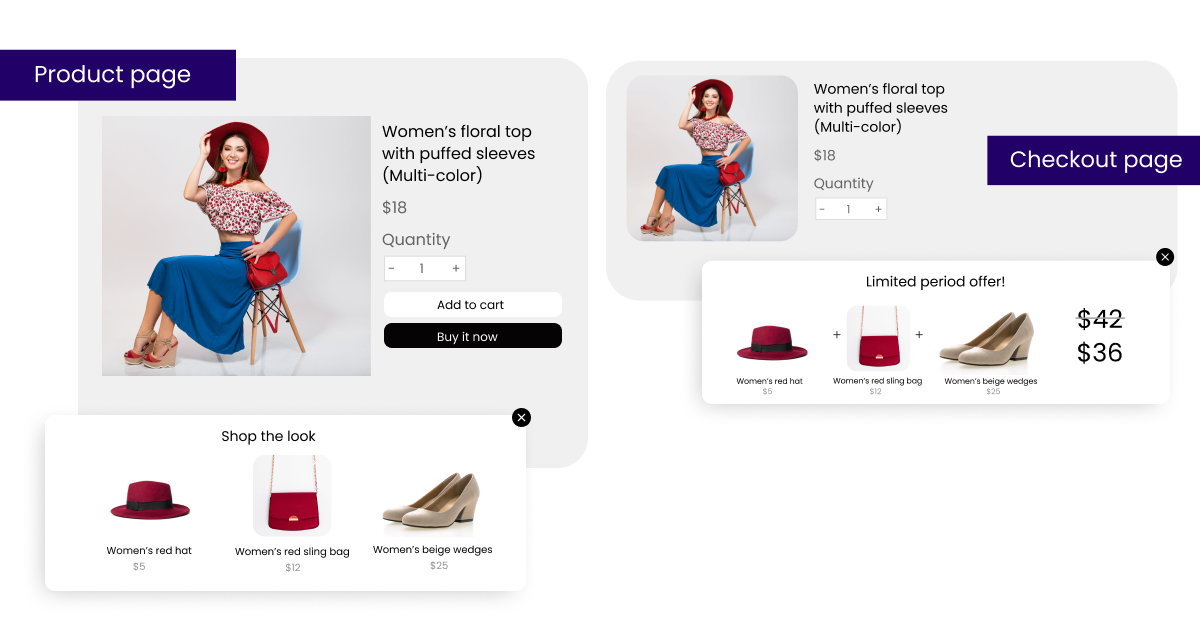 There are specific strategies and techniques which are used to upsell on Shopify. Upselling is done so that the customers make a higher-priced purchase which can generate more profits for the business.
Here's a guide you must read if you are willing to buy the best Shopify upsell apps:
Offer Free Shipping
Implementing a free shipping offer on Shopify involves providing the buyers with the benefit of having their purchase delivered to them at no additional shipping charges. Implementing this strategy capitalizes on the psychological appeal in the mind of the customers of any extra cost. This, in turn, prompts the users to add more items to their cart to qualify for the threshold to be eligible for free shipping.
Product Bundling
Product bundling is a sales technique that involves offering multiple products together at a discounted price. This is a great way to increase average order value and boost sales.
For example, you could bundle a printer with ink cartridges, or a camera with a memory card and case. By offering these products together at a discounted price, you can encourage customers to spend more money and get more value for their purchases.
Discounts for Higher Quantities
Offering volume discounts to your customers is beneficial as it incentivizes them to buy more.
Limited Time Offers
Offering limited-period offers would create a sense of urgency among the customers to buy products with exclusive and discounted deals on high-priced products.
Personalized Email Marketing
Send tailored recommendations to your customers by sending personalized emails to them based on their past purchases and needs.
Exit-Intent Popups
Customers who are about to leave the site will stay if they see some banners in the form of exit-intent popups offering discounted deals and offers.
7 Popular Shopify Upsell Apps for your Shopify Store
The below list includes the best Shopify upsell apps that can help you boost your add-to-cart rate.
1. Vitals: All-in-One Marketing

Overview:
Vitals: The one Marketing app is a comprehensive upselling app tailored for Shopify stores. It is designed to boost various aspects of your e-commerce business.
Key Features:
Provides customized offers based on customer behavior
Effortlessly cross-sell relatable products
Conducts A/B testing to boost upselling strategies
Generates urgency by creating countdown timers on offers
Collects and displays customer reviews and ratings for social proof
To increase Average Order Value, it offers various upsell options
Pricing
2. Manifest AI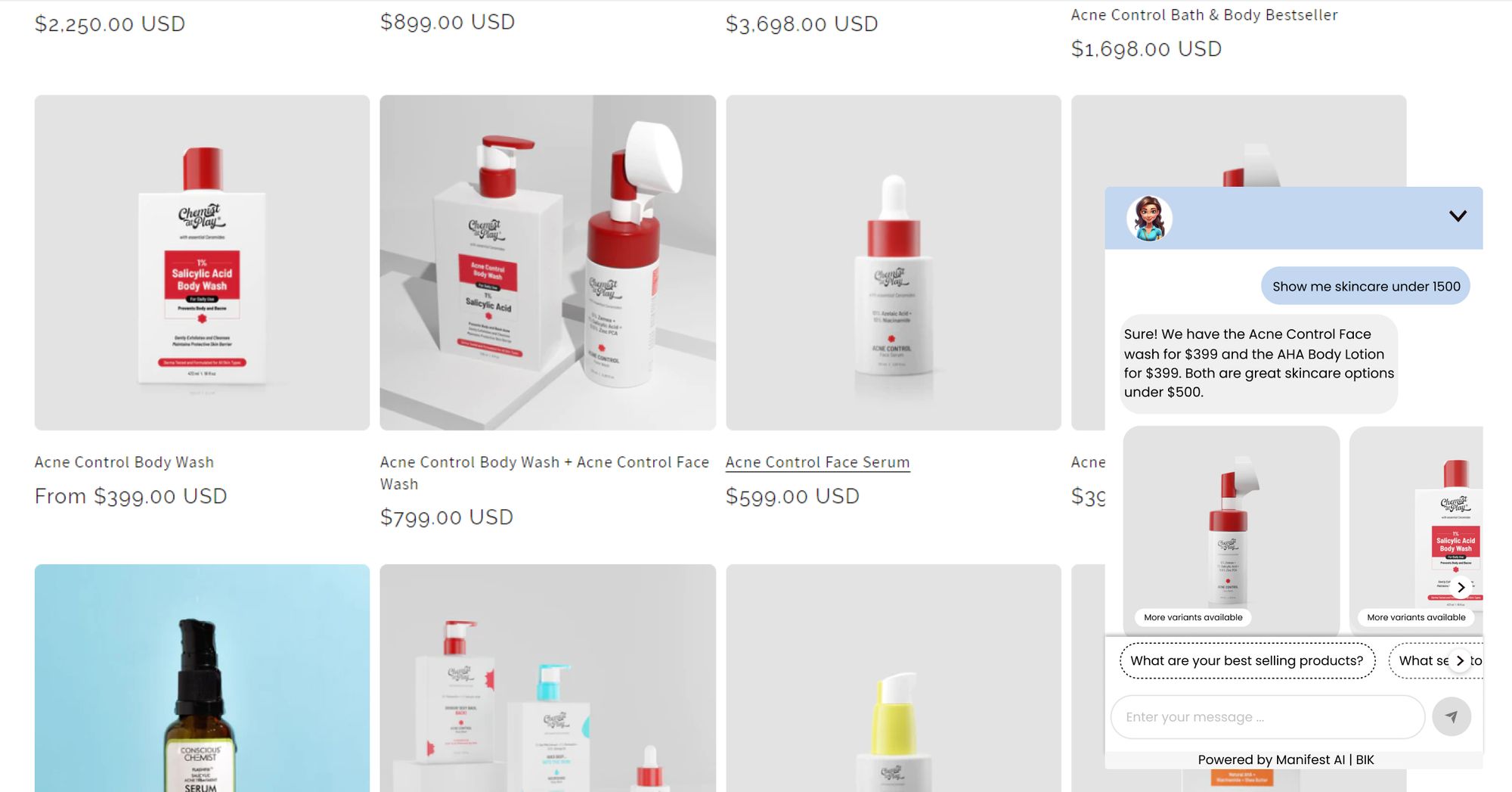 Overview:
Manifest AI is one of the popular Shopify upsell apps designed to enhance your Shopify store's upselling capabilities. Through its advanced algorithms, Manifest AI provides real-time suggestions at various touchpoints, such as product pages, cart pages, and even post-purchase thank-you pages.
Key Features:
Data-based insights refine upsell strategies and boost sales effectiveness.
Customize appearance, placement, and design of upsell recommendations.
A/B testing to optimize upselling tactics for maximum impact.
Performance analytics track upselling success and average order value.
Intuitive dashboard for easy setup and campaign management.
Seamless integration with Shopify ensures hassle-free operation.
Enhance customer experience by showcasing relevant, undiscovered products.
Free upsell app Shopify & AI chatbot for Shopify
Pricing:
3. InCart Upsell

Overview:
InCart Upsell is a powerful Shopify app designed in a manner It is done through the upsell opportunities to customers directly within their shopping carts.
Key Features:
Provides real-time upselling suggestions
Customizable offers for tailored upselling
Has the ability to boost the Average Order Value
Increases customer satisfaction and shopping experience
Provides A/B testing for better results
Delivers various insights through analytics
Pricing:
4. Zoorix

Overview:
Zoorix advances the merchant's experience by providing them with the optimal tools which enhance the store's performance, boost customer satisfaction and drive revenue growth towards the business.
Key Features:
Implements tactics for providing various discounts and offers to customers
Has the potential to build trust with social proof
Can recover abandoned carts effectively
Boosts Shopify conversion rates
Automated email campaign for customer engagement
Captures the leaving customers with exit intent popups
Pricing:
5. Honeycomb Upsell & Cross Sell

Overview:
Honeycomb Upsell and Cross Sell is a dynamic cross-sell app Shopify mainly designed to boost sales by offering the customers upsell and cross-sell app Shopify suggestions and elevating their shopping experience, ultimately increasing revenue for the business.
Key Features:
Responsive interface for a consistent experience
Has the ability to provide personalized suggestions based on preferences
Offers bundle deals and offers for boosted sales
User-Friendly setup
Pricing:
6. LimeSpot Personalizer

Overview:
LimeSpot Personalizer is an innovative Shopify app meant to enhance the customers' shopping experience, drive engagement to the website, and ultimately boost conversions.
Key Features:
Provides mobile-optimized experiences
Real-time analytics insights
Provides the customers with personalized email campaigns
Dynamic exit intent popups based on user behavior
AI-Powered product recommendations
Pricing:
7. ReConvert

Overview:
ReConvert is a robust Shopify app created to uplift merchants to develop customizable thank-you pages and post-purchase upsell Shopify. It, in turn, elevates the customer experience, which leads to repeated sales. ReConvert is one click upsell Shopify.
Key Features:
Sends personalized thank you pages
Repeated sales stimulation
Retains customers through follow-ups
One-click upsell option
Email capture for marketing
Availability of dynamic widgets based on user experience
Reconvert post-purchase upsell
Pricing:
Conclusion
Today the world of e-commerce is constantly evolving at a rapid pace. Businesses face the challenge of standing out from competitors and keeping their customers engaged. In such a scenario, going for upselling apps would be advantageous. Fortunately, there's a wide range of shopify upsell apps in 2023 which can ultimately address these issues by providing online e-commerce merchants with a solution so that succeeding in the competitive digital landscape isn't a big problem anymore!
Frequently Asked Questions (FAQs)
Some frequently asked questions on Shopify upsell apps:
How to add a one-click upsell on Shopify
Several apps are designed to fulfill this purpose, such as InCart Upsell, Manifest AI, ReConvert, and many more. With the help of these apps, merchants can easily set up upsell offers that their customers can seamlessly accept within a single click by adding them to their cart.
How to add upsell products in Shopify
Follow these steps to add upsell products to your Shopify profile:
Log in to your Shopify admin panel
Choose a product for which you want to set up an upsell
Go to "Product Details", and you will find the option to "Upsell".
Add the products you wish to upsell by searching from your product list
Save the changes.