Top 10 Live Chat Apps for Shopify in 2023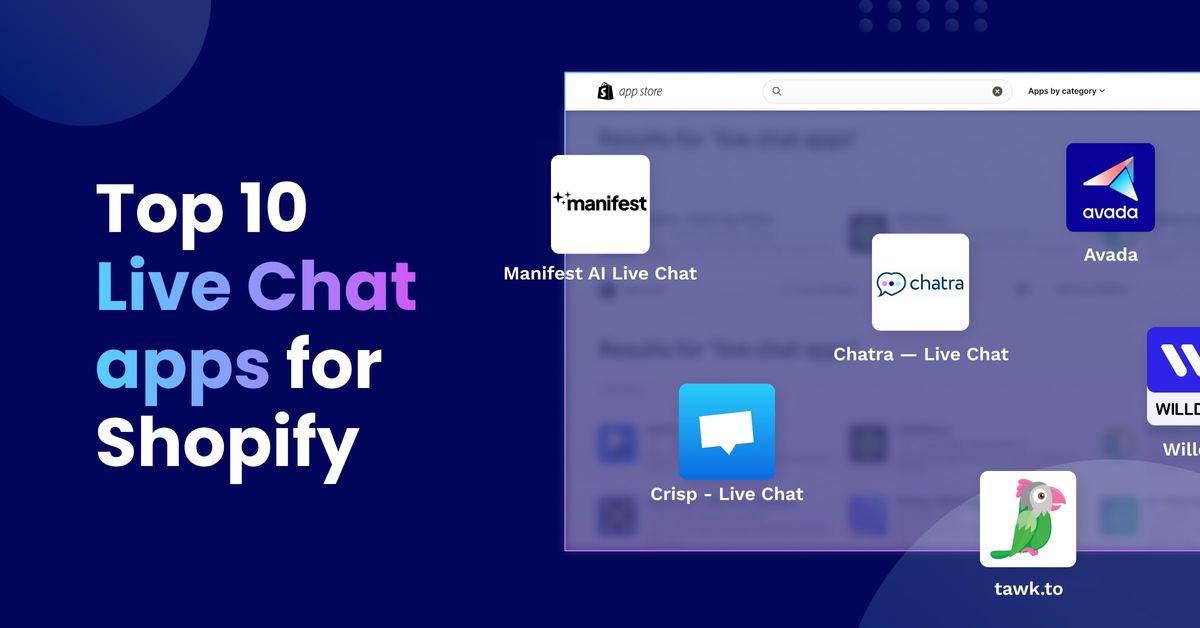 In an era where almost every click counts and strong customer connections can make or break a sale, have you ever considered the unsung hero of e-commerce? Yes, we're referring to live chat apps for Shopify. These apps transcend convention by providing real-time assistance, AI-powered communication to customers, and seamless integration. This revolutionary approach transforms the way businesses engage with their customers.
Live chat for Shopify has evolved as an indispensable tool for online businesses, offering them AI-driven assistance, real-time communication, and seamless integration with e-commerce platforms.
However, there has been an increase in customers' demands, which is why businesses are continuously evolving to these top-tier live chats for Shopify to assist their customers with instant support and personalized interactions, which streamlines customer journeys.
In this blog post, we will talk about the leading live chat apps for Shopify in 2023 that continuously contribute to reshaping the way Shopify merchants engage with their clientele, ultimately leading to higher Shopify conversions.
For Instance: Imagine a potential buyer who is hesitant to purchase the virtual crossroad, suddenly greeted with a pop-up inviting them to chat to get rid of any confusion, clarifying their queries within seconds. These live chat for Shopify are a tool which not just provides a personalized service but also ensures that all customer inquiry gets answered and no customer feels lost in this digital labyrinth.
10 Best Live Chat Apps for Shopify in 2023
In this section, let's discover the pinnacle of customer engagement with the top 10 live chat apps, which are meticulously curated for Shopify businesses:
Live Chat

LiveChat is continuing to shine in 2023 with its real-time chat capabilities? Live Chat is the best chatbot for Shopify which successfully empowers Shopify businesses as it helps customers by connecting with them instantly via the live free chatbot for Shopify. Live Chat can be seamlessly integrated into any Shopify AI chatbot as it offers an intuitive interface and facilitates efficient interactions. Whether it's providing product recommendations, addressing customer inquiries, or resolving issues, the interface of Live Chat has a user-friendly interface that ensures a smooth experience for both customers and support agents.
Pros
Has the ability to connect with customers instantly, fostering a sense of care and responsiveness.
Enhances the customer experience by implementing chat widgets that match the brand.
Has the capability to gain valuable customer behavior data and agent performance metrics for improvement, wherever necessary.
Cons
The challenge is finding the availability of an agent during peak hours.
Manifest AI

Manifest AI transcends being a mere live chat tool; it not only redefines customer engagement through the power of AI but also seamlessly melds AI capabilities with human interaction. Furthermore, Manifest AI's live chat support system serves as a versatile solution, empowering businesses to provide exceptional customer experiences. This system adeptly handles perplexing product inquiries, order tracking details, returns, and refunds around the clock, ensuring 24x7 customer support, and also acts as an ecommerce search engine.
With the help of Manifest AI's chatbots, response times have been streamlined, allowing humans to focus on more complex queries, thereby enhancing customer satisfaction.
Pros
Provides deep & real-time customer insights through AI-powered analytics, enabling data-driven decision-making.
Saves time and enhances efficiency with AI-driven automated responses.
The quick response rate of all types of queries for 24*7.
Able to understand 95+ languages.
Cons
Although AI is powerful in assisting customer inquiries, sometimes it becomes difficult to address complex, resulting in human intervention.
Relying heavily on AI might make the system susceptible, which can lead to technical glitches. It highly frustrates the customers and makes them demotivated.
Tidio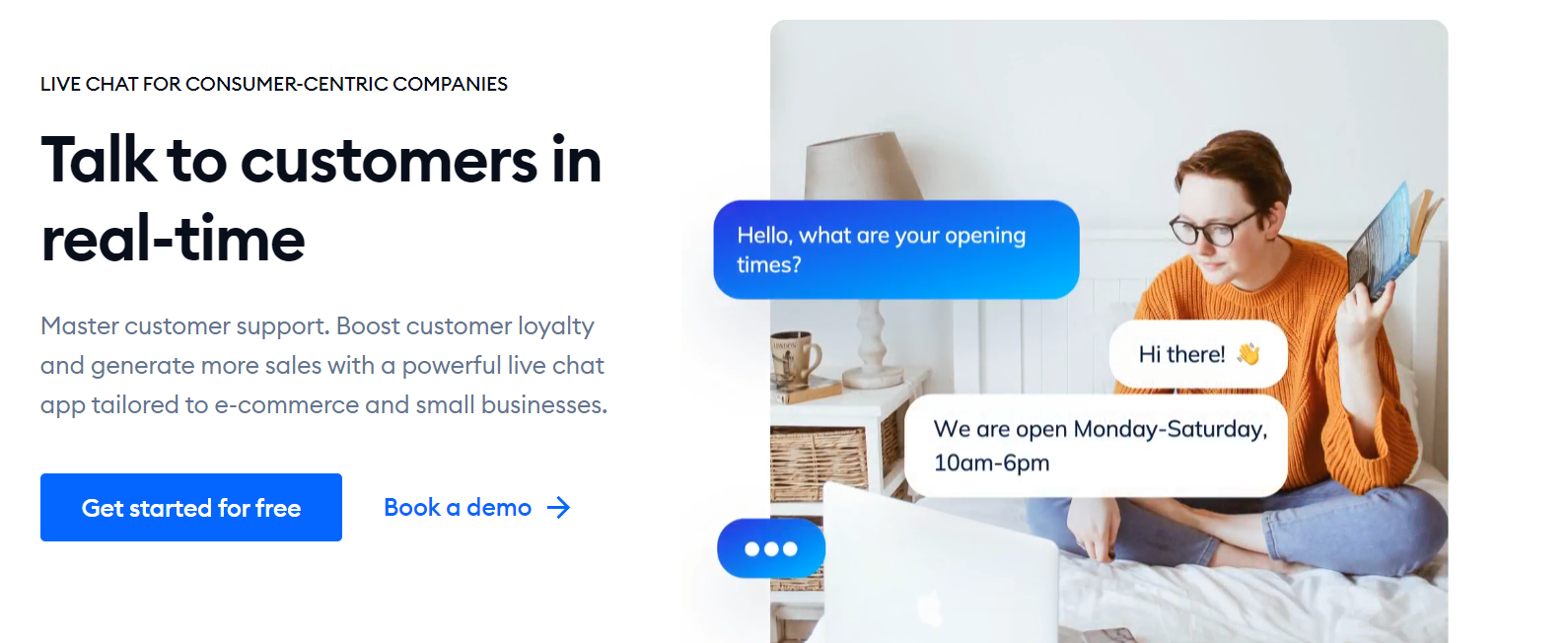 Tidio will be a prominent player in live chat for Shopify in 2023. Tidio not only redefines customer engagement with the help of AI-powered chatbots but also enables personalized interactions that resonate. Furthermore, it also supports multi-channel support by effectively managing routine queries with AI, allowing human agents to focus on more intricate tasks. Additionally, the review of Tidio is quite good as it seamlessly integrates with the Shopify chatbot app and other platforms.
Pros
Tidio effectively handles routine queries and frees up human agents to handle more complex queries.
Enables visitor tracking by allowing personalized interactions.
Has the capability to engage customers via various channels such as messenger, live Chat, and emails, ensuring customer convenience.
Offers seamless integration with Shopify and other platforms for a unified customer support system.
Cons
Finding a touch between AI and human interactions could be critical.
Dependency on internet connectivity might result in service disruption during an unstable internet connection.
Best Chat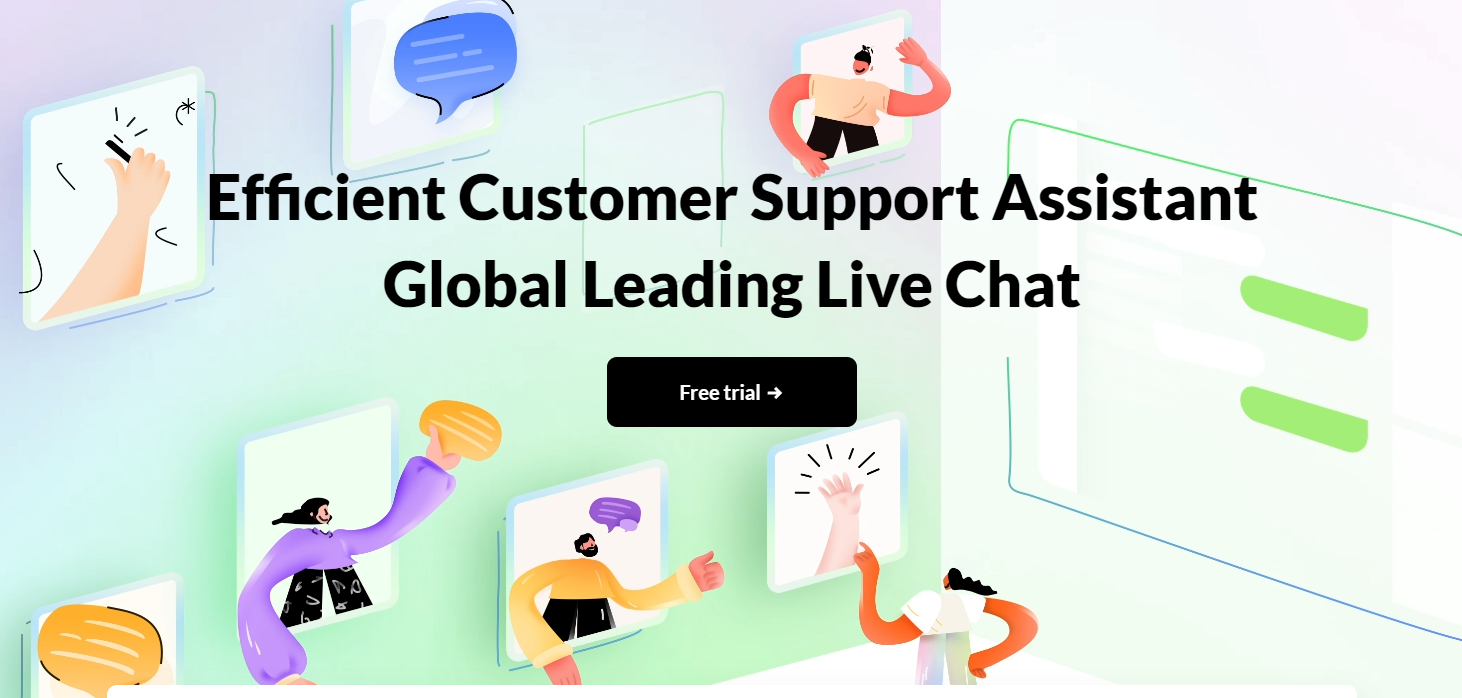 Best Chat emerges as the best contender in today's dynamic realm of Shopify chatbot applications in 2023. Best Chat is an easy-to-access platform to manage all customer interactions. With a focus on simplicity, this is the best live chat for Shopify and boasts an intuitive interface that promotes seamless customer-agent engagement. Moreover, Best Chat fosters real-time team collaboration and enables accurate information sharing with quick responses.
Pros
Ensures accurate customer responses by enabling internal team interactions.
Facilitates user-friendly interface, enabling effortless customer-agent interactions.
Quick deployment of the chat system, ensuring less disruption to existing operations.
Cons
There needs to be more feature availability in Best Chat as compared to the competitors.
Integrating Best Chat into complex software might require additional effort.
Willdesk
In the dynamic landscape of customer support solutions, "Willdesk'' shines as one of the versatile players in 2023, offering an array of features designed to elevate the customer interaction experience. Willdesk embraces the concept of omnichannel support, which allows businesses to engage customers across various channels seamlessly.
Pros
Ensures omnichannel support to customers, providing them with accessibility and convenience.
Improves overall efficiency by providing quick responses and streamlined workflows.
Cons
Willdesk has a comprehensive set of features that may require time and training to master.
Integrating Willdesk with another platform might pose technical difficulties.
With extensive features, Willdesk might come with a higher price point.
NS Live Chat

NS Live Chat is one of the most valuable assets for Shopify businesses in 2023 & a free live chat easy setup plugin for Shopify stores. Moreover, it is easy-to-integrate NS Live Chat into your Shopify chatbot integration. Furthermore, NS Live Chat enhances customer support without losing any disruption in the existing platform. Additionally, NS Live Chat is a user-friendly interface that ensures smooth navigation, making it easier for support agents and customers.
Pros
Seamless integration to the Shopify store, ensuring customer support.
Straightforward interface, which ensures smooth and efficient communication.
Has the ability to provide instant responses to customer queries.
Cons
NS Live Chat's features might not be as comprehensive as its competitors.
Limited customization is available for the chat interface.
Tawkto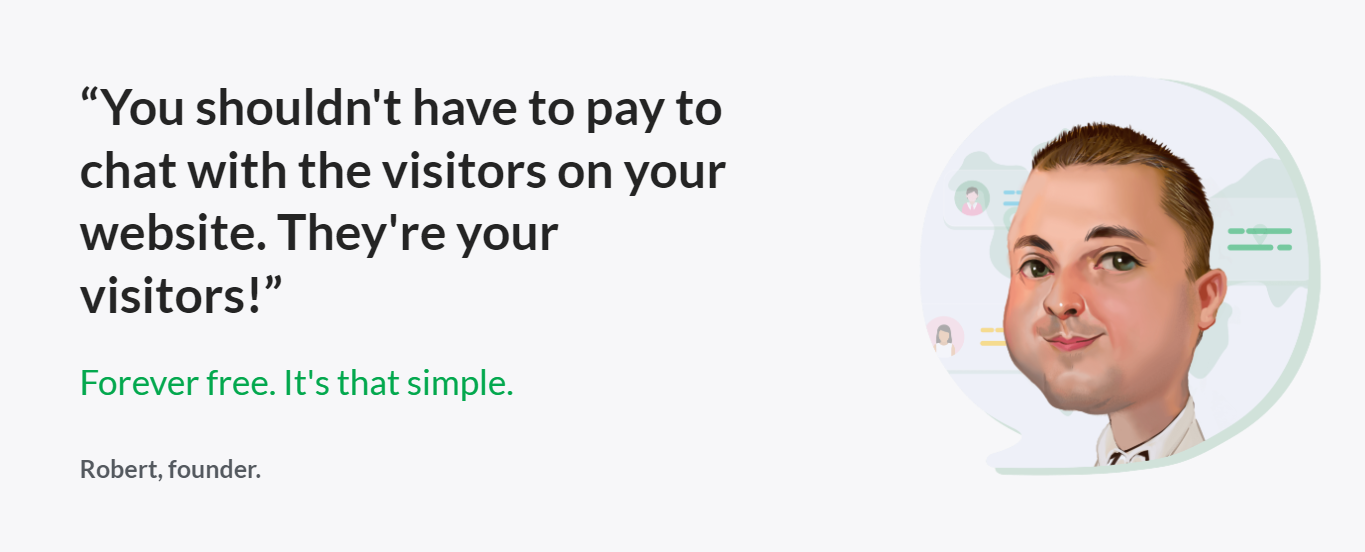 Tawkto offers an accessible option to businesses seeking to enhance customer engagement. Moreover, one of the standout features of Tawkto is the availability of a free version, which makes it a lucrative option for businesses operating on a limited budget. Moreover, customizable chat widget options are available on Tawkto, which aligns the chat interface with its brand identity. However, while the core functionalities cover most, businesses seeking advanced features might have to explore subscription options.
Pros
Basic features can be accessed via free options available, making it suitable for businesses running on a constraint.
Mobile connectivity is available, which lets you manage chats and interactions from anywhere.
Cons
A subscription is required for advanced features.
Understanding the features might require time and effort.
Chatra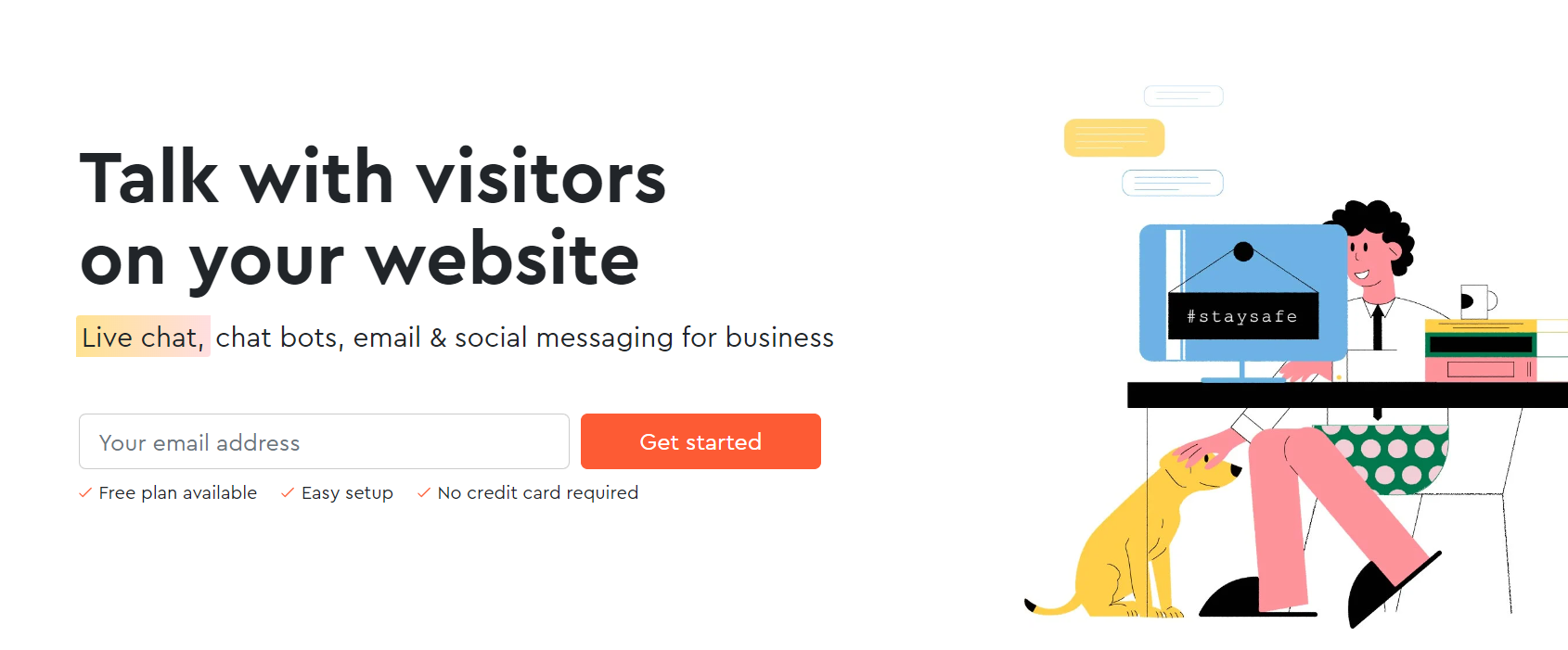 In the ever-evolving landscape of live chat solutions, Chatra emerges as a versatile option for business seekers so that customer interactions are amplified in 2023. One of the main features is the seamless integration of the live chat plugin for Shopify with the shopping cart. Moreover, Chatra also offers the convenience of message scheduling which allows businesses to reach out to customers at optimal times, increasing engagement.
Pros
The live chat feature boosts conversions by seamlessly engaging customers during shopping.
Enables sharing of files, documents, and images within the Chat for effective communication.
Cons
While it has a free plan, some advanced features can only be accessed via higher pricing tiers.
Fully exploring Chatra requires time and additional training.
Crisp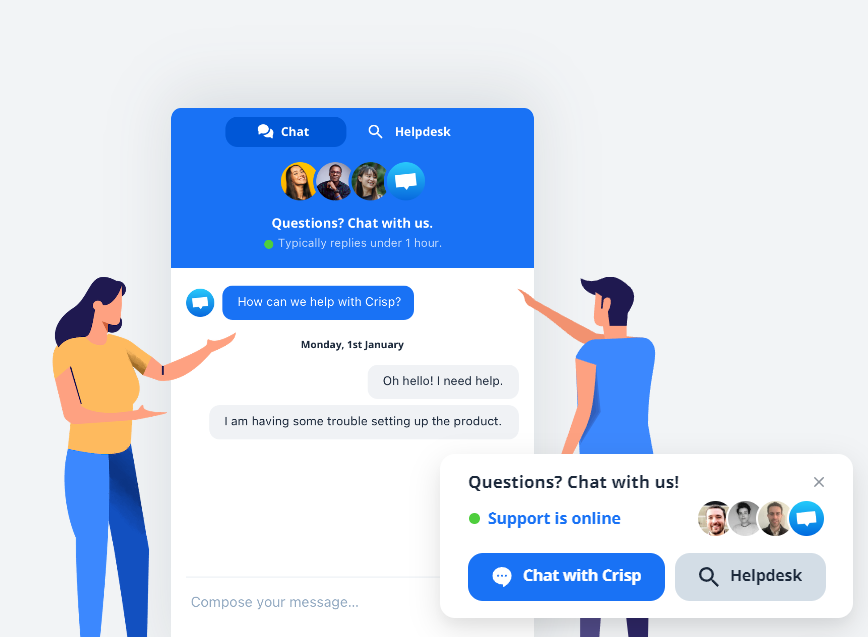 Crisp will emerge as one of the dynamic players in 2023 as it caters to businesses aiming to foster customer engagement. It allows companies to interact with customers, which ensures convenience and accessibility.
Pros
Streamlines customer interactions.
Offers convenience and accessibility to engage customers.
Cons
Time-taking is an approach to understanding the interface fully.
Avada

Avada emerges as one of the most robust contenders in 2023 in live chat applications. It offers advanced analytics, which provides valuable insights into customer behavior.
Pros
Provides omnichannel engagement to customers providing a consistent experience.
Streamlines the customer support workflows.
Cons
Mastering the entire range of Avada might require time and effort.
Avada's comprehensive capability might overwhelm users new to the live chat app.
Conclusion
So, as we are concluding this blog, we are quite sure that we have made all the points clear about the top 10 live chat apps for Shopify in 2023. Now that you are through the entire blog post, you must be very well aware that these live chat apps for Shopify enable businesses to redefine their customer relationships. By embracing these AI-powered live chat applications, businesses can create experiences that are not just solving their customers' problems but also builds up strong connections with them.
So, now we can very well say that with these Live Chat Apps for Shopify, the future of customer support has arrived.