5 Free Shopify Chatbots for 2023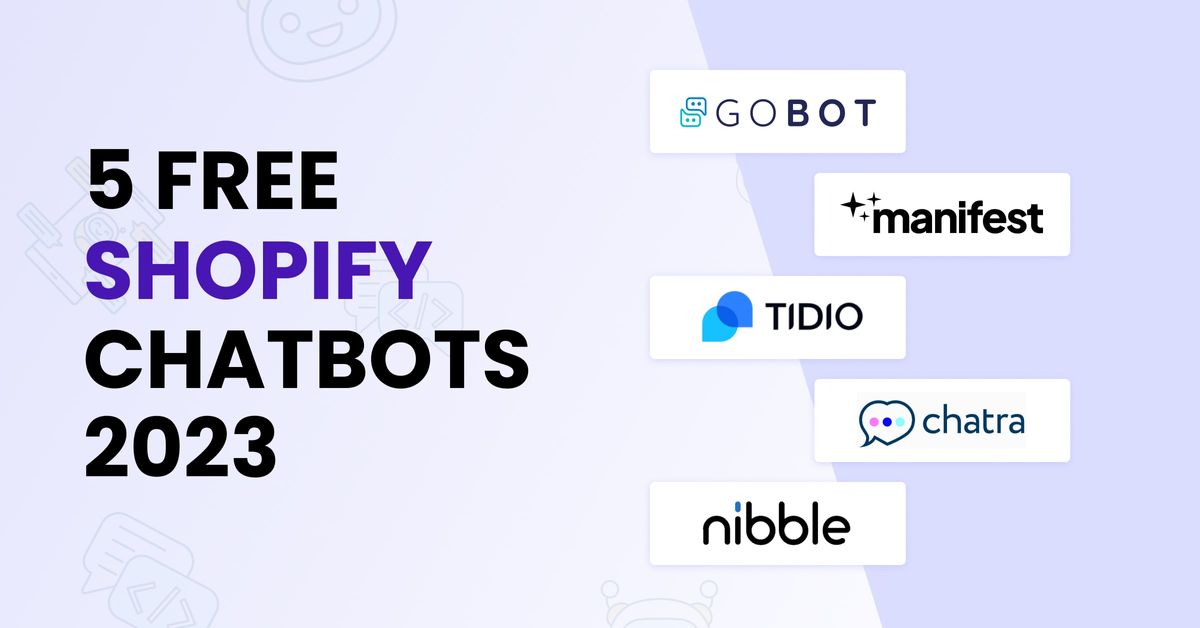 Shopify Chatbots are virtual assistants designed to interact with customers on e-commerce websites built on the Shopify platform. These chatbots engage in real-time conversations with store visitors, leveraging natural language processing and machine learning technologies. They swiftly resolve website visitors' queries and provide support throughout the customer journey.
Numerous benefits of having a Shopify Chatbot will be discussed in later sections of this blog. However, a Shopify Chatbot enhances the customer experience on the website by offering instant responses and personalized assistance.
For Instance, if you have a query, suppose at 10 p.m., about the delayed delivery of your order or incorrect order received. You would appreciate it if you get personalised support at that hour of the day. Now you might understand the benefit of adding a Shopify chatbot app to your online ecommerce store. A Shopify chatbot is a valuable asset for any online e-commerce business.
Top 5 Free Shopify Chatbots to Use in 2023

Tidio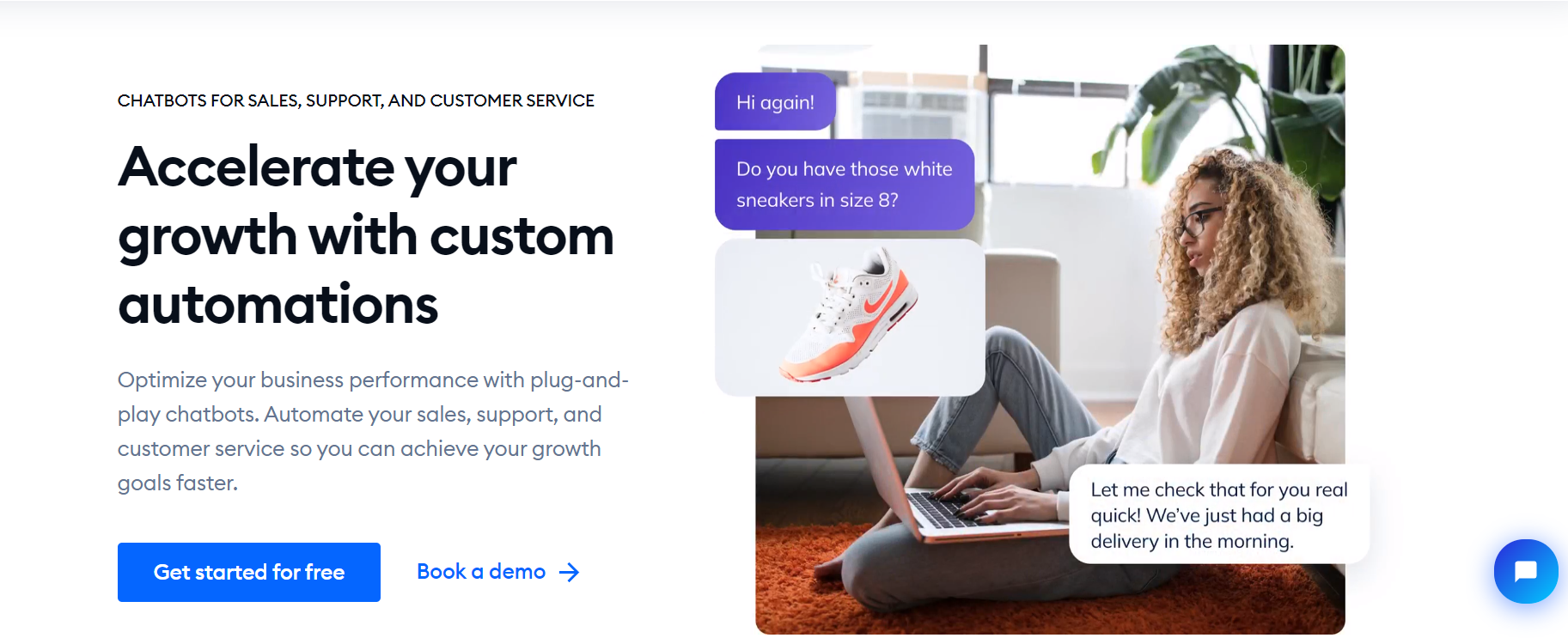 Tidio is one of the most preferred Shopify Chatbots available for e-commerce businesses in 2023. A comprehensive suite of features is mainly designed to upgrade customer engagement and streamline interactions on Shopify websites. Tidio has a user-friendly interface that helps businesses quickly set up the chatbot Shopify app and customize it as per their preferences that match their branding. Moreover, Tidio's real-time translation feature is especially beneficial for companies dealing with an international customer base. Additionally, the accessible version of Tidio is helpful for businesses willing to improve their customer support system on their chat app Shopify ecommerce store.
Key Features
Tidio can provide instant and automated responses to customer inquiries.
Tidio facilitates communication with international clients based on their preferred language.
Manages multi-channel interactions across various channels like email, messenger and more.
Ensures a user-friendly interface for easy implementation.
Ensures 24*7 support to customers.
Offers numerous free features in its free version for budget-conscious businesses.
Manifest AI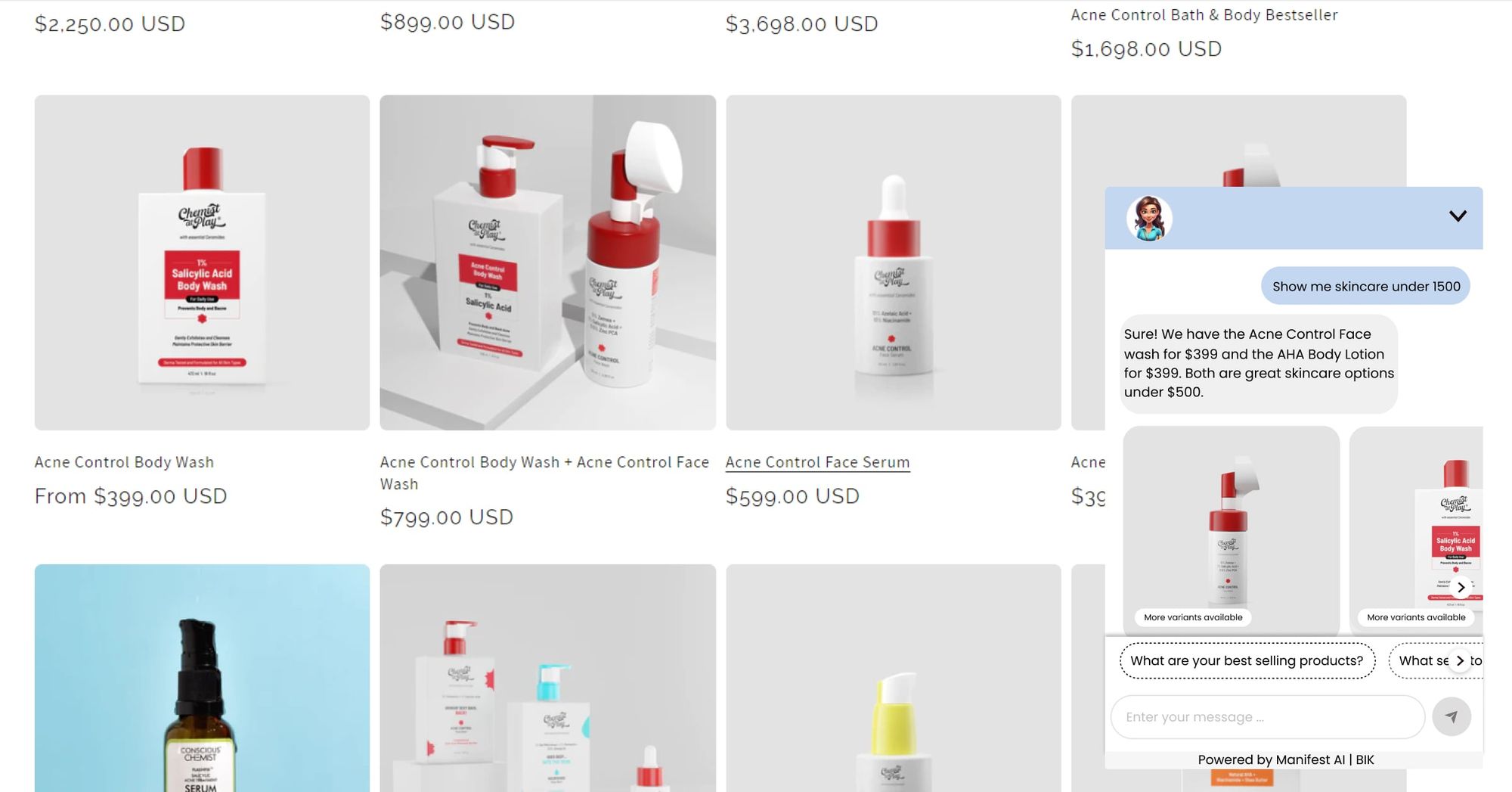 Manifest AI is an advanced Shopify Chatbot solution that is designed to boost customer satisfaction and upgrade customer interactions for e-commerce businesses in 2023. Moreover, Manifest AI is an intelligent platform as it seamlessly integrates with Shopify stores and offers a range of features to provide exceptional customer experiences.
With the help of automated interactions, Manifest AI addresses customer inquiries in real-time by offering them personalized product recommendations based on their browsing history. Manifest AI's chatbot helps recover abandoned carts by sending reminders, increasing the likelihood of customers completing their purchases.
Key Features:
Provides instant responses and personalized assistance to customers with automated interactions.
Manifest AI is a free chatbot that suggests products to customers by providing personalized recommendations based on browsing history.
Helps the customers with real-time order tracking and shipping status updates.
Sends personalized reminders to customers with items left in their carts, motivating them to complete their purchases using this upselling app.
Manifest AI recommends related or complementary products to customers so that there's a boost in the Average Order Value.
Manifest AI's Chatbot communicates with customers in their preferred language to ensure global reach.
Gobot

In 2023, Gobot stands out as one of the most emerging Shopify Chatbots. It provides e-commerce businesses with valuable features that enhance the customer engagement rate on their platform and support website visitors. Furthermore, Gobot's user-friendly interface allows companies to integrate the live chat app for Shopify stores seamlessly.
Gobot is AI-driven which means that it can provide instant responses and solve customer inquiries, thereby improving the response time. As a free chatbot for Shopify, Gobot allows businesses to access their most essential features without incurring additional costs, making it a valuable option for those wanting to increase customer satisfaction levels on the Shopify platform.
Key Features:
Gobot ensures easy set-up and customization, which can easily match the brand's aesthetics.
Gobot sends abandoned cart recovery reminders to customers who have left their carts without making a purchase.
Gobot ensures quick and automated answers for users to find a solution to their queries.
Gobot can be easily integrated with the Shopify stores for streamlined operations.
Gobot provides real-time order tracking support and timely updates on the status of their orders.
Provides 24*7 customer support which enhances their engagement and satisfaction level.
Relish AI

In 2023, Relish AI will be one of the most sought-after and best chatbot for Shopify, offering comprehensive features designed only to elevate the customer experience and support in e-commerce businesses. Relish AI is an invaluable asset for customers as it upgrades the customer journey with seamless Shopify chatbot integration. Though Relish AI is an AI-powered technology, the platform can deliver instantaneous responses to customer queries, ultimately reducing response times.
Key Features:
Ensured quick responses by delivering instant and automated responses to customer inquiries.
Offers tailored product suggestions to customers based on their behaviour and browsing history.
Sends reminders to customers to complete their purchases by recovering their abandoned carts.
Ensures easy set-up and customization to align with brand aesthetics.
24*7 availability, ensuring enhanced customer support and engagement.
Formilla

In 2023, Formilla emerged as one of the most regarded free Shopify chat bot, offering impactful features that increase customer interactions and support within e-commerce operations. Formilla is an easy-to-integrate solution for Shopify stores, making it an indispensable tool for refining the customer journey. A standout feature of Formilla is its capability to cater to individual preferences, and significantly increase Shopify conversion rates. Furthermore, Formilla excels in recovering abandoned carts by strategically dispatching reminders to customers who have left them behind without making any purchases.
Key Features:
Provides swift responses to customers by answering their queries and addressing their issues promptly.
Recommends related products or complimentary products with its upselling and cross-selling feature, enhancing sales.
Provides seamless integration with the Shopify store.
Offers premium features at no additional cost, even catering to budget-conscious businesses.
How To Choose The Best Shopify Chatbot App?
When choosing a Shopify chatbot app, there are numerous considerations to be kept in mind so that the selected app aligns with your business needs and goals.
Here are some factors which highlight the tips for choosing the best Shopify chatbot app:
Identify your Goals
Identify your primary objective for integrating a chatbot app into your Shopify store. It may be any factor, whether you want to boost customer satisfaction, enhance customer sales, or increase customer engagement. Clear goals will guide your selection.
Features
There are certain features which you might need for your e-commerce business; list those. It could be personalised recommendations, abandoned cart recovery, quick response, seamless integration with the Shopify app or anything else. Match these apps with the offerings of the chatbot app you're considering.
AI-Capability
When opting for a Shopify chatbot, it is better to pick an AI shopping assistant that can provide you with a personalised experience through data analysis.
Multi-lingual Support
If you have an international audience, you should choose a chatbot supporting multiple languages. It will provide you with a more inclusive experience.
User Reviews
Search for user reviews and ratings, which would help you gauge the experience of the other e-commerce businesses. You can even look for feedback on support and reliability and actual results achieved.
Costing
While some chatbots offer free versions, specific chatbots provide premium plans with extended features. Analyse those and compare them with free versions to see if they add value to your business.
Installation and Set-Up Instructions

Detailed Installation Process
Here's a quick overview of the detailed installation and set-up process for a Shopify chatbot app:
Choose an app from the Shopify app store which meets your requirements and fulfils your needs.
Click "Add App" on the app's page and provide the necessary permissions for integration.
Configure the settings like chatbot behaviour, branding, response styles and more.
Follow specific app-specific instructions to connect the chatbot with your Shopify store.
Set up how the chatbot responds to different customer queries.
Define personalised chatbot messaging to align with your brand's voice.
Thoroughly test the responses by the chatbot to ensure accuracy in responses.
Promote the chatbot's existence by making the customers aware of its presence through pop-ups or banners.
Moreover, for a quick installation process, you can refer to 3-step Manifest installation guide:
Enable Shopify Chatbot in less than 30 seconds!
Enable chatbot for Shopify store in just 3 steps. Check the steps below: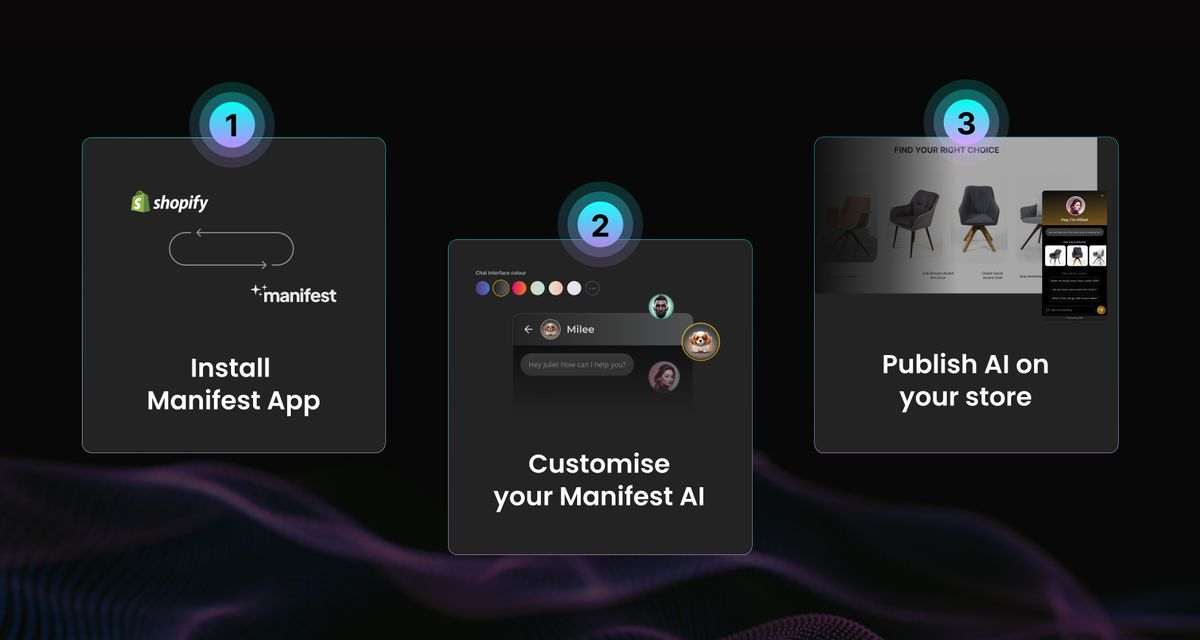 Select an AI shopping assistant from the Shopify app store and Install it on your e-commerce store.
Customize the chatbot's settings as per your brand preferences, voice, personality, and theme.
Lastly, follow the app's integration instructions, test thoroughly, and launch the chatbot.
Future Trends in E-commerce Chatbots
E-commerce chatbots have been evolving rapidly. Here are specific trends to watch out for in the future:
Chatbots will become voice-enabled in the future with an increase in voice assistants. It will enable the users to shop using voice commands.
Chatbots will be designed to recognize and respond to customer emotions, promoting more human-like interactions and enhancing empathy.
Chatbots will improve contextual understanding, allowing smoother transitions between interactions and topics.
Takeaway
The world of e-commerce has been undergoing a transformative journey, with chatbots emerging as a powerful tool in reshaping customer interactions which will ultimately help derive sales. As we navigate the evolving landscape, it's pretty clear that chatbots transcended mere automation, developing into mindful virtual agents capable of delivering exceptional customer experiences.
Businesses have started to adopt these trends as they embrace the potential of e-commerce chatbots. The journey has just begun, and as technology advances, chatbots will play a more pivotal role in reshaping the future of e-commerce.