Shopify Brooklyn Theme: Features, Benefits, and Successful Stores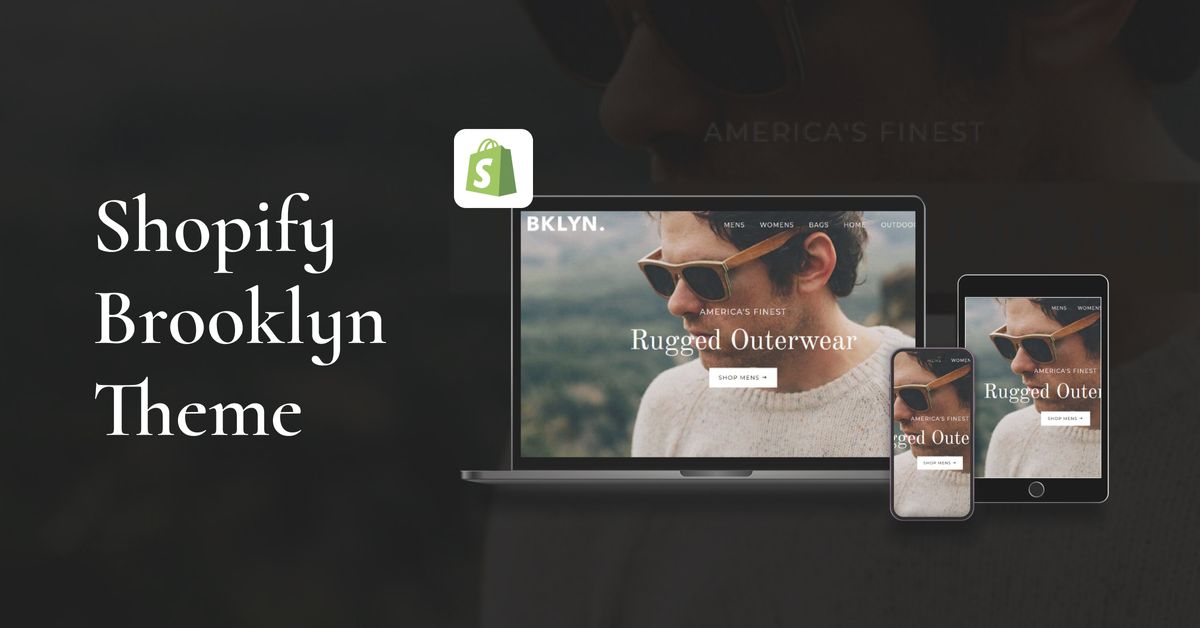 In the ever-changing landscape of eCommerce, the theme you choose can make all the difference for your online store's triumph. And speaking of impactful choices, the Shopify Brooklyn theme shines as a free treasure, renowned for its elegant and user-centric design. In this read, we're about to explore the ins and outs, perks, and standout qualities of the Brooklyn theme. Whether you're keen on weaving the Brooklyn theme into your Shopify store or looking to draw inspiration from the successes of Brooklyn-themed stores, this guide has your back.
Introducing Shopify Brooklyn Theme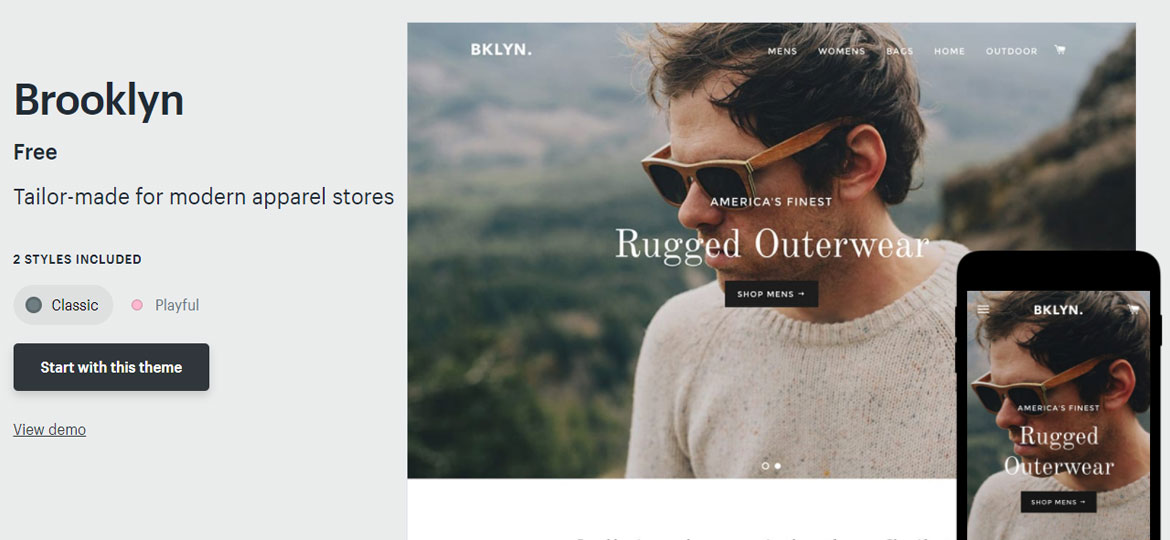 The Shopify Brooklyn theme is a popular and versatile option for creating an online store. Known for its clean and modern design, the Brooklyn theme is suitable for various types of businesses, whether you're selling fashion, accessories, or other products. Its responsive layout ensures a seamless shopping experience across devices, and its customization options allow you to tailor the theme to match your brand identity. With features like a dynamic product grid, homepage slideshow, and customizable content sections, the Brooklyn theme offers a balance between aesthetics and functionality. Its user-friendly interface makes it a suitable choice for both beginners and experienced store owners.
Brooklyn Theme Main Features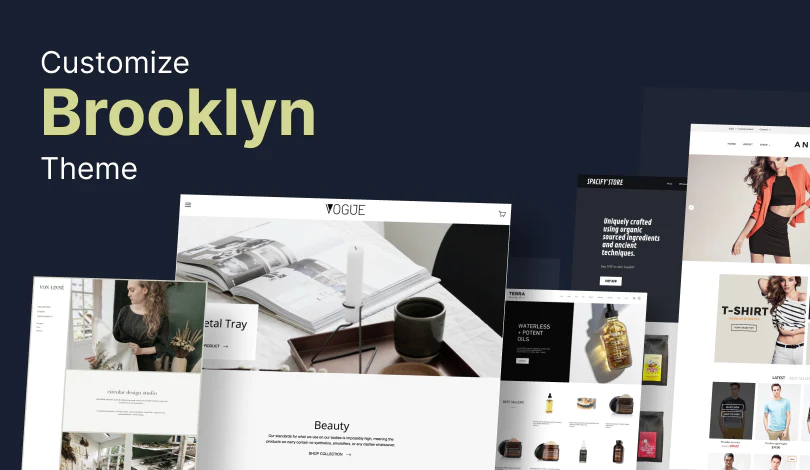 The Shopify Brooklyn theme boasts a range of impressive features that enhance the visual appeal and functionality of your online store:
Dynamic Product Grid: Display your products in an organized and visually appealing grid layout, making it easy for customers to browse and explore your offerings.
Homepage Slideshow: Capture visitors' attention with a captivating slideshow that showcases your featured products, promotions, or brand story right on the homepage.
Customizable Content Sections: Create a unique store layout by arranging content sections such as product collections, testimonials, and featured blog posts according to your preferences.
Mobile Responsive: The theme ensures a seamless shopping experience across various devices, optimizing the layout and design for smartphones, tablets, and desktops.
Product Filtering: Help customers find what they're looking for quickly by enabling filters based on product attributes like size, color, or price.
Header Promotions: Highlight special offers, discounts, or announcements using the customizable header section to drive sales and engagement.
Integrated Social Media: Connect with your audience by integrating social media icons and feeds, allowing customers to easily follow and share your brand.
Quick Shop: Enable customers to preview product details and add items to their cart without leaving the current page, streamlining the shopping process.
Product Zoom: Allow customers to zoom in on product images for a closer look, enhancing their confidence in making purchasing decisions.
Multiple Language Support: Reach a global audience by offering a seamless shopping experience in multiple languages, enhancing accessibility and customer satisfaction.
Built-in SEO: Optimize your store's search engine visibility with the theme's built-in SEO features, helping your products rank higher in search results.
Google Fonts Integration: Choose from a wide range of Google Fonts to create a unique typography style that aligns with your brand identity.
Product Reviews: Build trust and credibility with potential customers by showcasing reviews and ratings from satisfied buyers.
Easy Customization: Customize colors, fonts, and layouts without coding knowledge using the user-friendly Shopify theme editor.
How to get Brooklyn Theme on Shopify?
To get the Brooklyn theme for your Shopify store, follow these steps:
Log In to Your Shopify Account: Sign in to your Shopify admin panel using your credentials.
Access the Shopify Theme Store: From your Shopify admin, navigate to the "Online Store" section in the left-hand menu and select "Themes."
Explore Themes: Click on the "Explore Free Themes" button to browse through the available free themes.
Search for Brooklyn Theme: In the search bar, type "Brooklyn" and press Enter. Look for the "Brooklyn" theme in the search results.
Preview and Install: Click on the Brooklyn theme to preview its demo. If you like the look and features, click the "Add Brooklyn" button to install it on your store.
Customize the Theme: Once the theme is installed, you can customize it according to your brand's identity and preferences using the Shopify theme editor. Modify colors, fonts, layouts, and more.
Publish Your Changes: After making the desired customizations, click the "Save" button and then the "Publish" button to make your changes live on your Shopify store.
Preview Your Store: Before publishing, you can also use the "Preview" button to see how your changes will appear to visitors.
Get the latest insights, AI updates, and exclusive content delivered directly to your inbox.
Please enter a valid email address!
Please enter a valid store!
JOIN OUR COMMUNITY
Brooklyn Theme Alternatives
How to Integrate Brooklyn Theme with GPT powered AI tool

Here are the steps on how to integrate the Shopify Brooklyn Theme with Manifest AI:
Step 1: Install Manifest AI from Shopify Store
Step 2: Customize your AI Chatbot for Shopify store as per your Brooklyn theme
Step 3: Test the tool & publish it on your store.
Conclusion
Bearing a clean design, user-centric interface, and seamless responsiveness, the Shopify Brooklyn theme serves as an excellent starting point for your eCommerce journey. Its adaptability, coupled with its status as a free theme, amplifies its allure. Whether you're navigating the acquisition process, exploring its standout attributes, or seeking motivation from accomplished users, this article equips you with the tools to fully leverage the Brooklyn theme's potential.