Focal Theme Shopify: A Modern and Customizable Theme for Your Ecommerce Store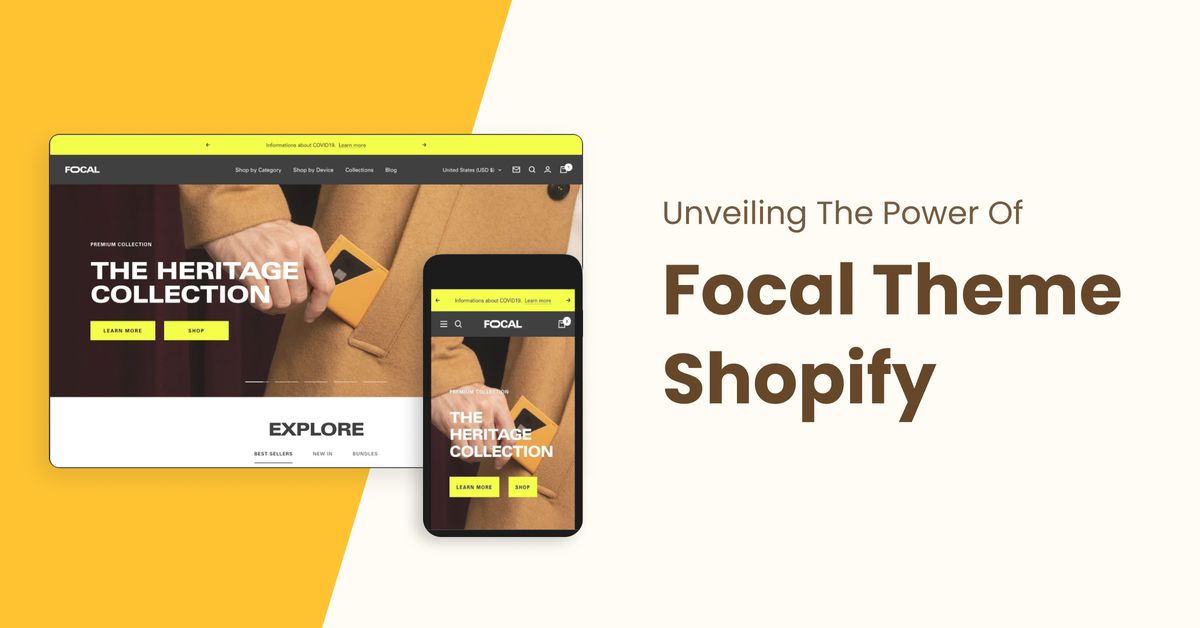 In the ever-evolving world of eCommerce, your online store's theme plays a pivotal role in shaping its visual appeal and functionality. One standout option in the theme library is the Shopify Focal theme. Designed to captivate audiences and streamline the shopping experience, the Shopify Focal theme offers a range of features that cater to various businesses. In this article, we'll explore the Focal theme's attributes, dive into its features, delve into user reviews, and answer the crucial question: Is Focal a good Shopify theme?
Introducing the Focal Theme Shopify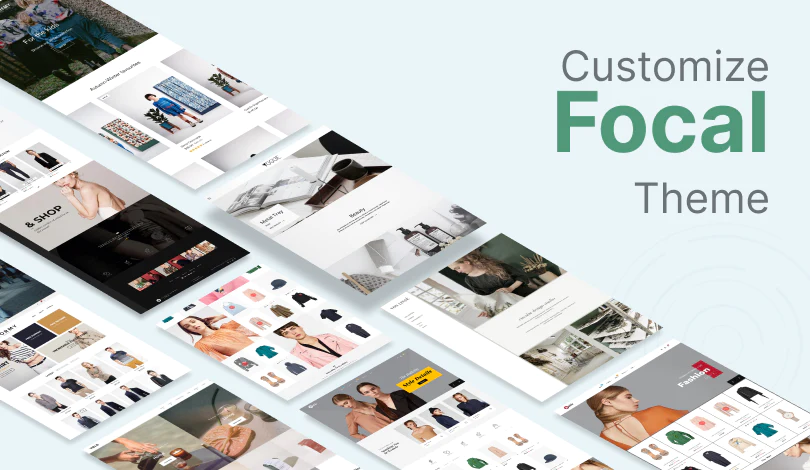 The Focal theme for Shopify offers a visually captivating and versatile design that suits a range of online stores. With its modern aesthetics and customizable features, Focal helps showcase products effectively. Its responsive layout ensures a seamless user experience on various devices. The theme's dynamic sections empower users to personalize their storefront easily. Focal's clean typography, smooth navigation, and integrated social media options enhance engagement. Whether you're a fashion brand or an electronics retailer, the Focal theme's aesthetics and functionality can elevate your Shopify store.
Focal Theme Shopify Features
The Focal theme for Shopify boasts a wide array of impressive features that enhance your online store's functionality and aesthetic appeal. From seamless customization options to optimized user experience, Focal delivers:
Customizable Sections: Tailor your storefront effortlessly with dynamic sections for banners, products, testimonials, and more, offering a unique brand experience.
Responsive Design: Focal ensures your store looks impeccable across devices, accommodating the preferences of mobile and desktop users alike.
Advanced Product Filtering: Enhance navigation for customers by allowing them to filter products based on categories, price ranges, and attributes.
Integrated Social Media: Connect with your audience through integrated social media links, expanding your store's reach and engagement.
Stunning Visuals: Highlight your products with full-width imagery, video support, and a focus on immersive visuals.
Smooth Checkout: Streamlined checkout process ensures ease for customers, reducing cart abandonment rates.
Search Engine Optimization: Focal's built-in SEO optimization features enhance your store's visibility on search engines, driving organic traffic.
Typography and Fonts: Choose from a variety of typography options to maintain brand consistency and enhance readability.
Newsletter Signup: Capture leads and engage customers by incorporating newsletter signup forms, fostering long-term relationships.
Product Quick View: Enable quick product previews without navigating away from the current page, enhancing the shopping experience.
Focal Shopify Theme Reviews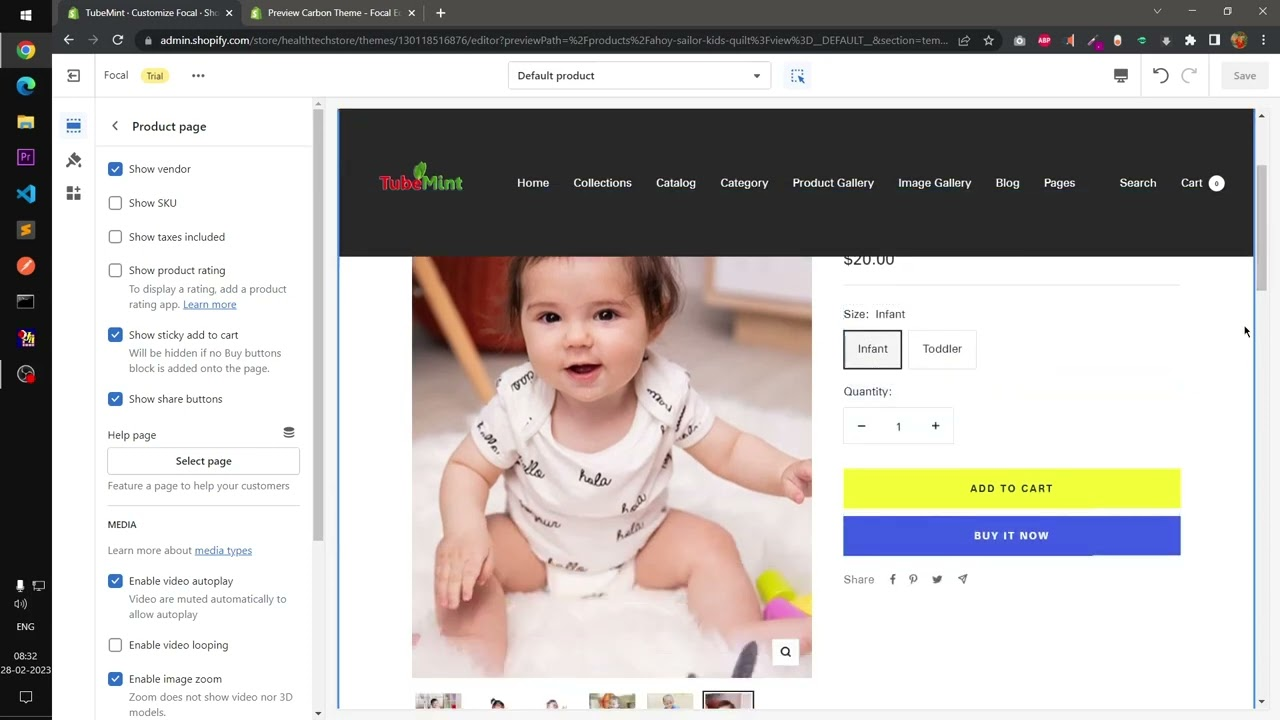 Great for mobile: The Focal theme is responsive, so it looks great on all devices, including smartphones and tablets. This is important for businesses that want to reach a wider audience.
SEO-friendly: The Focal theme is SEO-friendly, which means that it can help your store rank higher in search results. This is important for businesses that want to get more traffic to their store.
Affordable: The Focal theme is relatively affordable, making it a good option for businesses on a budget.
Good for beginners: The Focal theme is easy to use and customize, even for beginners. It comes with a drag-and-drop builder that makes it easy to add and remove content, and it has a wide range of settings that you can use to change the look and feel of your store.
Here are some of the cons of the Focal theme Shopify:
Not as customizable as some other themes: The Focal theme is not as customizable as some other themes, such as Shopify Debut theme or Brooklyn Shopify theme. This means that you may not be able to create a store that is completely unique.
Can be slow on low-powered devices: The Focal theme can be slow on low-powered devices, such as older smartphones and tablets. This is because the theme uses a lot of JavaScript and CSS.
Not as many features as some other themes: The Focal theme does not have as many features as some other themes, such as the ability to add a blog or a product slider.
Where can you find and download Focal Shopify Theme?
The Focal Shopify theme can be found and downloaded from the official Shopify Theme Store. To access and install the theme, follow these steps:
Login to Shopify: Log in to your Shopify admin panel using your credentials.
Navigate to Online Store: From the Shopify admin dashboard, click on "Online Store" in the left-hand menu.
Visit Shopify Theme Store: In the Online Store section, click on "Themes." This will take you to the Shopify Theme Store.
Search for Focal Theme: Use the search bar to look for the "Focal" theme. Once you find it, click on the theme's thumbnail to view its details.
Add Focal to Your Store: On the theme's details page, click the "Add theme" button. Shopify will prompt you to confirm the installation.
Customize and Publish: Once the theme is added, you can customize it according to your preferences by accessing the "Customize" option. After making desired changes, click "Publish" to make the theme live on your store
Is Focal a Good Shopify Theme?
Yes, the Focal Shopify theme is generally well-regarded as a good option for building an online store. It offers a range of features and customization options that can help create a visually appealing and functional e-commerce website. However, whether Focal is the right theme for your store depends on your specific needs and preferences.
Some factors to consider when evaluating the Focal theme:
Design: Focal provides modern and stylish design elements that can enhance the look of your online store.
Customization: The theme offers a degree of customization, allowing you to tailor the appearance and layout to match your brand.
Responsive: Focal is designed to be responsive, ensuring that your website looks and functions well on various devices.
Features: The theme comes with features like product filtering, dynamic checkout buttons, and customizable homepage sections.
User-Friendly: Focal is relatively user-friendly and can be a good choice for those new to Shopify.
Support and Updates: Check for the availability of support from the theme developer and whether the theme receives regular updates for compatibility and security.
Compatibility: Ensure that the theme is compatible with any third-party apps or integrations you plan to use.
How to Integrate GPT Powered AI tool with Shopify Focal Theme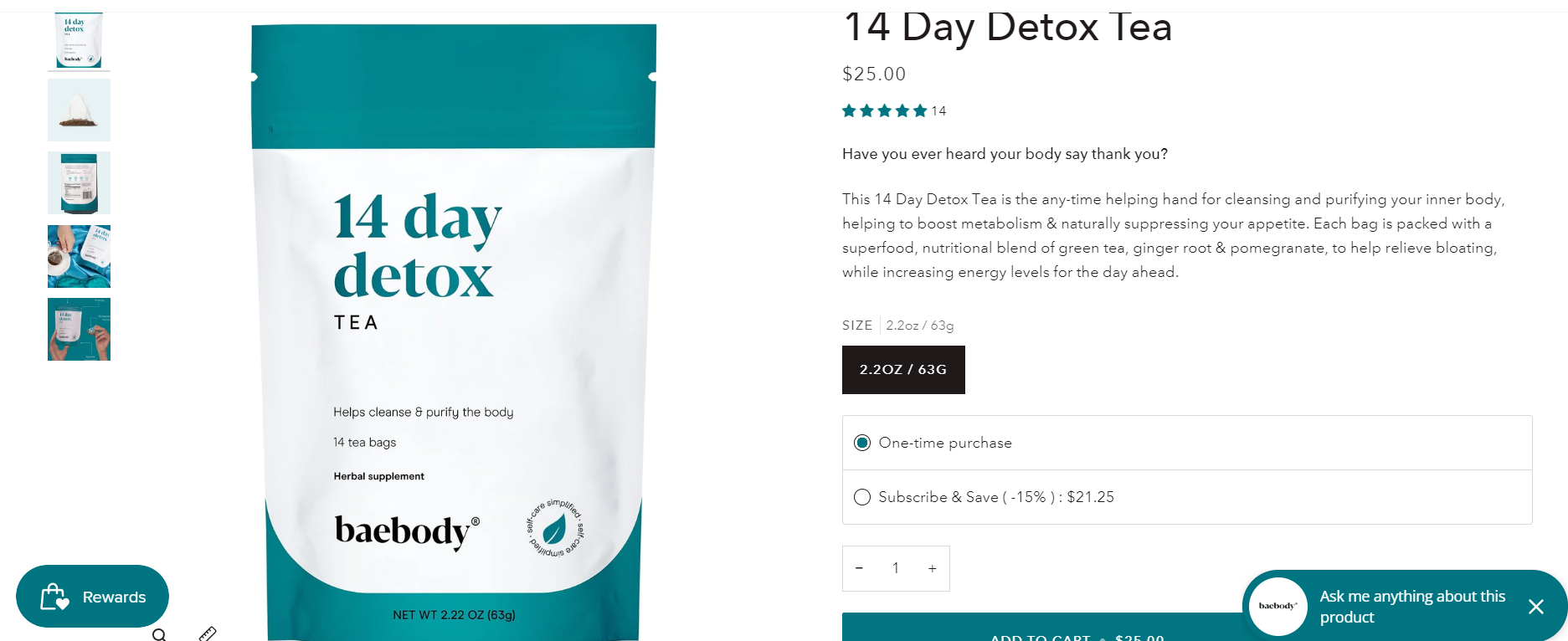 Focal theme is a popular theme for Shopify stores, outstanding structure and modern features can make it a standout from the other Shopify themes. Integrating GPT powered AI tools on this theme will make the Shopify store more engaging and overall increases the conversion. Follow the below small steps to integrate GPT powered Manifest AI with Focal theme on your store:
Step 1: Install Manifest AI from the Shopify Store
Step 2: Customize your AI Shopify Chatbot as per Focal theme
Step 3: Test the AI Chatbot & publish it on your store.
Conclusion
The Focal Theme Shopify has emerged as a compelling option for businesses seeking a visually appealing and feature-rich online presence. With its customizable design, interactive elements, and positive user reviews, Focal holds the potential to transform your store into a captivating destination for shoppers. By exploring its features, experiencing the demo, and considering real user feedback, you can confidently decide whether Focal is the right choice to propel your eCommerce journey forward.