Shopify Plus Pricing: Evaluating Costs and Benefits for Enterprise eCommerce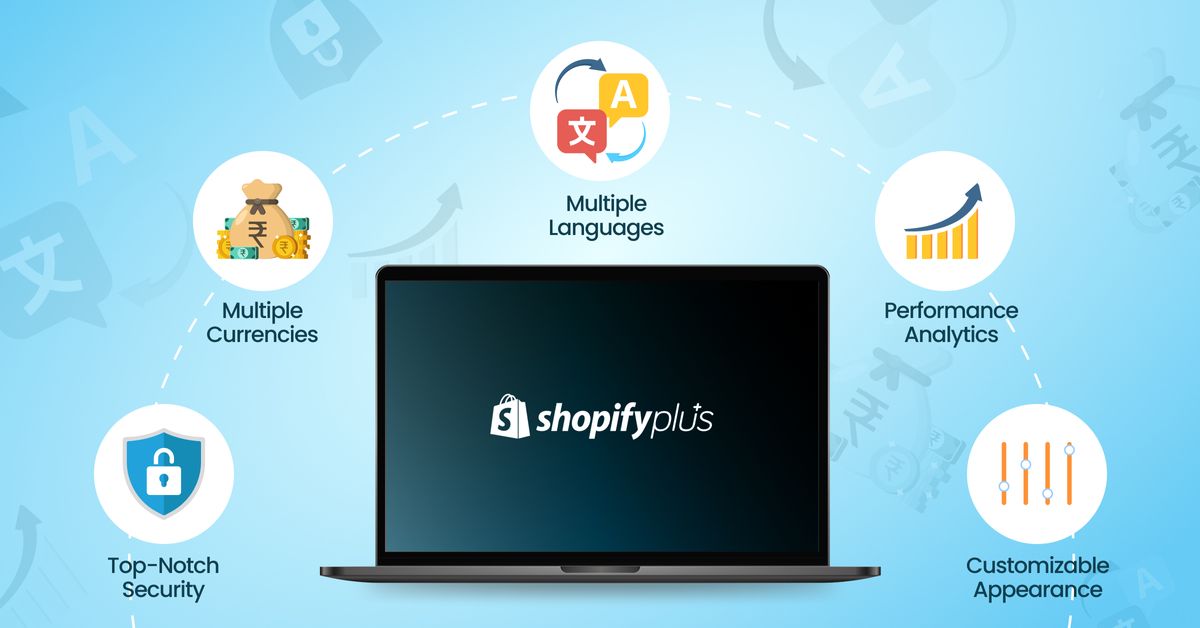 Ever thought about what an enterprise-level e-commerce business would need to thrive in a fiercely competitive digital landscape? As the e-commerce business continues with its meteoric rise, this question looms large for many organizations. Shopify Plus, a top-tier offering from the renowned e-commerce platform, has emerged as a potential game changer. But before we discuss the potential of Shopify Plus, we have an essential question: What are the benefits and Shopify Plus pricing associated with this enterprise-level solution?
In this blog, we will talk about everything about Shopify Plus, its benefits, cost of Shopify plus and much more, which will give you a fair idea about whether you must move with the premium plan of Shopify or if the standard Shopify account would be enough to fulfill your business aspirations.
Let's find out the answers to all the questions!
Shopify Vs Shopify Plus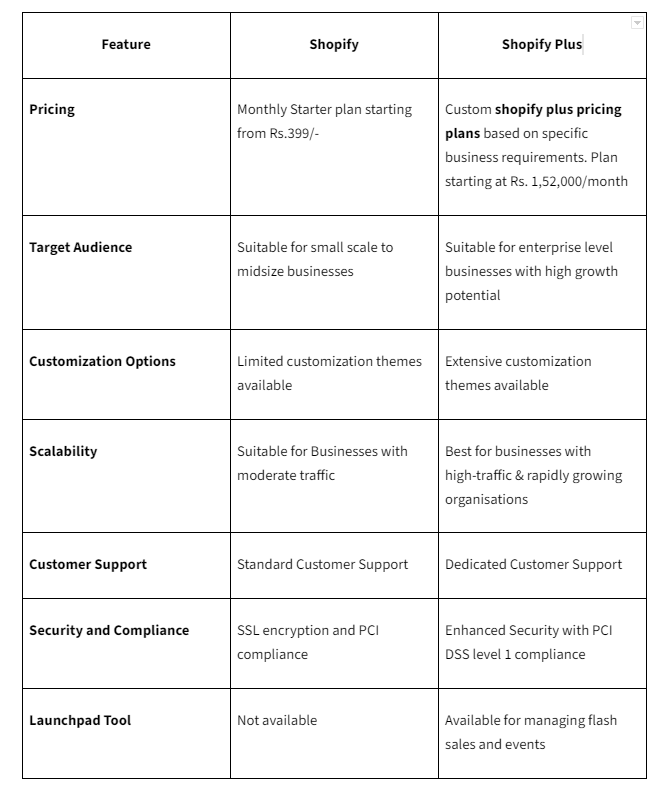 Determining the Right Fit: Is Shopify Plus For You?
Let's find out whether you must go ahead with Shopify Plus account for your business or not:
Know the size and growth potential of your business first. If your business is in a growth stage with ambitious expansion plans, you should go for a Shopify Plus subscription. However, with modest sales, you may find a standard Shopify subscription more suitable.
If your website experiences high traffic and demands a rapid loading time, you must go for a Shopify Plus subscription, as it would provide your business with improved performance and speed. Plus subscription can prove to be a valuable asset for your business.
Do you want to escalate your business operations on a global scale? If yes, then a Shopify Plus pricing plan would be more suitable. Why? Because it offers multi-currency and multi-language support, which simplifies global expansion.
If personalized and fast support is what your business requires, a Shopify Plus subscription would be more suitable.
Shopify Plus subscription provides the wholesale channel. If your business involves B2B transactions, a plus account will bring you more pros.
What Makes Shopify Plus More Beneficial?
If your tailored businesses come with a big audience and ambitions, a Shopify Plus account would be more beneficial for you. Read on to find out more reasons why it is considered more convenient for wide-scale businesses:
It gives access to premium features with top-notch security.
With a Shopify Plus subscription, you can streamline the scalability of your business.
Shopify Plus subscription enables you to customize the appearance of your online store.
Planning to take your online store to the international market? With Shopify Plus, you get access to multiple languages and multiple currencies.
Get lightning-fast loading times, even during peak traffic, with a Shopify Plus subscription.
Comprehensive Review of Shopify Plus Functionality
Shopify Plus is a top-tier e-commerce platform which is designed for high-growth enterprises. Let's dive in to discuss the complete review of the functionality of the Shopify Plus subscription:
Businesses can access advanced customizations with extensive options of themes to choose which best aligns with their brand.
A Shopify Plus subscription ensures a dedicated infrastructure for seamless performance during traffic spikes.
Customizable checkout process to improve Shopify conversion rates.
With a Shopify Plus subscription, access full API for smooth integration with third-party applications.
Customizable script implementation for enhanced website functionality.
Leveraging the Benefits of Shopify Plus for Enterprise Businesses
Here we explore the benefits of using a plus version of Shopify for enterprise businesses:
Shopify Plus ensures enhanced security features that protect customers' data. Security features include PCI DSS Level 1 compliance which safeguards customer information.
With a Shopify Plus subscription, businesses can gain insights as there are advanced analytics and reporting tools.
Unified Retail Operations
Businesses can seamlessly integrate online and offline sales with Shopify's Point of Sale (POS) system.
Exploring the Pricing for Shopify Plus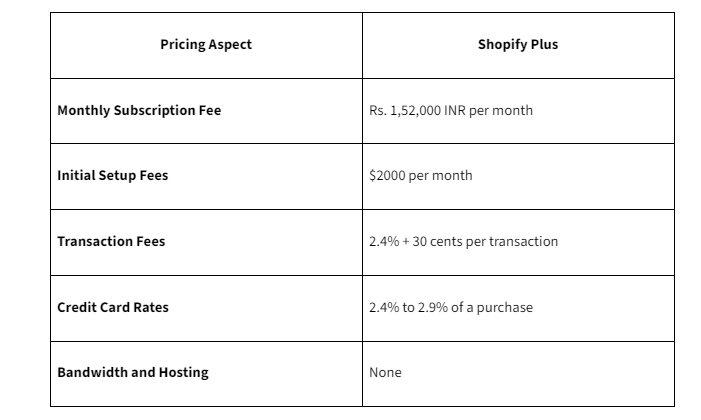 Steps to Transitioning to Shopify Plus
Analyse if your business requires a Shopify Plus subscription with premium features.
If yes, you need to begin the transitioning process by contacting a sales representative of Shopify.
Understand the Shopify plus pricing structure and determine which plan works best for your business.
It's time to set up your new store.
Transfer all your data, including order information, product, and customer, from your old system to your new Shopify Plus account.
Customize the appearance of your store to match the look of your brand.
Connect with third-party apps or tools to ensure your business operates seamlessly.
Customize the checkout process to make it easy for customers to buy from you.
Test your new store to ensure that everything works smoothly before launching.
Keep updating, adding new features, and optimizing your store based on customer feedback.
If needed, make use of the support team of Shopify.
Advertise your online store and make everyone know about your presence.
Keep working hard to ensure everything's on track and that customers love your online store.
Shopify Plus for Small Businesses: Is It Viable?
Until now, we have learned how a Shopify Plus subscription benefits large-scale organizations with high traffic. Now, we are here to discuss the viability of Shopify plus subscription for small-scale businesses.
Shopify Plus has been designed to cater to the needs of high-growth potential and large-scale organizations, as it offers advanced features, customization options, and scalability to handle the demands of such businesses. Although Shopify Plus is a powerful platform for large-scale companies, it may not be the most cost-effective and practical solution for businesses running on a small scale.
Small-scale businesses operate on a low cost and tight budget and hence may not require additional and extensive capabilities offered by a Shopify Plus subscription. The standard Shopify plan, which is more budget-friendly and still feature-rich, is often considered the most effective e-commerce tool for small organizations.
However, in exceptional cases, if small-scale organizations are rapidly growing and the standard Shopify subscription cannot fulfill their business needs, they can buy the Plus subscription.
Conclusion
As we move on to the concluding part of this blog, you must have understood the key differences between a standard Shopify subscription and a Shopify Plus subscription. Both have their potential, but businesses operating on a limited budget must refrain from going for a plus subscription as it may reduce their overall earnings.
Ultimately, choosing between the standard Shopify subscription and a Plus subscription aligns with the business needs and goals to ensure a successful e-commerce strategy.
Frequently Asked Questions (FAQs)
Below are the most frequently asked questions related to Shopify Plus.
How to upgrade to Shopify Plus?
To upgrade to Shopify Plus, you need to follow the below-mentioned basic steps:
Contact a Shopify Plus sales representative and express your interest.
Discuss with them about your business and determine whether it would be the right fit for it.
Discuss the Shopify plus pricing details.
If you wish to proceed, setting up your Shopify Plus account is the next step.
Mitigate your data
Test everything before launching your store
You are ready to use your Shopify Plus account.
How much is Shopify Plus per month?
Shopify plus monthly cost is Rs. 1,52,000 INR.
Who uses Shopify Plus?
Shopify Plus is primarily used by:
Established brands
Businesses with high traffic
B2B companies